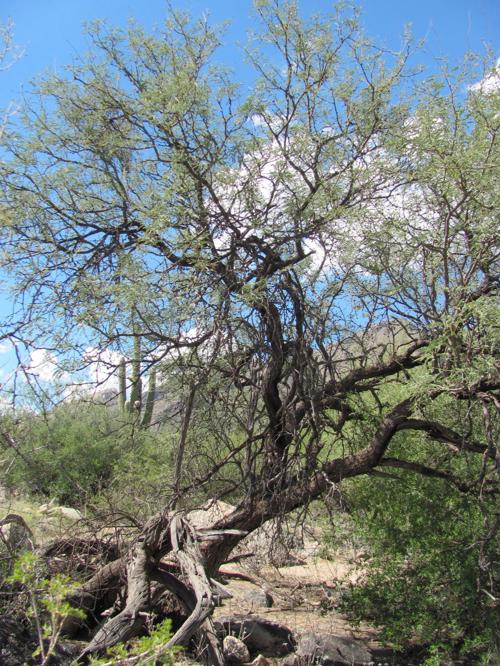 The following column is the opinion and analysis of the writer.
The chain saw crew arrived early. With ruthless efficiency, what took decades to grow was reduced to a pile of "green waste" in a matter of minutes.
A sad but not unexpected event for this lifelong "tree hugger." To make way for the long overdue replacement of an aged water line, the tree, a 20-foot mesquite, had to be removed from the utility easement behind our home.
So, you may ask, what's the big deal? It's only one tree. How much difference can it make? More than you might think. A mature hardwood tree can absorb 48 pounds of atmospheric carbon each year, and a ton or more by the time it reaches 40 years of age. The same tree can release about 260 pounds of oxygen into the atmosphere each year, enough for two people.
But trees can do a lot more. Properly selected and placed, trees can save up to 20% on utility costs. That's about $22 per month for the "average" Arizona residence that uses 1,061 kilowatt hours of electricity each month. Renewables are making a significant and growing contribution, but fossil fuels, mostly coal, still provide most of Southern Arizona's electricity. With allowance for renewable energy, our "average" home still consumes about 4.5 tons of coal each year. A 20% reduction saves about 1,800 pounds of coal and keeps more than 5,100 pounds of carbon dioxide out of the atmosphere each year.
Besides saving on utility bills, trees help retain soil moisture, reduce water consumption for irrigation, provide homes for nesting birds and can add 15% to the value of your property.
That's the good news. Now for the bad. Too many trees are dying in Tucson. The loss of tree cover is at least partially responsible for earning Tucson the dubious distinction of being the third fastest warming city in the nation. Is that a list we want to be on?
But there's more good news. Awareness of the problem is growing, and a lot of good people are working to restore our tree canopy for a cooler more livable city. Trees for Tucson offers trees at reasonable prices and can help you select the right tree(s) for your needs. Desert Survivors is an excellent resource for low water use trees and other landscape plants.
If you possibly can, please plant a tree. It's one of the best investments you can make in a sustainable future. Each tree makes a difference and the more the better. Don't have a yard to plant in? There are many ways you can still contribute. The Trees for Tucson website will show you how.
So goodbye old friend. You are gone but not forgotten. For every day of your abbreviated life, you made your little piece of the world a better place, without receiving one drop of water not provided by nature. We will honor your memory by planting at least two trees.
William Thornton is a second-generation Arizona native, lifelong outdoor enthusiast and conservationist.