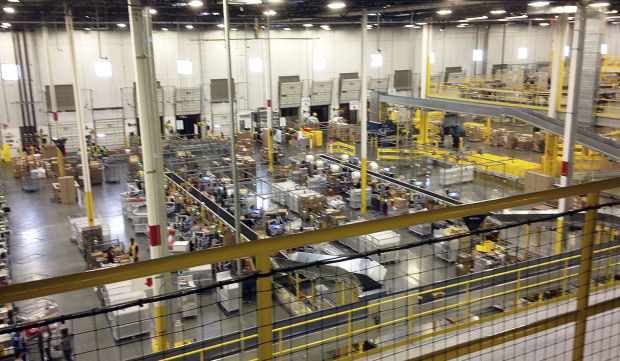 The following column is the opinion and analysis of the writer.
As workplace safety advocates, we are shocked by the serious dangers faced by essential workers during our current public health crisis. Here in Southern Arizona, nursing home employees, an Amazon warehouse worker and others have contracted COVID-19. Since all of us rely on these workers — who don't have the option to stay at home — we all should be involved in demanding that employers and the government do more to keep them safe.
Companies like Amazon, with a long and deplorable record of putting workers in unsafe environments, should invest money to support communities like Tucson as we work to implement effective worker controls in private workplaces and public services.
COVID-19, like other infectious diseases, won't stay confined to any one building or work site, but will spread to other residences and businesses. If we want to flatten the curve by preventing new virus cases, then employers must take every step possible to implement safety controls to reduce contact with the public and co-workers. Contact with other people is how COVID-19 spreads; reducing contact is how we stay safe. Every job can be protected if management develops a plan that involves workers, who know their own jobs and can come up with solutions to reduce exposure.
Innovative approaches to reducing contact between workers and the public, including barriers for cashiers, staggering service hours and reducing the number of shoppers to allow for social distancing. Many of these controls happened only after workers protested unsafe conditions. Failure to adequately protect essential workers will bring more infections to our communities and steepen the curve, instead of flattening it.
Arizona has lagged behind in many of its attempts to prevent widespread infection. We did the least amount of early COVID-19 testing of any state and we were late to implement "shelter in place" protections. Many "non-essential" businesses have operated without adequate safety measures.
And Gov. Doug Ducey's lackluster response has focused on shielding sales and revenue at the expense of workers' health, a backward approach that will not preserve jobs and actually make it more difficult to rebound to a healthy business climate. Workers have been the engine driving our efforts to control the virus and deserve to be protected. Protecting them helps protect us all.
Visit nationalcosh.org/coronavirus, which has helpful information for workers and employers who want to know more about how to protect workers and the public from the COVID-19 virus.
Peter Dooley, a certified industrial hygienist, is safety and health senior project coordinator for the National Council for Occupational Safety and Health. Steve Valencia is chair of Tucson Jobs with Justice.
Catch the latest in Opinion
Get opinion pieces, letters and editorials sent directly to your inbox weekly!