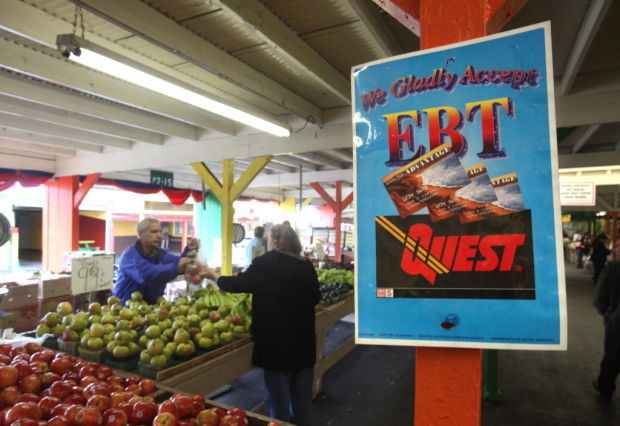 The following column is the opinion and analysis of the writer.
Last week, Agriculture Secretary Sonny Perdue visited Arizona and met with farmers, ranchers, emergency food providers and others in the business of feeding people. I'm grateful for his interest in our efforts to support all Arizonans but concerned by the new rule his d epartment just published, which is expected to eliminate food assistance for thousands of those very same people, primarily in rural parts of our state.
Last year, the Arizona Food Bank Network and its members collectively provided emergency food relief to 450,000 Arizonans per month. The network also looks at the root causes of hunger and identifies long-term policy solutions, and we know that the Supplemental Nutrition Assistance Program (SNAP, formerly food stamps) is critical to get nutrition to those who need it. For every one meal a food bank can provide, SNAP provides up to nine.
In Perdue's words, the new SNAP rule "restores the dignity of work." Our network supports work. It's hard to imagine an individual or institution that opposes it. As the nation's most effective nutrition program, SNAP supports work too. In fact, that's not only the program's original intent but also its ongoing role. It has measurable success in helping underemployed, temporarily unemployed and low-wage working Americans climb out of poverty.
If there was evidence to suggest that eliminating a person's access to food assistance results in him or her finding sustainable work, our network would be among the first to endorse it. That evidence does not exist, however, because it's not that simple. The new SNAP rule targets 18- to 49-year-olds who are unemployed or underemployed and not raising minor children in their homes. People with an average income of 18% of the federal poverty line — about $2,200/year — who, if they didn't have such significant barriers to employment, would already be working.
According to Perdue, the individuals targeted by the rule do not "take responsibility for themselves" and are willfully dependent on the government. The truth is that these are people who have taken on more responsibility than most of us can imagine. They are veterans, former foster youth, people with mental health issues and seasonal workers who manage to resourcefully stretch a temporary income. Many work low-wage jobs that offer unpredictable hours. They work in schools and stadiums, on farms, in the homes of aging adults.
The truth is that this rule targets the most vulnerable, and rural Arizona will be hit hardest. While overall unemployment rates have declined even in rural counties, inadequate transportation, infrastructure and internet still restrict people's access to jobs. Rural SNAP participants also have limited access to the job-training programs they're required to attend if they can't work the 20 hours/week required by the new rule because, currently, SNAP employment programs are only available in Arizona's urban centers. Even if rural residents could access these programs, only 1,500 participants obtained jobs in 2018, despite vast improvements in past years. At least four times that many people, likely more, will be affected by this rule if it takes effect in April 2020.
If the administration is serious about getting people to work and self-sufficiency, it should invest in on-the-job training, post-secondary education and employment programs that prepare people for labor market demands. It should address the issue of livable wages. Instead of punishing people by taking away their access to food, the administration should create an equitable system that allows all Americans to accomplish great things.
Michael McDonald is the CEO of the Community Food Bank of Southern Arizona in Tucson and Board Chair of the Arizona Food Bank Network.
Catch the latest in Opinion
Get opinion pieces, letters and editorials sent directly to your inbox weekly!