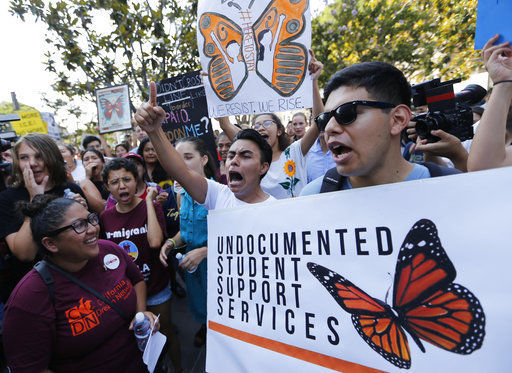 What makes you an American?
And please, people from the rest of the continent who have a chip on their shoulder about the term should best tune out now. I don't care if technically everyone from South, Central and the rest of North America can lay claim to the name, OK? This is about the stars and stripes.
Are they gone? Did that give you enough time to come up with an answer?
In the meantime, I'll tell you what makes me an American. I believe in the United States Constitution and the declaration that brought this country into existence. I believe all of us are created equal and as far as unalienable rights go, my top three are probably life, liberty and the pursuit of happiness (maybe not in that order).
I believe in burgers and hot dogs, "Citizen Kane," John Steinbeck, Humphrey Bogart, Chuck Berry, Karen Carpenter, Johnny Cash, "The Texas Chainsaw Massacre," season five of "24," Beyoncé, Taylor Swift and Kanye. I live and breathe an American popular culture that dominates the world because it is of the world, produced throughout our history by immigrants and minorities, which at some point or another we all are.
I believe America is flawed and imperfect but forever striving toward its highest ideals, even if it seems like it will take forever to get there.
Oh, and I was also born here.
That last part, the part that grants me a blue passport, that makes me a legal citizen of the United States, is at the bottom of the list for a reason. I had nothing to do with it. I was lucky. I've been fortunate enough to travel to other countries and while they're all good in their own way, America still stands tall and I get to call it home. Again, luck.
Now imagine you're an American but you weren't born here. You're an American but almost half the country thinks you should go back to a place you may barely even remember. You're as American as apple pie and agua de horchata, but you, my friend, are not welcomed here.
"Dreamers," immigrants brought to the U.S. illegally as children, live with this every day.
When President Obama implemented the Deferred Action for Childhood Arrivals program in 2012, he gave these young migrants the chance to work, thanks to a two-year renewable permit, and to pursue higher education. He gave them something they had never had before, the opportunity to openly participate in what is — make no mistake — their own country.
Even then, they had to jump through hoops. To be part of DACA they had to register with the federal government, be a high school graduate or be in school, pass a criminal background check and pay a fee that for many was difficult to afford. Most importantly, they had to trust their country would not betray them.
Still, about 800,000 men and women have taken advantage of the program and a recent study shows that 90 percent of recipients are employed.
When I was a reporter, I had the opportunity to meet several of these Dreamers and I always came away impressed. I could barely keep myself together in college and these young immigrants were dealing with how to fund their education without access to federal student loans and wondering if in-state tuition would still be an option the following semester. They were creating art and being involved with the community while always juggling the fear their parents would be deported.
As I write this, President Trump has not officially eliminated the program but there's very little political upside to him not doing so soon.
If he freezes new enrollment and allows the work permits to expire on their own, he can check off the box for whatever passes for compassion in some Republican circles. He would please the anti-immigrant groups in his base and make it a problem for Congress.
So, let's just say DACA is gone — although even if it isn't, it was always meant to be a temporary fix — what now?
Now we fight, I guess. Take this to Congress and pressure our legislators to act. If G.I. Joe and that feud between Nicki Minaj and Remy Ma has taught me anything, it's that we Americans don't give up that easy.
Dreamers have been forged in adversity. They've struggled all their lives with things we can imagine but never truly know. They've worked hard for everything they have and they're not about to stop now.
What's more American than that?
Luis F. Carrasco is an editorial writer at the Arizona Daily Star. Email him at lcarrasco@tucson.com; follow him on Twitter @lfcarrasco