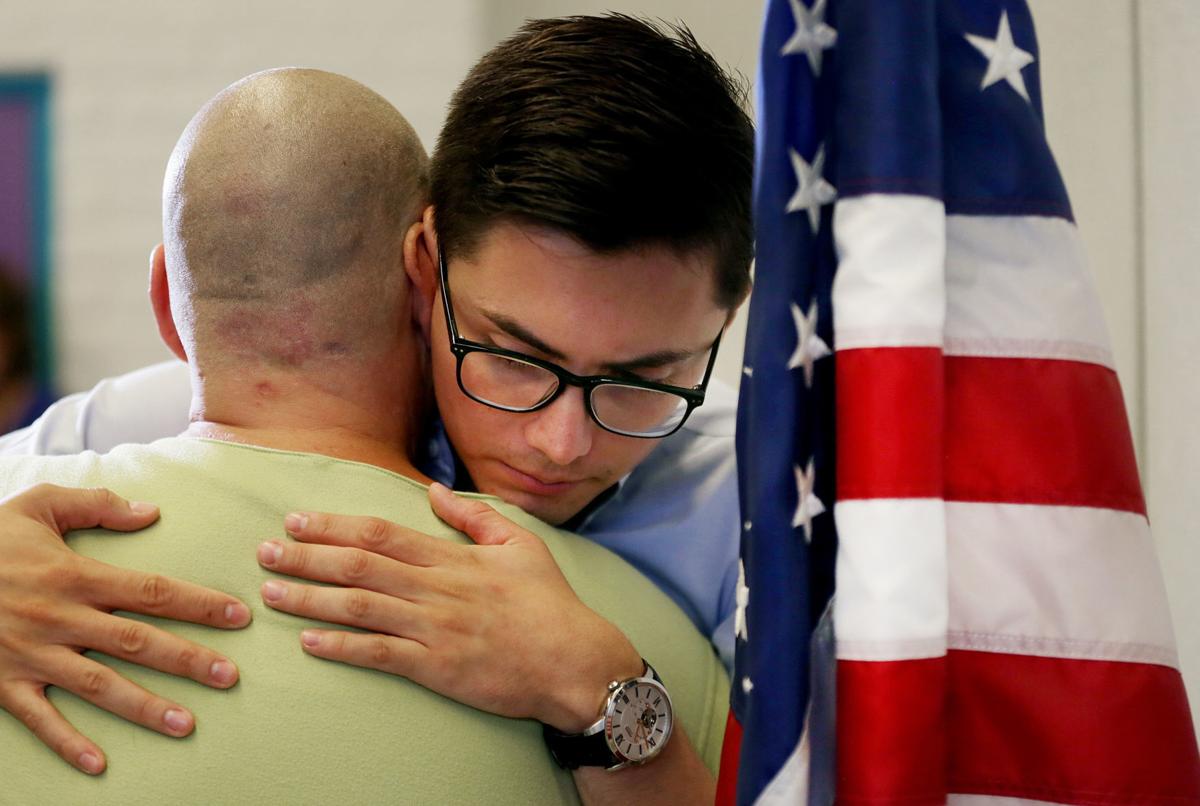 It was as good an outcome as Gloria Arellano de la Rosa could have hoped for. Friday morning, immigration officials allowed the Mexican woman to cross the border to visit her dying husband in Tucson. She was granted a 30-day permit that will allow the family — including the couple's four U.S.-citizen children — to be together for what may be the last time.
Earlier in the week, the government had rejected her request, explaining that she had been denied permanent legal residency in 2009 for overstaying a visa and was barred from entering the country for 10 years. Ultimately, media attention and calls by local elected officials seemed to nudge Customs and Border Protection into doing the right thing, but regardless of the decision, at least officers had the discretion to make a choice.
Ideally, Arellano de la Rosa should not even be in this situation. She broke immigration law, true, but she was a contributing member of society, had no criminal record, married a U.S. citizen and had American kids. There was a time she would have been able to adjust her status by going through an application process and paying a fine, but the 1996 Illegal Immigration Reform and Immigration Responsibility Act took away that opportunity, instead saddling her with an automatic 10-year ban.
Much like federal mandatory-minimum sentencing — which now has growing bipartisan opposition — blanket immigration bars are needlessly punitive and take away the ability for law enforcement to take into consideration the specifics in any given case. It's time Congress did away with them.
Current law imposes three- and 10-year bans, depending on length of stay, on any immigrant who was previously in the U.S. illegally and seeks to re-enter. This puts people like Arellano de la Rosa in an impossible situation, where they must leave the country if they want to legally apply for a green card — but once they do so they are immediately barred.
While immigrants can apply for a waiver, they must prove that their being banned would cause "extreme hardship," a term that is not defined and a determination that is inconsistently applied. The hardship also only refers to the U.S. citizen spouse, not any possible hardship caused to children.
For people with families this leads to hard choices. They can remain in the country illegally, continuing to live in the shadows in fear of deportation; the family can move to the spouse's home country, in many cases limiting their children's prospects and exposing the family to whatever factors pushed emigration in the first place; or they can split the family, with the affected spouse leaving the country and serving out their time separated from their loved ones.
While it's been heartbreaking for Arellano de la Rosa to be away from her family, living in Nogales, Sonora, while they live in Tucson, she has said she couldn't take away the opportunities the United States offers her children, no matter how much it pains her not to be part of their day-to-day lives or important milestones.
For the de la Rosas, that choice has paid off. Their son Jim is a Marine veteran. Their son Bill is studying at Oxford. Daughter Naomi just graduated high school, and is on her way to college. Their youngest, Bobby, wants to follow in his siblings' footsteps. All that while growing up without their mother and dealing with their father's ailing health.
They are exceptional, though. Many people in their situation cannot overcome the odds that are stacked against them.
While it is clear to see how these families are affected, it is just as evident how we as a country are impacted by our misguided immigration law. American children of immigrants in the U.S. illegally face an uphill battle, with lower preschool enrollment, reduced socioeconomic progress and increased poverty, according to research by the Migration Policy Institute. Overall, children in these high-stress environments are at a disadvantage compared to their peers.
No one wants to reward illegal immigration, but we must be practical. With the law as it now stands, we are hurting these families and we are hurting ourselves.