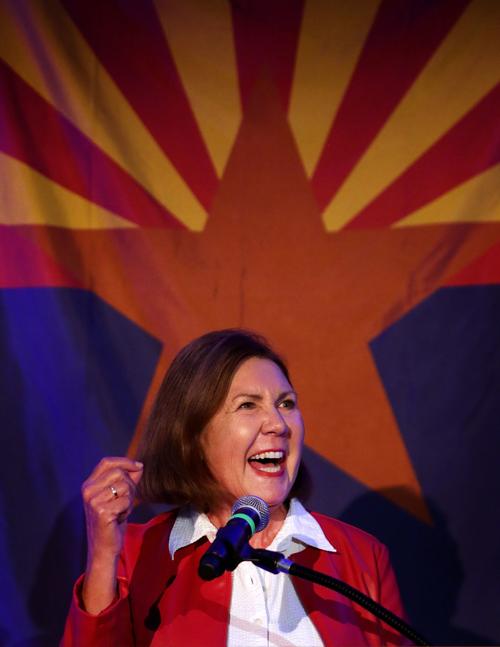 **Note: In order to keep readers updated and informed on the fast-happening local, state and national news of the day, our opinion writer Edward Celaya and editor Sarah Garrecht Gassen will be posting their takes here in our new section called the Daily Word. Be sure to check here for new content each week, and let us know what you think by visiting our Facebook page, or by writing us a "letter to the editor" at tucson.com/opinion
Aug. 28: "Representative" more than just job description
After the Arizona Daily Star ran an Associated Press Aug. 23 story asserting that town halls had become a rarity amongst Arizona's congressional contingent, we received a few Letters to the Editor. One stuck up for Republicans like Senator Martha McSally, who has yet to hold a face-to-face meeting with constituents (a pattern that has held over from her time as Congressional Rep. for CD 2).
Some letter writers argued that, due to incidents in 2017 involving constituents being overly zealous WHAT DOES THIS MEAN?, GOP members of Congress were afraid to hold such events. One reader thought the article singled out Republicans and asked if Democrats, like Raul Grijalva and Ann Kirkpatrick, hold such events.
Most Congresspeople are scared of ending up on the wrong end of a viral video blasting their policies or performance. Events like town halls are the literal homes of democracy.
Second, as far as Kirkpatrick is concerned, according to her Chief of Staff, former Congressman Ron Barber, since being elected in Nov. '18 and being inaugurated in January, the Congresswoman has held three town halls and four "Congress on Your Corner" events. The Congresswoman shows up, in person, to speak with – and listen to – the people she represents.
That line-up of events is true to her campaign promise of holding a face-to-face meeting of some sort with constituents every month. By comparison, her predecessor in the district, McSally, has held no townhalls or face-to-face events since she represented CD 2 in 2017.
Kirkpatrick past schedule is also a further indictment of the first argument: she represents the same district, and has held the same kind of events, that then-Congresswoman Gabby Giffords held on January 8, 2011 when she and 12 other Tucsonans gathered to put democracy into action, including Ron Barber, were shot. Six people were killed.
Barber succeeded Giffords in office and also held congress on your corner events and regularly held public events.
If Kirkpatrick can bring herself to hold events in the same district that's home to one of our state's worst mass shootings, GOP members of the House and Senate can find the courage to maybe get yelled at for an hour by constituents.
After all, to echo the words of Arizona's former Senator Jeff Flake, a Republican, after attending his own raucous townhall in 2017, "This is what democracy looks like."
And it's something McSally agrees with, at least in principle. That's why she and her in-state staff are taking a page out of your English professor's handbook and holding office hours. Seriously.
McSally staffers are holding "office hours" across the state to speak with individuals. constituent service is an important role of senators and members of congress, but it's not the same as seeing and hearing the elected official herself.
"Mobile office hours offer residents in communities across the state the convenience of meeting in person with a member of McSally's team to discuss problems or issues they may have with a federal agency," McSally said in a press release.
Sure, McSally and others participate in tele-conferences and make scheduled appearances at events and workplaces around the state. But the idea that somehow office hours and staged meetings expose her to the myriad of concerns held by voters is absurd.
But that's not how it's supposed to work, as CD 1 representative Tom O'Halleran (D) explained to the AP.
"That's what you're expected to do," O'Halleran said. "You get more personal contact with the citizens you represent."
Aug. 26: The cruelty is the point
It could be argued that last week was the most tumultuous of the entire Donald J. Trump administration. And that really, really is saying something. But like most weeks under this administration, the real news tends to get lost in the shuffle.
Between doing his best to earn that nomination for "King of the Israel," trying to buy Greenland and nuking hurricanes into submission, the fact that his administration is pushing to detain migrant families indefinitely may have slipped past your radar.
The move comes as a natural extension of the administration's policy of deterrence – i.e. making conditions so bad along the border that potential migrants and refugees don't even bother. Trump echoed as much when talking about the issue last week.
"Very much I have the children on my mind. It bothers me very greatly. People make this horrible 2,000-mile journey," Trump said. "When they see if they do get into the United States they will be brought back to their country, they won't come."
The proposed change would end the old Department of Homeland Security policy of detaining children and adults separately for no longer than 20 days. The change basically amounts to DHS saying "See, we're humane. We love families so much we'll lock them up to make sure they stay together. Forever."
On Monday, California, along with 19 other states, filed suit against the administration. "The federal government doesn't have a right to tell us how we provide for the well-being of people in our state," said California Attorney General Xavier Becerra.
Luckily, the judge charged with overseeing the administration's request, U.S. District Court Judge Dolly Gee, is unlikely to allow the change since she determined in 2015 that the Obama administration must apply the rule to minors taken in along the border.
That's a (potential) win not just for refugees and migrant advocates, but for states as a whole. As Washington Attorney General Bob Ferguson pointed out, detaining children even longer ups the social costs of helping to treat and deal with migrants when they are eventually released.
"When we welcome those children into our communities, state-run programs and services bear the burden of the long-term impact of the trauma those children endured in detention," he said.
With numerous court battles and losses already under its belt, it would behoove the administration to count its victories: new sections of "The Wall" going up, Kavanaugh, etc. But like most Trump policy moves, the cruelty is the point.
Aug. 21: Listen to the music — Democratic Candidates and their playlists
Today, we are offering up two takes on a recent New York Time's piece detailing the playlists of several Democratic Presidential candidates.
Hi, it's Sarah here and I'm having a one-person desk dance party today, thanks for the New York Times and its publication of the campaign playlists from most of the Democratic presidential hopefuls. 
I've been comparing their playlists with my own and have come to a couple conclusions, which mirror my thoughts about the candidates themselves: Something to like about all of them, some more than others – and there's always that one something, or in this case a song, that just makes me grimace and want to hit 'next.'
I will start with the proclamation that Cory Booker's use of Bill Withers' "Lovely Day" as his walk-up song is genius. Great song, and hearing Mr. Withers' sustained note on DAAAAAAYYYYYYYYYY sends the message that the candidate won't quit (or need to breathe).
Joe Biden uses the song, too, but his walk-up song is Bruce Springsteen's "We Take Care of Our Own," which is a solid rock song with a good message, but just doesn't have the same panache as "Lovely Day."
Elizabeth Warren's selections speak to me, and my iPod (yes, I still have an iPod): Aretha Franklin's "Respect," Marvin Gaye and Tammi Terrell's "You're All I Need to Get By," and one of my all-time favorites that I listen to every day, "O-h-h Child" by the underappreciated Five Stairsteps. 
But then there's "Takin' Care of Business" by Bachman-Turner Overdrive – one of my all-time most detested songs, and I'm out. 
Kirsten Gillibrand includes a fantastically danceable song with one of the best and most girl-power-y videos I've seen in a long time in "Soy Yo" by Bomba Estereo. Look it up. But I can think of no rational explanation for including "New York Groove" by Ace Frehley, of KISS. Yes, it's the I'm-from-New-York vibe, but what candidate wants to be the Ace Frehley solo album of the Democratic primary?
Beto O'Rourke gets points for having a song by Washington, D.C. band Fugazi in his play list – Fugazi is another one of my favorite-favorite-favorite bands, but I would have picked a different song. And even though there's a Tucson connection with the band Calexico on his list, they're doing a cover of Love's "Alone Again Or." Dude, just stick to the original. Seriously. You need the authenticity.
Hey, all. Edward here, just bobbing my head, tapping my toe and singing too loud with headphones on listening to The New York Time's recent article/interactive media piece showcasing the campaign playlists of some of the most prominent Democratic Presidential candidates.
Few things are as intimately intertwined as music and politics.
The choice of songs not only lets audiences into the ear of what a candidate taps his or her foot to, it also reveals who the candidate is attempting to appeal to. For example, over 90% of the artists on Kristin Gillibrand's playlist are women — a clear callback to her campaigns focus on outreach to independent women voters.
However, when I'm evaluating playlists for which is my personal favorite, it's impossible to remove my own history and background.
As a child of the 90s raised by a Van Halen-obsessed mama and a dad who loved Morris Day and the Time, I'd say my musical tastes range from The Beatles to "Bad and Boujee."
Born in 1987, the musical movements of rap and rock that formed in the 90s and early aught's helped me form a musical profile that skips from 60s surf tunes to modern mumble rap — but can be defined as "funky."
With that said, the playlist that appeals the most to my tastes belongs to Kamala Harris.
The former Attorney General of California is the only candidate who fully embraces funk. From bangers like "Cold Sweat" by James Brown and "Kiss" by Prince to more subtle jams like "One Nation under the Groove" by Funkadelic, Harris' collection just makes you want to jam.
Harris pays homage to great 90s rap and to her home state of California by including Tupac's Cali-anthem "California Love," and Bay-area rapper E-40's "Choices (Yup)." As a matter of fact, Harris has far and away the heaviest collection of hip-hop, rap and R&B among the 2020 candidates.
Harris' is also notable for having a playlist consisting almost entirely of people of color, with only Ariana Grande's "God is a Woman" making the cut. Although on its face this may seem to appeal to small sliver of voters, the ubiquity of artists like Bruno Mars, Cardi B and Jay-Z betrays such a surface-level analysis.
Here are my Top 3 favorite songs from Kamala's playlist:
"Kiss" by Prince. It's hard to top the outright sex appeal of this 1984 Prince smash hit, and when you think about it, the songs message that "you don't have to be rich" seems to tie in nicely with Harris' plans for single-payer health care.
"California Love" by Tupac. Being from the Bay area, there was no way Harris could leave the rapper many consider the greatest of all time off her playlist. Harris choses smartly, with "California Love" offering up a call for Golden State (and American) unity.
"Juicy" by the Notorious B.I.G. The inclusion of raps most famous rags-to-riches song sends the message that not only is Harris looking to fight for people individually, but for whole communities as well.
Aug. 20: Calling all city of Tucson voters — it's time to put your ballot in the mail.
Ever wonder where general election candidates come from? It's not from the Politics Stork – corny, we know – they come from primary elections. Voters who are registered with a political party, and independent voters who request one party's ballot, decide who will represent that party in the November general election.
So, if you've ever been discouraged or wondered how the heck a particular person got to be your political party's candidate in the general election, you can blame folks who didn't turn out in the primary election.  
Tomorrow – Wed., Aug 21 – is the deadline to post your ballot in Tucson's by-mail primary, which will decide the Democratic candidates for mayor and in Ward. 1 in the general election.
Remember that Tucson elections are a little weird, in that the whole city votes in the mayoral primary and general elections, and primaries for city council seats are ward-only -- but the ward general elections are city-wide.
Mailing your ballot after tomorrow could end up costing you your vote, as it may not be counted. Ballots must be received by 7 p.m.
If you miss the mail deadline you can drop it off this week at two locations during regular business hours, or on Tuesday at one of seven places around the city. All are open from 6 a.m. to 7 p.m. Find the list below.
Historically, voter turnout in primary elections is usually frustratingly low, especially given how important primary elections are in the process.
Democrats are the focus in this primary election: three candidates are running for mayor, and four are vying to be the candidate in Ward 1, which encompasses Tucson's west side and part of the south side.
Steve Farley, Randi Dorman and Regina Romero are campaigning hard to face Ed Ackerley, running as an independent in the mayoral race. You won't see Ackerley's name on the ballot until the Nov. 5 general election.
Miguel Ortega, Lane Santa Cruz, Rob Elias (no relation to Pima County Supervisor Richard Elias) and Sami Hamed are running to represent Ward 1. The primary winner will face write-in candidate Republican Sam Nagy, assuming he garners enough votes in the primary to be on the ballot come November.
The Arizona Daily Star's Editorial Board endorsed Randi Dorman for mayor and Sami Hamed in Ward 1. But the good news is that, especially in the mayor's race, Tucson voters have quality candidates to choose from. 
Ballots can also be dropped off at one of two city locations during regular business hours this week:
Tucson City Hall, 255 W Alameda St.
City clerk's election services building, 800 E. 12th St.
Both locations have secured boxes for ballots.
On Election Day, Tuesday, Aug. 27, Tucson voters can stop off ballots at seven locations that will operate from 6 a.m. to 7 p.m. Replacement ballots will also be available there. Locations open on Election Day are:
Department of Housing and Community Development, 320 N Commerce Park Loop
Morris K. Udall Regional Center, 7200 E. Tanque Verde Rd.
Donna R. Liggins Recreation Center, 2160 N 6th Ave.
William Clements Recreation Center, 8155 E. Poinciana Drive
El Pueblo Senior Center, 101 W. Irvington Rd.
Parks and Recreation Administration, Randolph Park, 900 S. Randolph Way
Tucson City Clerk Elections Center, 800 E. 12th St.
Aug. 16: McSally plays cameo role in latest Trump production
If you haven't been following the news cycle in the last 24 hours, you've missed the latest made-for-TV, Donald Trump-produced, Bibi Netanyahu-directed scandal: the barring of duly-elected Democratic Congresswomen Ilhan Omar and Rashida Tlaib from visiting Israel. Our very own Martha McSally, who you'll remember lost the Senate election to Democrat Kyrsten Sinema but was appointed to office after Sen. John McCain died, even got in on the act.
The congresswomen, both Muslim, were originally admitted and planned to visit Jerusalem and the West Bank. Tlaib, the daughter of Palestinian immigrants, also planned to meet with relatives, including her grandmother.
That all changed after a tweet by Trump. "It would show great weakness if Israel allowed Rep. Omar and Rep. Tlaib to visit.," he wrote. "They hate Israel & all Jewish people, & there is nothing that can be said or done to change their minds."
Netanyahu responded soon after the lawmakers were not welcome because it "became clear that they were planning a campaign whose sole purpose was to strengthen the boycott and negate Israel's legitimacy."
For Trump and Netanyahu, this sort of move makes political sense. Both are making a power move to appeal to their hardcore base – voters likely to see this as a sort of stand against who they say are the enemies of Israel.
However, this Trump move makes little sense for Arizona's Republican Senator to wade into, at least at first. Yet there she was yesterday on Fox, jumping headlong into the president's talking points.
"Their actions and their words have been dangerous and their anti-Semitism, their support to the BDS movement -- I mean they personally led an effort to ensure the House of Representatives couldn't pass a bill to condemn anti-Semitism," McSally said.
First, some points of clarification. The "bill" in question wasn't just to "condemn anti-Semitism," in general, but to admonish Omar specifically for comments some on the right (and left) thought were anti-Semitic.
And the resolution (not bill) ended up passing in the House, condemning all forms of bigotry. Although the decision not to single out anti-Semitism specifically ruffled conservative feathers, McSally is willfully mischaracterizing the justification for barring the two lawmakers.
McSally, not a year removed from her loss to now fellow-Senator Kyrsten Sinema, is appearing to make a play for the states' hardcore Republican base.
Her trashing of the BDS movement, a movement aimed at Israel's policies towards Palestinians, not toward Judaism) and labeling of the congresswoman as "dangerous" are right out of the Trump's-greatest-hits catalog.
But if McSally, long viewed by bedrock conservatives as too moderate, wants to win in Arizona this time, her decision to tie herself to Trump is peculiar. Given the choice between McSally and any Democrat, most base GOP voters are already likely to be in McSally's camp, anyway.
Silly hot takes like this serve only to drive independents and casual political observers away, a lesson she should have learned last election cycle.
Aug. 15: Steve King, the scary one
Rep. Steve King probably won't be the most popular guy at his next family reunion.
The Iowa Republican, speaking at a conservative gathering Wednesday, was riffing on why he opposes abortion for women and girls who become pregnant after being victims of rape or incest.
Then he had a big thought.
"I started to wonder about this," King said.
"What if it was ok and what if we went back through all the family trees and just pulled those people out that were products of rape and incest – would there be any population of the world left if we did that?"
And he brought it all home.
"Considering all the wars and all the rape and pillage that has taken place ... I know I can't certify that I was not a part of a product of that," King said.
Happy Thanksgiving, King family. Pass the turkey.
But this is more than simply Rep. Steve King saying the ridiculous things he's prone to say.
In January, King was removed from his House committee assignments after saying, in an interview published in the New York Times, "White nationalist, white supremacist, Western civilization — how did that language become offensive?"
Just like your big thoughts on rape and incest, discrimination, bigotry, racism: always offensive.
August 14: Schilling for attention could lead to Congress
Perhaps in another time, word of former Arizona Diamond Back pitcher and current conservative commentator Curt Schilling "absolutely considering" running for Congress would be met with laughter and a shrug.
Schilling confirmed his "decision" to challenge one of the states' incumbent Democrats in a Monday letter to the Arizona Republic. "If/When things solidify I will but right now it's something in the 'I'm considering it' stage."
Considering Schilling's record outside of baseball since 2009, he's had a lot of unforced errors. First there was the 2012 failure and bankruptcy of his Rhode Island state-funded video game studio, 38 Studios, to the tune of $75 million.
Then there was his aborted stint as a color commentator and "Baseball Tonight" analyst for ESPN, where he was suspended once for sharing a meme comparing Islam to Nazism, then ultimately fired in 2016 for posting a transphobic meme in response to North Carolina's anti-trans bathroom bill.
Such improprieties would all but disqualify a reasonable person with an ounce of shame and self-awareness from throwing their hat into the ring. But these aren't normal times, and Schilling isn't backed by normal, self-aware Republican pols.
In a tweet, President Donald Trump called him "a great pitcher and patriot," before retweeting a KTAR tweet announcing Schilling's "decision." Schilling is "a fighter and a champion," wrote the president. "Terrific!"
Maybe not so terrific for Arizona voters.
Schilling pulled this same act in 2016. "I've made my decision. I'm going to run," he said of a proposed run for Senate in Massachusetts against Elizabeth Warren. It never materialized, and Schilling instead endorsed Warren's eventual Republican opponent. 
There's also the whole residency thing. Schilling and his wife currently reside in Massachusetts and would have to establish residency somewhere in Arizona in order to be eligible to run.
Taken in totality, Schilling's plan seems more than a few outs short of a complete game. Known for his pitch placement, Schilling has proven himself incapable of commanding anything other than attention in retirement, and worse, panders to people's base instincts to garner that attention.
For Arizona voters, Schilling is a swing and a miss.
August 12: He's Just Moochin'
If there is one valid criticism of the "mainstream media" writ large in the Age of Trump, it's that it can't get enough of former Trump loyalists. The latest example is the breathless coverage of Anthony "The Mooch" Scaramucci and his latest Twitter feud with the president.
Trump tweeted his distaste for his former White House Communications Director, infamous for his barely week-long stay inthe White House, after The Mooch criticized The Donald's handling of recent mass shootings.
Trump took umbrage with Scaramucci's repeated TV appearances, and how the former aide is often introduced as an "expert on 'President Trump.'"
In reality, "he knows very little about me," Trump claimed. The president also asserted that Scaramucci "would do anything" to get back into his administration and that The Mooch owed all of his camera time to him.
A few things: first, the President isn't wrong, at least when it comes to Mooch's airtime.
Scaramucci, along with other former Trump aides, is often presented as a sort of palatable spokesperson, if not for Trump and his policies proper, for Trumpism in general.
And, most important, who cares what Scaramucci thinks now? It took him being personally insulted to finally get the vapors and turn his nose up at Trump? It wasn't the kids in cages or the bragging about sexual harassment that got to him?
His self-interest aside, Scaramucci did raise a point that other Republicans may be thinking about – we can hope – telling Axios: "A couple more weeks like this and 'country over party' is going to require the Republicans to replace the top of the ticket in 2020."