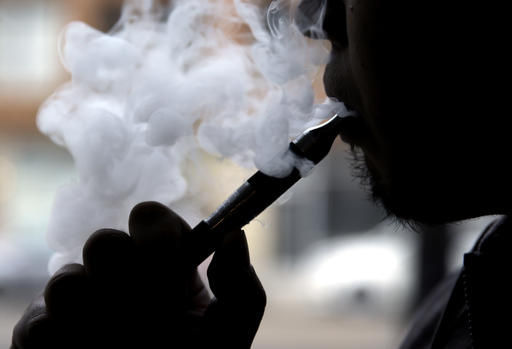 The following column is the opinion and analysis of the writer.
Today, in a rare good move, the Trump administration announced a plan to ban flavored electronic-cigarette cartridges. Often sold under brand names such as Juul and Blu, the devices first hit the market in the early 2000s, but have proliferated in recent years.
The administration's move comes a day after news reports of a sixth person dying as a result of complications from vaping, and on the heels of multiple studies showing a noticeable spike in use by teens and young adults.
One of those studies, from the National Institute of Drug Abuse, found that from 2017 to 2018, self-reported use of a vaping device at least once in the last month among high school seniors increased from 27.8 percent to 37.3 percent.
The study didn't differentiate tobacco- from tobacco-less vaping, but it did note that many of the juices and chemicals used in vaping solutions are often mislabeled or can be found in vary quantities from sample to sample.
The study also goes on to say that "there was also a significant jump in perceived availability of vaping devices," with nearly two-thirds of 10thgraders saying the devices were easy to acquire.
For e-cigs to fall into the hands of high schoolers is unsurprising. Although meant for adults aged 18 and older, part of the appeal of e-cigs are their ability to blend in with the latest tech. Juul devices, for example, are made to resemble a sleek USB drive.
Nora Volkow, director of the NIDA, put even more of the blame of the devices proliferation on the fruit flavoring used to counter the taste of the chemical juice.
"Teens are clearly attracted to the marketable technology and flavorings seen in vaping devices; however, it is urgent that teens understand the possible effects of vaping on overall health; the development of the teen brain; and the potential for addiction," said Nora D. Volkow, M.D., director of NIDA.
Volkow goes on to say that she sees vaping as a gateway to using cigarettes, a vice society had once thought it was stamping out.
"Research tells us that teens who vape may be at risk for transitioning to regular cigarettes, so while we have celebrated our success in lowering their rates of tobacco use in recent years, we must continue aggressive educational efforts on all products containing nicotine."
With six deaths within the last two months attributed to e-cigs, the fear shouldn't be of high schoolers graduating to regular cigarettes, but the social promotion of e-cigs and vaping devices to mainstream status.
While there is a lack of long-term data, studies done researching the effectiveness of vaping in quitting smoking are mixed. Similarly, a Johns Hopkins paper found that while vaping might expose smokers to less carcinogens, it is unknowingly dangerous.
Although no chemical or compound has been found to link the recent spate of deaths and emergency room visits resulting from e-cig use, it's probably best to take the advice of experts when considering buying vape juice from your local corner store.
According to the director of clinical research at the Johns Hopkins Ciccarone Center for the Prevention of Heart Disease, Michael Blaha, "You're exposing yourself to all kinds of chemicals that we don't yet understand and that are probably not safe."