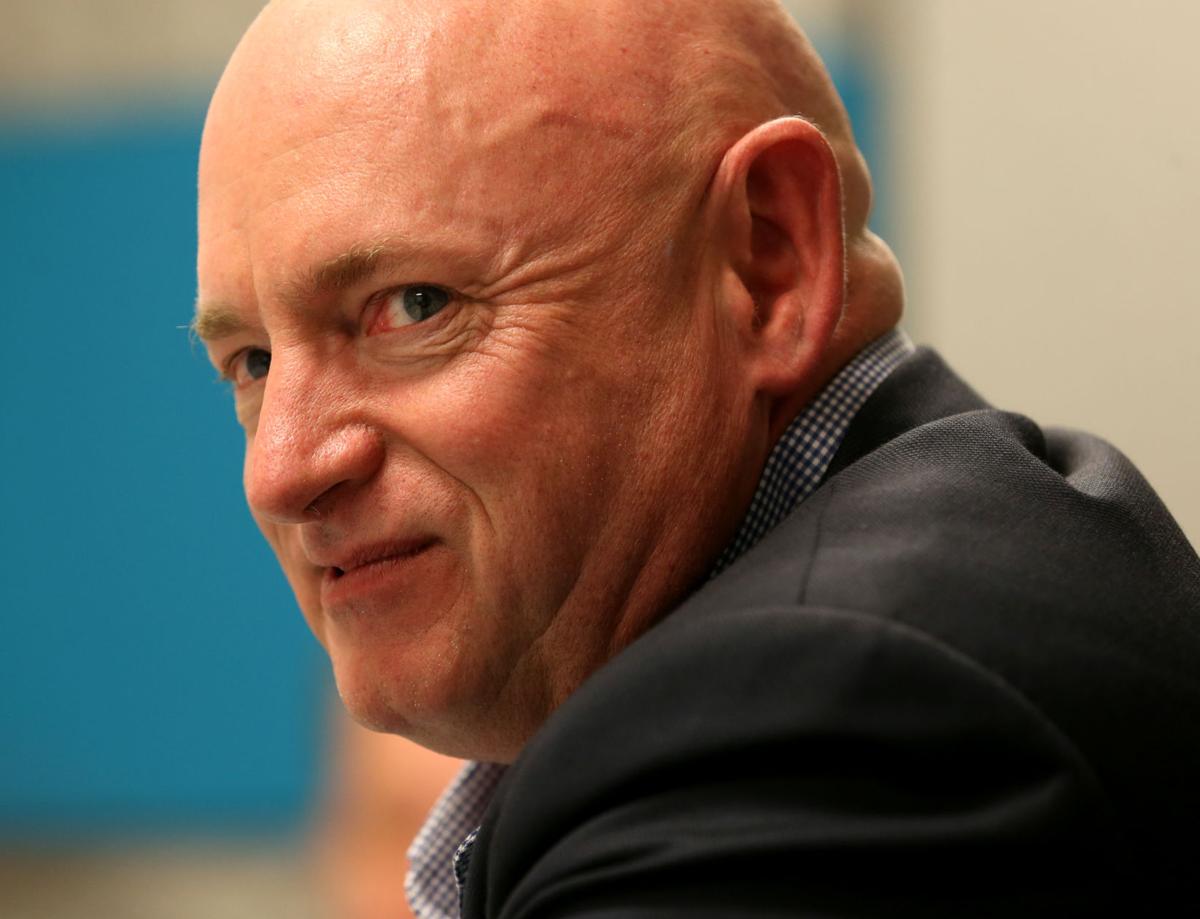 The following column is the opinion and analysis of the writer.
In beating Martha McSally for John McCain's old Senate seat, Kyrsten Sinema changed the rules of how a Democrat can run and win a race for federal office in Arizona, ushering in a new "purple state" era.
At least that's what liberal Democrats believed was in store as late as January of this year. That's before Sinema took office and started voting (her vote to confirm current U.S. Attorney General Bill Barr comes to mind) and upsetting the most leftward, activist wing of the party.
This week the idea of an official censure was floated against Sinema by the Progressive Caucus of the Arizona Democratic Party, before being shelved late Wednesday evening. But that rift between liberals and moderates could spell trouble for Mark Kelly, the Democrat tasked with unseating McSally from John McCain's old Senate seat.
Kelly, a mostly moderate candidate, is in a potentially odd position. Embrace the path laid out by Sinema in her Senate run by embracing a centrist agenda and courting independent voters, or side with the state party and the energy of the Democratic base in a Presidential Election year?
During a Tuesday media scrum – held after a campaign stop highlighted by an unexpectedly intense hybrid handball/racquetball match with El Pueblo Activity Center's resident champion –Kelly addressed the rift between Sinema and the liberals.
"I think Senator Sinema is trying to and is representing the state in a smart way," he said. "I think she has core values that she is looking to as she makes these decisions, and I don't feel like she is or should be beholden to any specific group."
That "beholden to any specific group" line might upset the most liberal among the Democrats, but in looking at Arizona's electorate, it makes sense. As of July this year, more than 33% of Arizona voters are registered independents, according to the Secretary of State's website.
That means more than a third of Arizona voters don't want to hear about how one of Arizona's two senators is tied to a political party, regardless of which one. When Kelly was asked if he would use Sinema as a model to govern, Kelly bristled and instead insisted he came from a long lineage of politically independent Arizona reps, a lineage he already is married into.
"My wife Gabby as an example, when she was in the House of Representatives, she was a moderate who often crossed the aisle to get things done for Arizonans," he said before invoking John McCain to further drive home his point: that he'll do what he thinks is right, regardless of how that plays politically.
It's both the pragmatic and honest move by Kelly. Pragmatic because Trump animates the Democratic base regardless of the Senate candidates, so Kelly doesn't have to make promises he can't keep to liberal groups in order to turn out support.
And honest because Kelly thinks progress is best achieved in small doses. He said as much Tuesday while talking about the benefits of patent reform and other steps in contrast to "Medicare for All" proposals touted by some presidential candidates.
"I come from a world of incremental change," he said, referring to his background as a Navy test pilot and astronaut. "You want to see what the problem is, you see what the obvious solutions are, you make those changes, you see what the outcome is. Then do it again."
If Kelly runs his race, then a Democrat just might do it again.