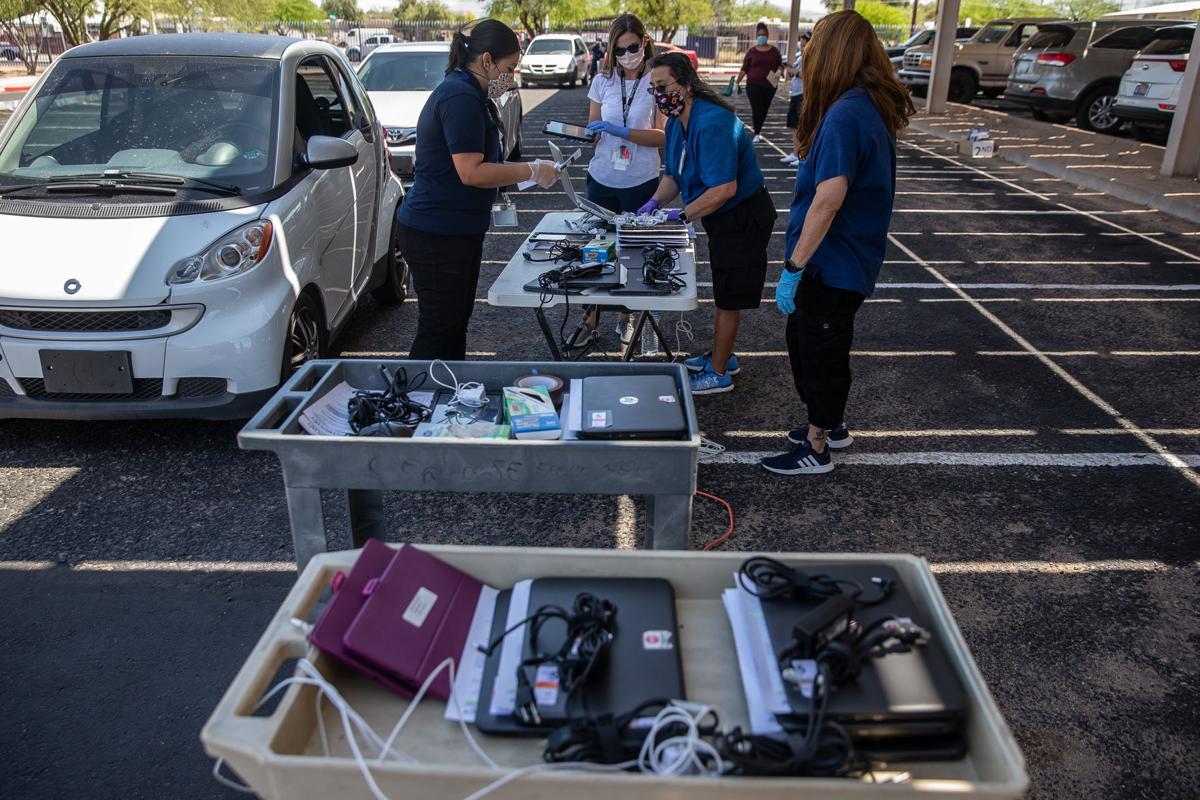 The following is the opinion and analysis of the writers:
Public school teachers and staff workers are superheroes. Parents and community saw this firsthand when Arizona schools shut down on March 13 and remained closed for the remainder of the school year.
Literally overnight, teachers transformed their curriculum and adapted lesson plans to move over 93,000 students in Southern Arizona online. Other education support professionals worked right alongside teachers to ensure that our students had the support and resources they needed.
It was an extraordinary feat, one that put our students first and showed that our leadership extends far outside of the physical classroom.
Now, as districts are faced with making decisions about what school is going to look like and how we are going to proceed in the fall, it is more important than ever to call on that leadership.
Many districts in Southern Arizona realize that it is imperative to have educator voices at the table when making these decisions. Those districts have gathered feedback, surveying staff workers and parents about how to best meet those challenges. They have shown that they value and trust teachers, staff workers and parents to weigh in on these decisions.
Some districts, however, have not. This is not a time when a "top down" approach to leadership can be effective. Teachers and staff workers learned many lessons during the shutdown, and it is imperative that we trust them to share this expertise now.
All stakeholders, including the associations that represent them, must have a place at the table where those decisions are being made. Can you imagine making decisions about how to reopen schools without them?
In a survey sent on behalf of the Arizona Education Association, over 80% of the 900 teachers and staff workers that responded expressed concern about reopening schools in August, with 60% stating that they are "very" or "extremely" concerned.
Our educators are asking difficult questions such as: How will understaffed schools be able to accommodate students in the classroom and online if parents choose to keep their children home? What is the plan should schools suddenly close again? How do I keep my first graders from touching their friends, much less their own faces?
Seventy-six percent said keeping students safe in overcrowded classrooms is their primary concern. Seventy-five percent worry that inadequate testing for COVID-19 means that students and school employees could spread the virus without knowing that they are carriers.
Arizona has the highest student-teacher ratio in the nation and is 50 out of 50 states for COVID-19 testing. These are valid questions and concerns, and teachers and education support professionals have the essential wisdom and insights when deciding on the answers.
Every school district superintendent and governing board should be leaning on their teachers and staff workers right now, inviting and respecting their voices, to help facilitate these discussions and make these critical decisions. There is important work to do, and we must do it right!
Schools in Southern Arizona open three weeks before other schools in the nation. This job can be done, and it can be done well, but we do not have much time.
We need to show our parents, students and communities that when we work together, we can get this right. We need the experience, creativity, adaptability and determination of those who know our students the best to lead the way.
Margaret Chaney is a TUSD educator who serves as the elected president of the Tucson Education Association; Sandy Faulk teaches at Twin Peaks Elementary School and serves as the elected president of the Marana Education Association; Lisa Millard teaches English at Amphi High School and serves as the elected president of the Amphi Education Association; Mario Ruiz teaches social studies at Flowing Wells Junior High School and serves as the elected president of the Flowing Wells Education Association; Tori Schroeder teaches English at Desert View High School and serves as the elected president of the Sunnyside Education Association.
Catch the latest in Opinion
Get opinion pieces, letters and editorials sent directly to your inbox weekly!