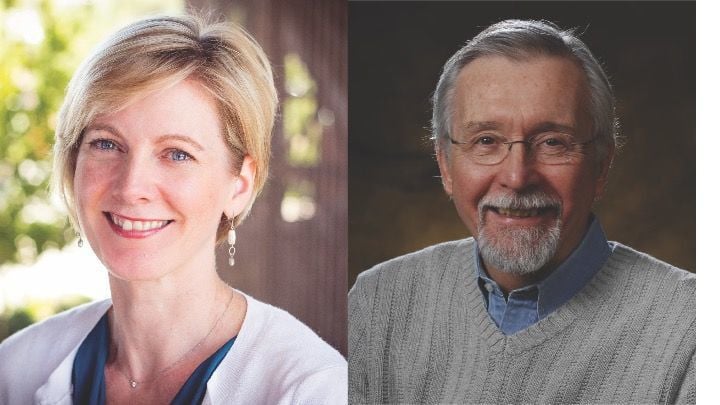 The following column is the opinion and analysis of the writers:
For the past week, Arizona has had the highest number of cases of COVID-19, adjusted for population, in the U.S., and on some days has led the world as the COVID-19 hotspot. Death rates are unfathomable, and hospitals and medical staff are overwhelmed. There are two routes to securing our public's health — mitigation and vaccination. Both are floundering.
Dr. Cara Christ, the state director of health, insists that no businesses will be shuttered. She does not "believe" businesses, bars and restaurants are a major source of the COVID-19 infections. The present plan in place suggests that there is no COVID-19 level that would shut down any business. As of Jan. 8, Dr. Christ again rejected increased mitigation.
But public gatherings are proven spreading events, especially when occupancy is greater than 25%. Add in the recently emerged, possibly more transmissible SARS-CoV-2 variant, and we have a recipe for disaster. We have no idea how prevalent this variant, or any other variant, is in Arizona because there is no comprehensive surveillance effort to identify virus variants from infected individuals.
Unmitigated spread is dangerous because increased infection in large numbers of people fuels the emergence of variants with the potential of increased morbidity and mortality. It is likely that variants refractory to the new vaccine will arise in time. This should not be accelerated by unmitigated spread.
The new COVID-19 vaccines are our only route to reach protective herd immunity that will finally slow and stop the pandemic. Yet, the vaccine rollout in Arizona has been one of the least effective in the nation. State and county authorities must put together a coordinated and effective plan to get the vaccine into arms; mandating pharmacies to drive the vaccination effort is inadequate and abdicating responsibility.
We must organize large venues to administer thousands of vaccines daily with adequate distancing. Efforts such as these were effectively organized in 1955 for polio vaccination. What was done in 1955 should be more easily done today.
The COVID vaccines, as is the case for all vaccines, are far safer than the risk posed by the infections that they protect against. Disinformation campaigns have raised concerns that the vaccine can integrate into your own DNA or cause infertility. These claims are false. The RNA that forms the vaccine will be eliminated from those vaccinated within two weeks and, at that time, all that remains is a protective immune response. There is no scientific basis for any effect of a vaccine on fertility. The vast majority of people will suffer nothing more than pain at the sight of injection and fatigue that may last up to two days. More severe and rare reactions, such as anaphylaxis, have occurred in a very small number of people out of millions vaccinated and have been effectively resolved.
Arizona, COVID-19 is rampant in the state; our house is on fire. Until vaccines are widely administered, masking and distancing is the most effective means of reducing transmission. Avoid indoor or poorly ventilated gatherings, and be vigilant in handwashing.
When available, get both doses of a COVID-19 vaccine on the prescribed schedule, three or four weeks apart depending on the vaccine. Protection will only reach the reported 95% efficacy at two weeks following the second dose. Once vaccinated, continue mitigation practices — the vaccine protects against severe disease, but it is not known if it will prevent a vaccinated person from asymptomatic infection and spreading the virus to those not yet vaccinated.
Step up to protect your fellow Arizonans! We can, we must do better.
James Alwine is a virologist and a fellow of the American Academy for Microbiology and of the American Association for the Advancement of Science. Felicia Goodrum Sterling is a virologist and president-elect of the American Society of Virology, and a fellow of the American Academy of Microbiology.