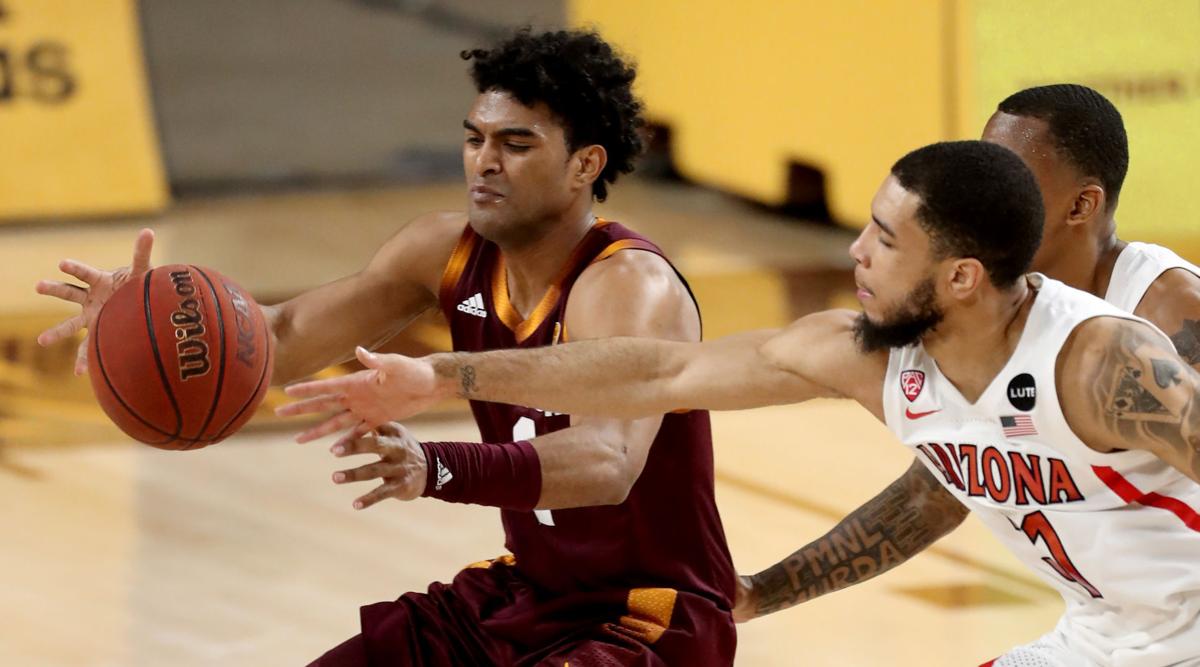 If anyone's up for an immediate Arizona-ASU rematch, it's gotta be Remy Martin.
The Sun Devils' standout guard didn't draw the foul he hoped for on a would-be game-winning layup Thursday, meaning Monday's rematch at McKale Center will be a chance for him to seek quick redemption for the Wildcats' 84-82 win in Tempe.
But for everyone else, it could be a bummer. Just another concession to COVID-19, since the rematch was moved up from March 6 in order to clear the entire final week of the regular season for makeup games.
"I don't know if anybody loves it," UA coach Sean Miller said. "I'm sure ASU feels like we do — that you want to move on and maybe play our game at a later date. But we're all part of something that's bigger than just our own programs, and I think it's a decision by the Pac-12 office that makes a lot of sense."
The move is part of a major midseason shift by the Pac-12 to clear the final week for everybody, since it still has yet to schedule several postponed games and is likely to face even more over the next month.
Of its 14 postponed conference games so far, Pac-12 deputy commissioner Jamie Zaninovich said nine have been or will soon be rescheduled. About three-quarters have been played as scheduled.
"We think that's pretty good," said Zaninovich, who oversees the conference's men's basketball scheduling. "Rescheduling games in a pandemic, I think, is one of those prophecies that you're probably never prepared for, like childbirth. You prepare the best you can and then hold on."
In this case, the Pac-12 is actually making a partly proactive move. It initially aligned the second round of all geographic rivalry games to be played on March 6, the Saturday before the Pac-12 Tournament, in order to clear up the early part of that week for makeup games.
But now it's obvious that the entire week will be necessary for makeups, if everyone is going to have a chance to get in all 20 conference games.
Especially teams such as ASU that has been saddled with multiple COVID-19-related postponements. The Sun Devils lead the conference in Pac-12 games missed so far, losing a home game with Utah because of the Utes' issues, a road trip to Washington State and Washington because of its own virus troubles and a road game at Oregon because of the Ducks' COVID-19 pause.
Oregon State is down a road trip to Utah and Colorado, although it quickly made up postponed games with Stanford and USC, while Oregon couldn't host Arizona or ASU after it paused on Jan. 12.
Arizona, meanwhile, only has the Oregon game to make up in conference play as of now. The Wildcats still have a nonconference opening resulting from a Dec 21 cancellation by San Diego.
But Arizona still had to do some accommodating because of everyone else's troubles.
It played Colorado on Dec. 28, just three days before playing at Washington, because the Buffs backed out of their Dec. 2 date at McKale.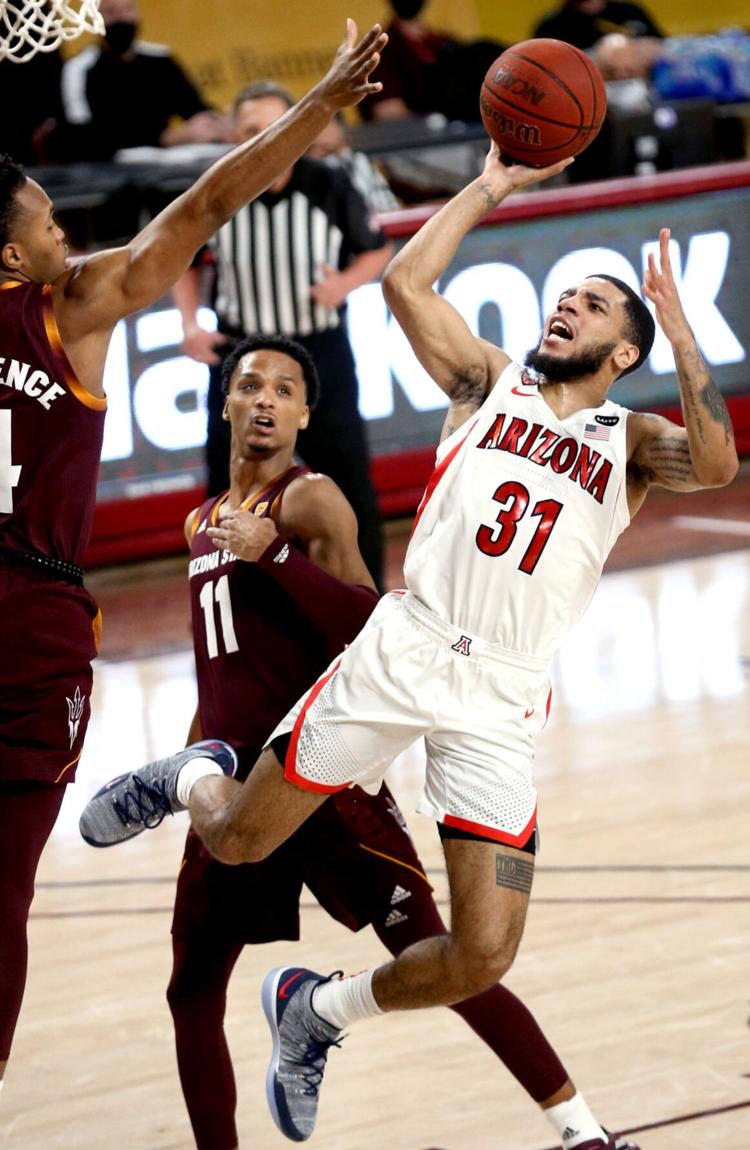 And moving its March 6 home finale with ASU to Monday forced UA to drop its hopes of cramming in a nonconference makeup game on Jan. 18, because that would have resulted in too many games over a three-week period.
It also meant, of course having to face the Sun Devils again right away.
"I think everyone's just kind of used to it," said Ryan Reynolds, UA's director of basketball operations. "It's just kind of the way the year is going."
Reynolds said moving the ASU game was discussed and decided on over a two-day period last week. The Pac-12 holds the power on scheduling, with television partners signing off once they find suitable broadcast windows, but Zaninovich said the conference first bounces proposed moves off key school administrators.
"The schools have been great," Zaninovich said. "They know once we hit conference season, the conference games are the priority to get in and then we will do our best to get them their nonconference game.
"So we talked to Arizona. We knew that they had identified that (Jan. 18) date for a nonconference game. But then we talked about the need for moving up the rival game. They said 'No problem. We think we can find another weekday later in the season for a nonconference game if that's something that we want to do at that time.' They were really good."
There's a pretty good chance the Wildcats will be asked to help again.
Even if they don't have another postponement the rest of the way, the loss of their Jan. 15 game at Oregon forces a tricky question: Will the Wildcats have to go back to the Willamette Valley again to play the Ducks, since they only could play OSU on the first trip to Oregon? Or will the Ducks be asked to turn that would-be home game into a second road game at Arizona?
Zaninovich said those are the exact sort of issues his staff has been pondering.
"As a principle, our goal is to get everyone the home games they originally had but that's not always possible," Zaninovich said. "You look at Arizona State's situation — they lost three road games and all of them are pretty far away. So that's one we're working on.
"But one of our fears in rescheduling is that if there's no other potential, we will look at changing the home game to an away game, especially if that team is back in that region and it's a far (away) region."
The Pac-12 already set that precedent by moving Oregon's home game with UCLA from Dec. 22 to Feb. 1 at Pauley Pavilion, after the game was postponed when officials had COVID-19 issues and could not be replaced in time.
Now, Oregon's scheduled trip to Los Angeles will include originally scheduled games at UCLA (Jan. 28) and USC (Jan. 30) plus another game at UCLA on Feb. 1. That makes for an especially long and potentially difficult trip to Los Angeles for the Ducks — and one that could significantly impact the league race.
Another option might be for everyone to play makeup games in Las Vegas over the last week of the regular season, since the conference tournament will be played there anyway, but Zaninovich said there has been some hesitancy because of the long time it would require away from home. There's also significant cost added in a venue, meals and accommodations, of course.
Since Oregon has to make up games against both UA and ASU, and is already scheduled to make a road trip to Arizona from Feb. 11-13, the Pac-12 could make the Ducks play an extra game or two that weekend. But a four-game road trip could prove too exhausting and, since ASU is down more games at this point, a third Oregon game in Arizona appears more likely to go to the Sun Devils.
Whatever happens, the Wildcats won't have much choice but to roll with it and keep putting it in perspective.
"I mean, 25 million people in this country have been affected by coronavirus," Zaninovich said. "I think it's hard to try to avoid pointing fingers … but Arizona, specifically, and others have been great. You normally don't play your rival back-to-back. That's a different thing. But when we went to Arizona and Arizona State, we said, 'Here's the dates we're thinking and we need to open up dates' and they were both great about it.
"It's all in the spirit of this is a once-in-a-century situation and we're gonna treat it as such. The word we use is flexibility with a capital F."