17 pointers on keeping your cactus looking sharp
Advice on growing cactus and answers to questions about them.
Stick to cute cactus clusters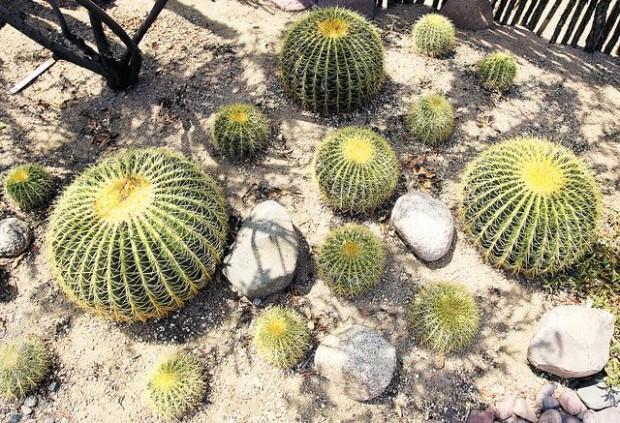 Cactus is most often planted in desert landscapes individually rather than in groups. Most plants, however, including cacti, are more aesthetically appealing when planted in groupings.
In nature, it's common for a species of cacti to colonize an area. These colonies contain plants of different ages and sizes set in a random pattern with different spacings between individual plants. You can recreate such a natural colony by selecting and planting cacti of one species in various sizes.
Small- to moderate-size cactus groupings work best for urban gardens. Just a few plants in odd numbered groupings of three, five, seven or nine are most pleasing to the eye and in keeping with the scale of most home landscapes.
The most attractive groupings of cactus are those made with species that have rounded or spreading forms. These include golden barrel, fishhook barrel, and devil's tongue barrel.
Low, spreading forms of cactus also provide an attractive "clustering" effect in a landscape. Hedgehogs, clarets cup and flying saucer spread by basal branching. All have beautiful flowers.
When selecting a location for your cactus colony, choose an area that has midday and afternoon shade during the intensely hot summer months. Avoid any location subject to reflected heat, such as along south- and west-facing walls. Most imported cactus species, such as golden barrels, do better with some sun protection. An ideal planting spot is in the light shade provided by a palo verde tree.
Obtaining plants of a single cactus species in a range of sizes may require visiting several garden centers. Although they'll be more expensive, it's important to have just a few larger specimens in the mix to imitate the randomness of an actual colony.  
Summer is the best time for planting cactus. Cactus will establish and grow faster with high temperatures and monsoonal rains.
Keep in mind the ultimate size each cactus will obtain over time. It's OK to crowd cactus a little. Just remember that some may have to eventually be removed and relocated if they become overcrowded.
Work the soil to prepare for planting the colony. Cacti prefer well-drained soil, so if a hardpan of caliche is present it should be removed or another site chosen. Turn the soil a foot or so deep using a spade. Remove rocks and stones as you go. Do not add organic amendments to the soil. Cactus is adapted to and grows best in our native desert soils. After loosening the soil, dig holes large enough to accommodate the root systems of the cactus, plant and fill back in with the soil that was removed.
Water the soil thoroughly immediately after planting. After this initial watering, irrigate once every three or four weeks during hot weather. In the winter, water only if normal rainfall does not occur, and then only sparingly. Cactus is more prone to problems from overwatering than underwatering.
Tips on plantings and growing cholla cactus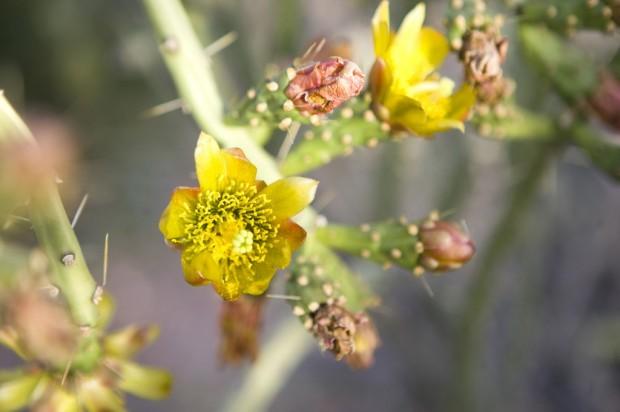 Cholla cactus lovers Mark Sitter and Chris Monrad offer tips for planting and growing the plant.
• It's much easier to plant chollas when they're small. 
• Make sure the space where you want to plant a cholla is adequate for its mature size. You won't want to transplant it if it gets too big.
• Don't plant cholla near a walkway or other area where people and animals can brush against it.
• Planting a cholla in June will allow it to take advantage of summer rains to grow quickly.
• Water it to make it grow even faster. "Just a little extra help with passive water harvesting, and they will really take off," says Monrad.
• Monrad applies a time-release cactus fertilizer in months without an "R" - May, June, July and August.
Cochineal scale insects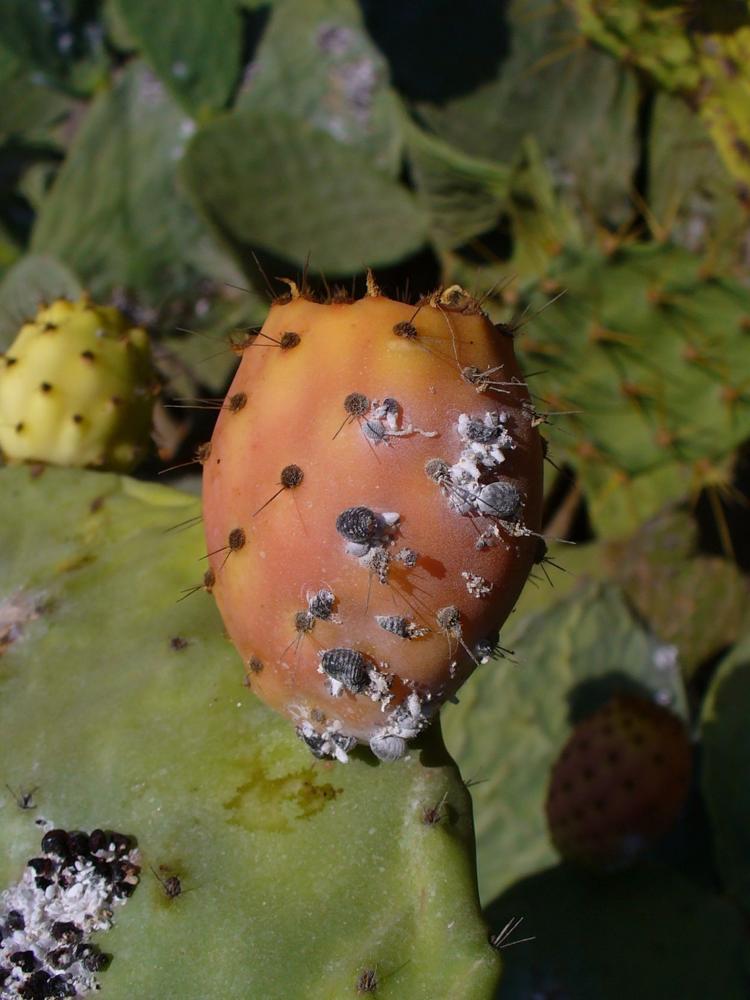 Q: I have a backyard prickly pear with a cochineal infestation. Does that need to be treated? Do these guys ever go away on their own? Are they even actually a problem for the cactus?
A: Cochineal scale insects (Dactylopius species) suck sap from prickly pear cacti and large populations can reduce the vigor of the plants. Treating them is optional. They are noticeable due to the cottony wax the females generate to shelter themselves and their egg masses and this waxy material protects them from the environment and insecticides to some degree. The eggs hatch into nymphs (called crawlers) that feed for about three weeks before settling and becoming immobile. The crawler stage is when they spread their population on cactus plants. Once settled, they produce the waxy material that shelters them from predators and the weather. Multiple generations are produced each year. While these insects utilize the plant for food, the damage is usually negligible. If a plant is seriously colonized and showing signs of decline, you can prune off the worst pads and discard them (always prune at the joints). Blast the remaining portion of the plant with a high-pressure hose. This should expose and weaken the insects. Then spray the exposed scale with an insecticidal soap or horticultural oil. These low toxicity insecticides will minimize harmful effects on beneficial insects. Treating them is best done when the crawlers are active since they are the weakest link in their life cycle. This often occurs in the late winter or early spring for the first generation of the year.
Can I dig up a saguaro?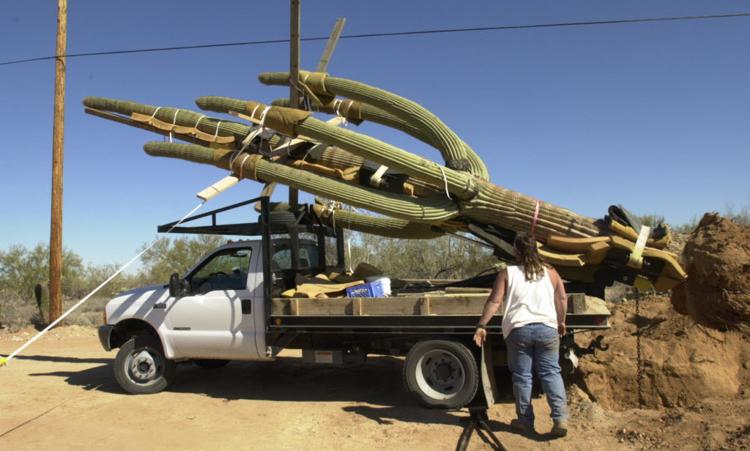 Q: A saguaro in my yard got a disease and died, and eventually fell down. Now I'd like to dig up one that is located in the yard of another house that I own. Can I dig up that still living saguaro and move it to the yard where the saguaro died?
A: Usually, you need some kind of permit from the city or possibly from the state to dig up an existing saguaro and move it. So be sure to check that out before moving the plant or you could be fined. It sounds as if your saguaro had bacterial necrosis, a common infection that can get into the roots of the cactus. In some cases, the bad spot can be cut out to keep the disease from traveling down into the roots.
Go to rosieonthehouse.com for more do-it-yourself tips. An Arizona homebuilding and remodeling industry expert for 25 years, Rosie Romero is the host of the syndicated Saturday morning "Rosie on the House" radio program, heard from 8-11 a.m. on KNST-AM (790) in Tucson and KGVY-AM (1080) and -FM (100.7) in Green Valley. Call 1-888-767-4348.
Black splotches on prickly pears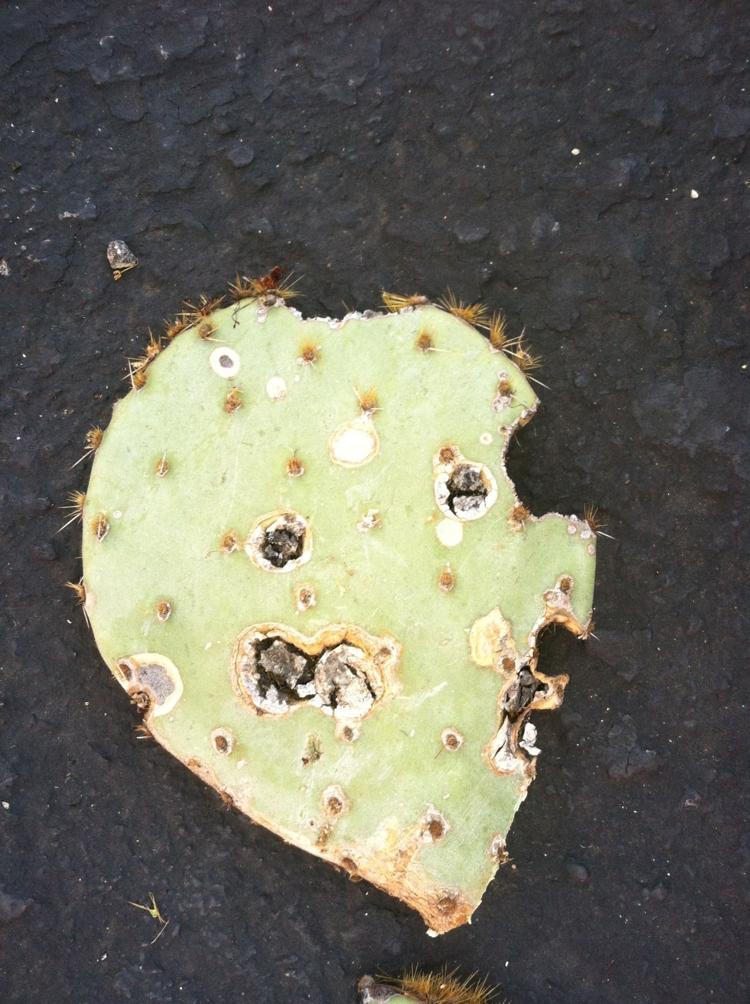 Q: One of my prickly pears became riddled with black splotches. The attached photo is of a typical pad but there are many pads at the bottom of my trash bin that were worse. I know about balances in nature and the benefits of coexistence, but this plant was an eyesore and had to go. I think the problem is caused by a fungus. I want to replace it with an Engelmann's prickly pear. It also looks like a rodent chewed the outer edges of some of the pads. Can you ID the fungus if it is a fungus? How persistent is it in the soil? If it is persistent can I treat the soil with a fungicide so the new prickly pear doesn't get the fungus? Is the chewing damage more likely to have been done by a packrat or a Harris' rock squirrel (we have both)?
A: Several pests or conditions may cause lesions on prickly pear but the most common is known as Phyllosticta pad spot and it is persistent in our area. I am afraid that no amount of fungicide would take care of this since it is endemic to the desert and very common. It spreads by releasing spores that are transported by rain and wind, and is difficult to manage. Severely infected pads or plants should be removed from your landscape as you are already doing. That's about all you can do. The chewing damage could have been done by any of the resident rodents or javelinas if you have them as well.
Fungus, mildew and rot can take a toll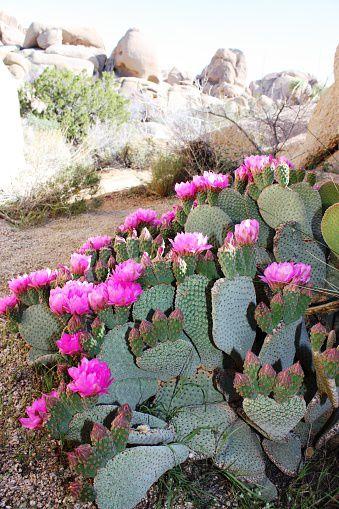 Q: Hopefully The Garden Sage can help me determine what went wrong with my 3-year-old Beavertail Cactus. It is planted on a 3-foot high berm, not irrigated. Just this week I noticed that it was leaning over, and upon investigation it has rotting stems. The rot seems to be moving upward into the pads. The soil is dry. I can't explain this problem. What to do?
A: The rotting from the base up is most likely root rot. Although overwatering can contribute to this, there is likely a bacterial pathogen that entered the plant through a wound of some sort. If you notice any wounds caused by insects, pruning, or other abrasions, that could be the entry point. Even though the soil is dry now, the pathogen could have easily gotten started during the monsoon season when we had a good bit of rain. If it appears the whole plant is affected, you might want to cut your losses and plant something else in that spot that is less susceptible to the conditions the cactus encountered.
Growing prickly pear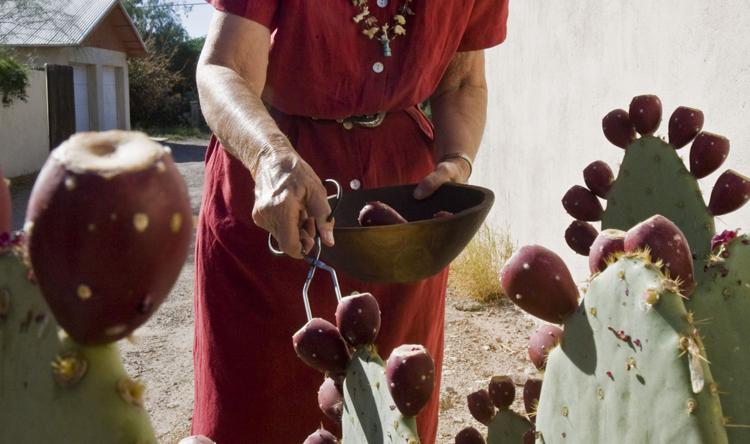 Q: I have a jar of prickly pear seeds extracted from prickly pear fruit a year or two ago and I am wondering what would be the best way to try to grow them.
A: My retired colleague, Jack Kelly, wrote a nice publication on this topic called "How to Propagate Agaves and Cacti from Cuttings and Seed" that you can find on the Internet and our website by searching for the title or AZ1483. The publication is too long for this space, but here is the first part to get you started. Download the rest if you are interested — it's free!
Always start with fresh, clean seed. The seed should be sown in shallow, wide containers in a soil mix that assures good drainage and provides air and some organic matter to hold nutrients and moisture. Mixes that typically contain 50 percent inorganic material such as perlite or pumice are excellent. The other half of the mix should be either sphagnum peat or well composted organic material. Avoid animal manures, as these may inhibit seedling establishment. Nighttime temperatures of 65–70 degrees are conducive to good germination and growth. Spread cactus seed evenly over the surface of the pot, and very lightly cover with coarse sand to avoid covering the cactus seed too deeply. Place the container in a waterproof tray, and fill with water up to half the height of the container, allowing water to wet the medium from the bottom of the container. Place the seeded pot in a bright warm outdoor location, but not in direct sunlight.
Bugs enjoy tasty prickly pear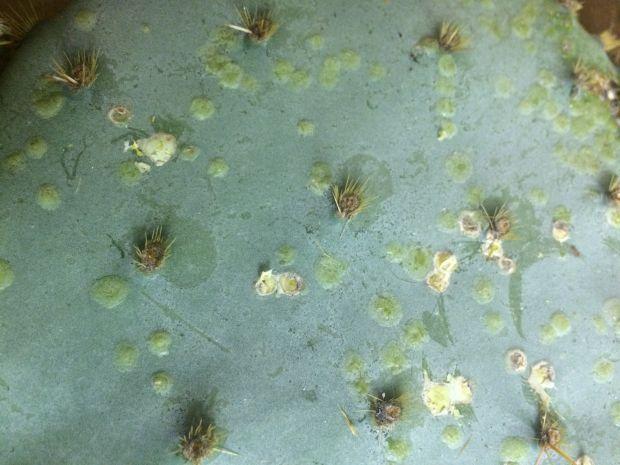 Q: My prickly pear cactus pads have some strange markings on them. Please tell me what is the cause and what I should do about it.
A: Prickly pear cacti (Opuntia species) are one of the most common cacti in our area. The damage you are seeing is from a species of plant bug sometimes called a cactus plant bug (Chelinidea vittager). They resemble squash bugs in size and shape and are close relatives of the leaf-footed bug. They feed on the cacti by inserting their mouthparts through the plant surface to suck out the plant sap. The resulting damage you are seeing is merely a flesh wound and is of no serious harm to the plant.
Watch out for that saguaro!!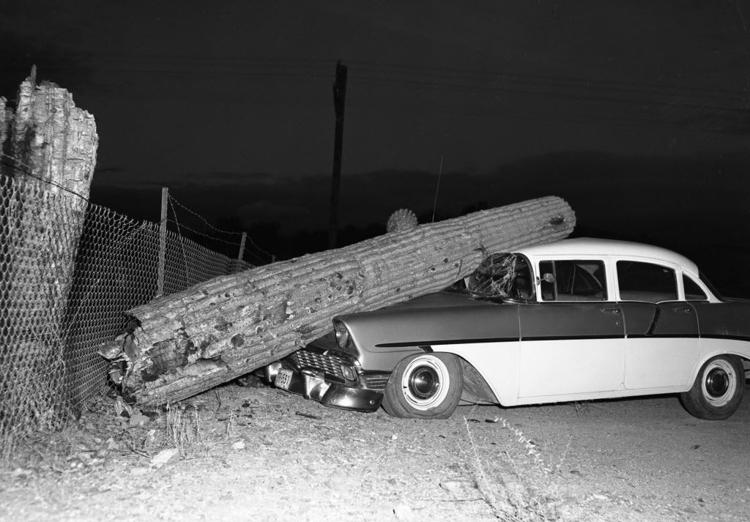 Q: I have a saguaro that has developed, over the past couple of years, a marked tilt in the top reach of the main stem (trunk?). It has started to crack at the point of inflection.  Should I be concerned that the entire top might come off?  If it does, might it bring down the whole saguaro? If this is likely to happen, should I have the saguaro topped?
A: Yes, you should be concerned, especially if there is anything nearby that could be damaged.  From the photos you sent, it looks like it is near enough to your driveway to be dangerous. Saguaro cacti are very heavy and could easily harm you or your property.  I recommend you employ a certified arborist to visit your property and give you an estimate on the potential hazards, the options you have, and the cost to remedy the situation. You might get more than one estimate to be sure you get a second and third opinion, not to mention the best price.
Gnats feast on saguaro fungus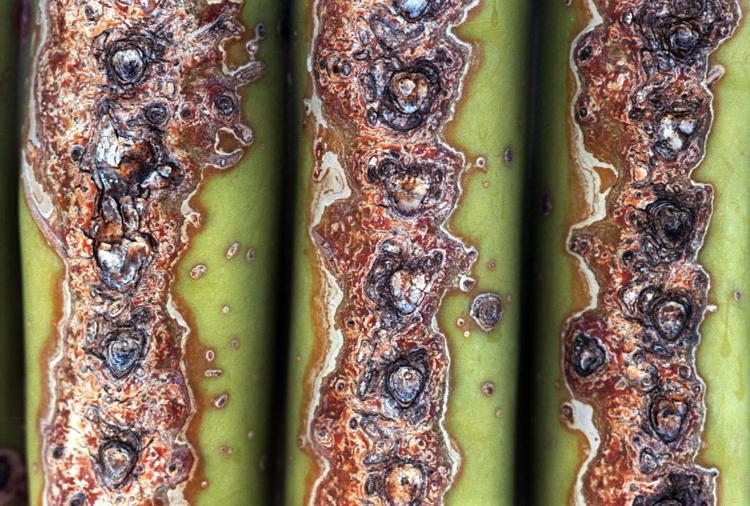 Q: A saguaro cactus in my parent's yard has something moving into it. But I was wondering if you knew what the black stuff was. When I disturbed it, some gnats flew from it, which I thought was weird.
A: The black stuff is a fungus that is growing on the excavated cactus parts that were kicked out of the hole and stuck to the spines. The fungus gnats you saw flying from the fungus are just feeding on that and not really a problem for the cactus.
Thirsty or dying of thirst?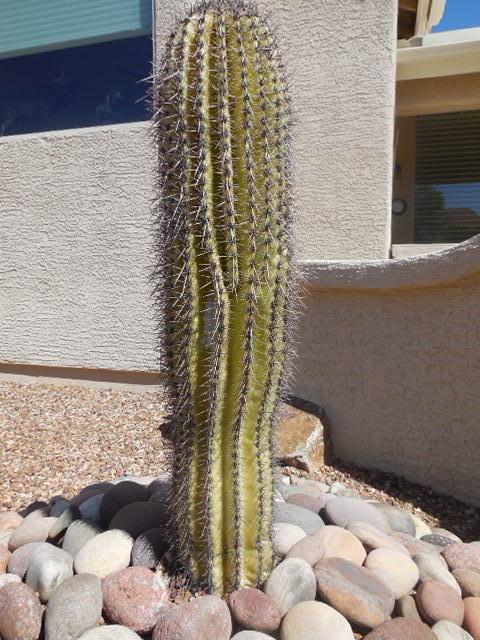 Q: Is my saguaro dying or dead? It is about 4 feet tall and eight years old. Professional landscapers transplanted it two years ago from its original spot facing in the same direction and only about 10 feet away. There are no drips around it and only receives water when it rains. I sure would appreciate your help to determine if I should replace it.
A: Your saguaro looks like it needs some water.  The recommended irrigation schedule for cacti is once every 10 to 14 days in the summer and every 21 to 28 days during the spring and fall to a depth of 12 to 18 inches. Once nighttime temperatures go below 60 degrees Fahrenheit, you can shut off the irrigation. Most cacti will survive without supplemental winter irrigation. Another recommendation, albeit too late in this case, would be to provide some shade cloth for newly transplanted cacti. Transplanting is a stressful thing for any plant and shelter from the sun is one way to reduce that stress. Sunburned cacti turn yellow and in extreme cases too much sunburn can kill cacti. Your plant looks like it will survive if you can provide the irrigation although time will tell.
Saguaro with termites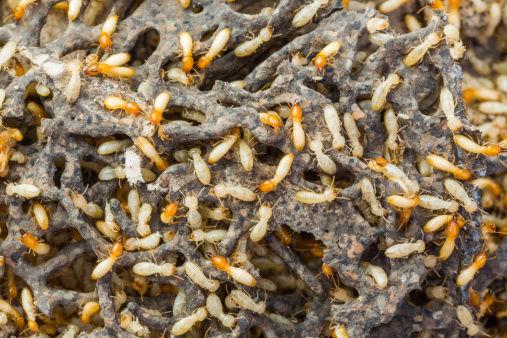 Q: My saguaro and the tree next to it seem to have a brown substance on the base. Are these termites? If so, how do you treat or is it too late?
A: The saguaro may have termites; it is hard to see from the photo. Typically desert encruster termites (Gnathamitermes perplexus) will colonize the outside of older saguaros where there are dead woody areas. They bring their mud habitat with them so you might see what looks like mud caked on the base of the cactus. Scrape a bit off and you might see the small white termites run for cover. Since termites are only after the dead wood, the live part of the cactus is safe from harm.
Protecting your cactus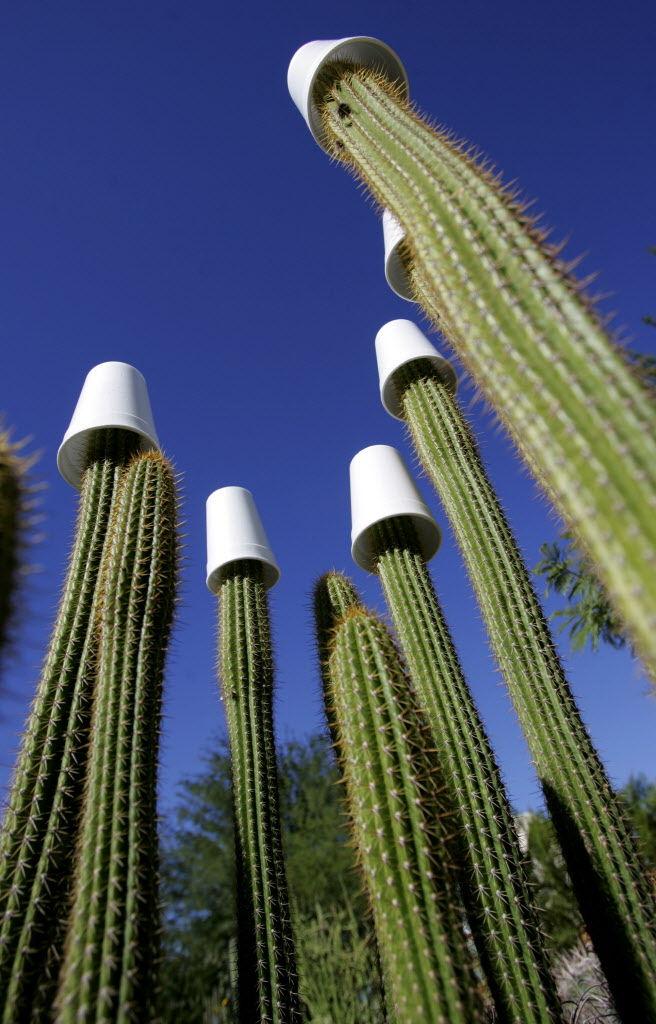 Q: I live in the Tucson Foothills area where I planted three San Pedro cactus near an outdoor wash area six years ago. During the cold months, the temperature can easily drop below freezing at least seven days each winter. Since it is getting increasingly hard to cover and uncover each 5-foot-tall San Pedro cactus, can I leave the green exterior frost protection drop cloths purchased from the Home Depot  over each San Pedro cactus from late December through mid-February without damaging these plants? What time frame do you recommend for covering and protecting outdoor San Pedro cactus from frost damage?
A: You can certainly leave the frost cloth on if it allows light to get through. The general time frame for frost danger in our area is between mid-November and late February. Of course this is just a guideline. During the early and late ends of this range the likelihood of frost is closer to 10 percent and it is greatest between mid-December and mid-January. I recommend covering sensitive plants when local weather authorities predict danger of frost. As I am sure you know, some winters are fairly mild and you can get away with not covering your plants and then we have colder years like 2011 and this year to keep us on our toes.
Non-flowering Christmas cactus
Q: I have a Christmas cactus, but it did not flower this past year at Christmas. It's very healthy and green, but it doesn't get flowers. Should I use Epsom salts? Somebody told me that would help.
A: Epsom salts can make blooms bigger on a plant, but it's not going to produce flowers. What your plant probably could use is some regular fertilization. Generally, you need to fertilize in spring and summer. Then let the plant get some rest in October and November for a while. Put it in a dark closet at night and let it sit. Take it out during the day and only let it have indirect light. When it begins to produce buds, you put it in direct light and it's supposed to start blooming for Christmas. A Christmas cactus is not an arid desert plant; it's a tropical plant. It likes moist soil, but it doesn't like being over-watered. Your plant might also benefit from being put into a slightly larger pot.
For more do-it-yourself tips, go to rosieonthehouse.com. An Arizona home building and remodeling industry expert for 25 years, Rosie Romero is the host of the syndicated Saturday morning Rosie on the House radio program, heard locally from 8-11 a.m. on KNST-AM (790) in Tucson and KGVY-AM (1080) and -FM (100.7) in Green Valley. Call 888-767-4348.
Getting flowers on toothpick cactus
Q: After 12 years my toothpick cactus has finally yielded five flowers for the first time. I am wondering if I could propagate a toothpick cactus, and if so how do I do it?
A: You can propagate the toothpick cactus (Stetsonia coryne) by seed or cuttings. For cuttings you simply cut off a section from the top of a stem using a sharp knife and at a 45-degree angle to protect the parent plant from water collecting on the wound. The size can be anywhere from three inches up to six feet. Square off the cutting, dust with sulfur and/or a rooting compound and leave in a dry airy place to form a callus. This can take one to four months, depending on the weather. August through October is a good time of year to do this part. Next, pot the cutting using standard cactus mix containing 50 percent pumice or perlite and 50 percent peat or compost.
Plant it deep enough that it won't fall over, filling in with fine gravel to hold it steady. Water once a month or so to keep the mix from completely drying out but avoiding the risk of rot. Leave the pot in a bright spot.
The cutting should root in a month or two although some take longer. Once the cutting is showing signs of active growth you can remove it from the pot and transplant it to another larger one or to the ground where you want it to grow. There is no hurry if you use a one- or two-gallon pot. They can grow in that for up to a year.
Think about a Christmas cholla early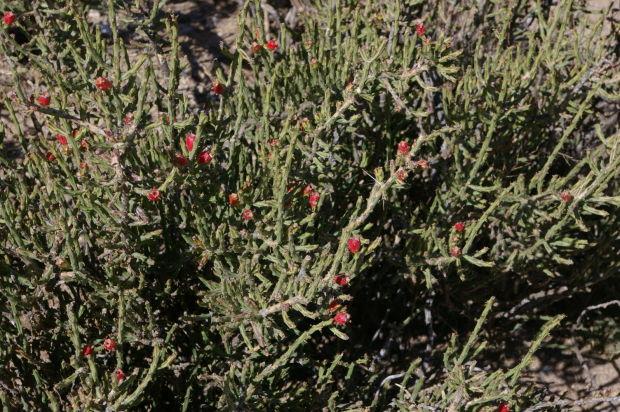 When it comes to Christmas cactus, you can literally go native.
What most people know or see in stores as Christmas cactus, a flat-leafed succulent with showy flowers, comes from Central America.
But there's another kind of Christmas cactus: The Sonoran Desert nurtures a shrubby cactus scientifically named Cylindropuntia leptocaulis. It's a Christmas cholla.
Jim Verrier, director of Desert Survivors Native Plant Nursery, calls it a "nice plant (and) one of our few little chollas."
It got its name because the red fruit on the pencil-thin joints appears from November to as late as March.
"It looks like a small shrub with red ornaments on it," Verrier says.
It's the only cholla that typically has fruit in the winter. It grows to about 2 to 4 feet and about 2 to 3 feet in diameter.
Tiny flowers ranging from creamy white to yellow to green bloom in spring. Once they fall off around May, little green fruit begin to grow. By November, the fruit starts turning to purple and then red.
Christmas cholla sports both long and tiny spines, so it's best placed in low-traffic areas away from pets and people. Give it space since pieces regularly fall off and easily establish new plants.
Because it's native to the Tucson basin, the Christmas cholla is easy to plant, grow and propagate.
It is available at garden centers that specialize in native or desert plants. Verrier says the best time to plant is in spring.
If you know someone who has a Christmas cholla, you can take a 3- to 4-inch piece to plant.
"All you need to do is take a small cutting and stick it in well-draining soil in a pot," says Gene Joseph, co-owner of the Plants of the Southwest nursery.
After about a year, you can plant it into the ground, where it will grow as a cold-hardy, drought-tolerant cactus that loves full sun, Joseph says.
Chollas in general aren't very popular landscape plants, but Joseph says the Christmas cholla is worth adding to the yard.
"It's a great smallish specimen," he says. "It gives you a really nice flower show, it's literally care-free, it has the colorful fruit in the winter and they feed the birds that are out this time of year."
Only fencing will keep javelina from enjoying prickly pear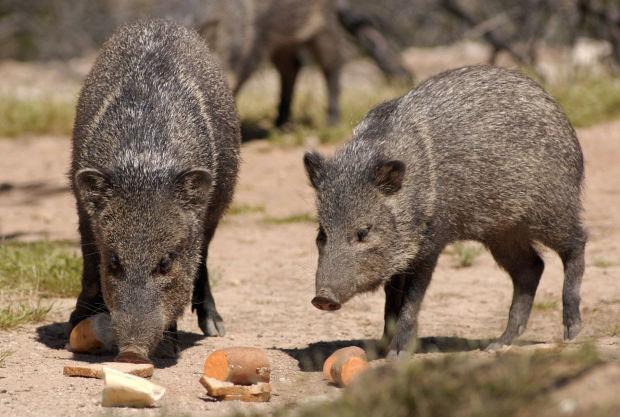 Q: I am having trouble with javelina getting into my plantings. Is there anything a gardener can do to protect their plots?
A: Javelina can nibble plants or destroy plantings while foraging for roots, depending on what they want to eat and what is available in their environment. Often they forage for prickly pear cactus, mesquite beans and agaves but they will also eat a variety of native or cultivated vines, grasses, legumes, other cacti and succulents. Other times they can dig up entire vegetable gardens and eat entire plants. If pressed, they may also eat lizards and birds.
One of my colleagues published a list of resistant plants at http://extension.arizona.edu/sites/extension.arizona.edu/files/pubs/az1238.pdf
Lists like this are to be taken with a grain of salt because these animals will feed on a wide variety of plants and will eat most anything if the choices are few, especially in times of drought since they get their necessary water from plants.
Javelina can reproduce any time of year, they live in groups and they tend to forage in the cool part of the day. At my office, where we have extensive demonstration gardens, they are usually seen after dusk. They can be seen napping in a shady spot when it's hot. They are dangerous to approach and can bite when challenged. The only proven way to protect plants is to exclude them with fencing.