High school football: A look at this week's game predictions and matchups
By Justin Spears, Arizona Daily Star
It's officially the second half of the season and Salpointe Catholic-Cienega highlight the schedule as the game of the week. In honor of Yom Kippur, most games will be played on Thursday, but three will be on Friday night. 
Winners are in ALL CAPS and Friday games are at bottom of page. 
Arizona Daily Star record: 75-17
Thursday's games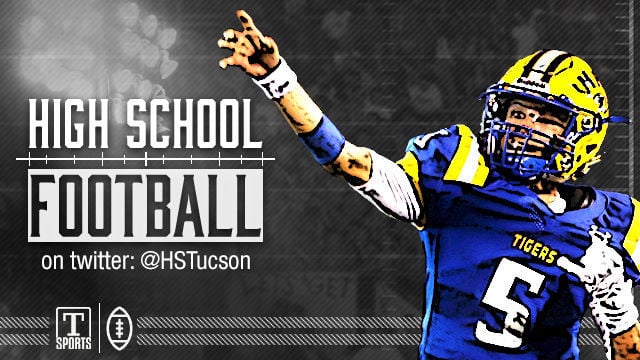 Note: Because of the Jewish holiday, most of this week's high school football games will be played Thursday night. 
Salpointe Catholic (5-0) at CIENEGA (5-0)
Where: 12775 E. Mary Ann Cleveland Way, Vail
Winner: This is not Southern Arizona's game of the week; it's the game of the year. In one corner is Cienega's Jamarye Joiner, arguably the greatest quarterback in Tucson history. In the other corner is Salpointe's Bijan Robinson, arguably Southern Arizona's best running back since Ka'Deem Carey. Joiner has 823 passing yards and 331 rushing yards along with 23 touchdowns. Robinson only needs 136 yards to break 1,000 rushing yards this season. Both teams' offenses should be well off; this game will go down to which defense can force stops and create plays to give the offense momentum. Cienega's defense has only allowed nine points per game in the last four contests. Salpointe hasn't beaten Cienega since 2006, when the Lancers had future USC center Kris O'Dowd leading the offensive live. Expect Cienega to win on a last-minute Joiner score. Let's call it 31-24.    
CANYON DEL ORO (3-2) at Catalina Foothills (4-2)
Where: 4300 E. Sunrise Drive
Winner: Both teams enter this week coming off losses, but the Dorados hope to put their 35-point loss to Marana behind them. CDO running back Elijah Carey needs 38 yards to reach over 1,000 yards rushing on the season, so expect him to perform well. Catalina Foothills' two biggest tests this season came against Scottsdale Saguaro and Pusch Ridge Christian, and both result in losses. Expect CDO to bounce back and win, 27-10. 
Catalina (5-1) at SABINO (4-1)
Where: 5000 N. Bowes Road
Winner: If it weren't for the Salpointe Catholic-Cienega game, this might be the matchup of the week. This game will go one of two ways: Either Sabino cruises by the Trojans or it's going to come down to the fourth quarter. Option No. 1 seems more likely. Sabercats win 37-14. 
CHOLLA (3-3) at Desert View (3-2)
Where: 4101 E. Valencia Road
Winner: If there's one thing Cholla does well, it's putting points on the board. The Chargers are averaging 40 points per game this season and it's mainly from quarterback Jordan Porter, who enters this week with 1,841 passing yards and 1,033 rushing yards. Expect the Chargers to take this one, 49-20. 
Douglas (0-5) at PALO VERDE (1-5)
Where: 1302 S. Avenida Vega
Winner: The Titans haven't won a home game all season and haven't won in general since Week 1. Douglas dropped a couple close games this season, but another road game especially one two hours up the road is tough for a struggling team. Titans win their first game at home, 20-7. 
Flowing Wells (1-4) at MARANA (3-2)
Where: 12000 W. Emigh Road, Marana
Winner: The Tigers are hitting their stride at the perfect time. Junior quarterback Trenton Bourget has 1,566 passing yards and 20 touchdowns. The Tigers should have no problem against the Caballeros. Expect a 56-7 win. 
IRONWOOD RIDGE (4-1) at Mountain View (4-1)
Where: 3901 W. Linda Vista Blvd., Marana
Winner: This has game-of-the-week written all over it. Who will win between Mountain View's defensive front-seven and Ironwood Ridge's run attack? Good question. Senior running back Nick Brahler is averaging 168.5 yards per game and is a bruiser in the red zone with nine touchdowns. Mountain View will compete because it's a home game, but the Nighthawks should win this one. Call it 30-14. 
Rio Rico (1-5) at PUEBLO (3-2)
Where: 3500 S. 12th Ave.
Winner: Pueblo has dropped its last two games, but both were on the road. The Warriors return home this week and are in dire need to get the offense back on track. Pueblo put 66 points on Cholla, but scored just eight points in two weeks. Expect Pueblo to cook at home against a struggling Rio Rico team. Call it 42-14. 
TANQUE VERDE (0-6) at Santa Rita (0-4)
Where: 3951 S. Pantano Road
Winner: This one will be a low scoring game, but since Tanque Verde's offense has scored more points this season than Santa Rita, the Hawks should be good enough to win on the road. Let's call it 14-0. 
Sierra Vista Buena (4-1) at SAHUARO (2-3)
Where: 545 N. Camino Seco
Winner:  Buena is the better team, but Sahuaro has won its last two games. Buena's toughest opponent so far this season was Tucson High in Week 1, and the Colts lost that game. There's something we like about the Cougars returning home with confidence. Sahuaro takes this one, 30-24.  
Friday's matchups: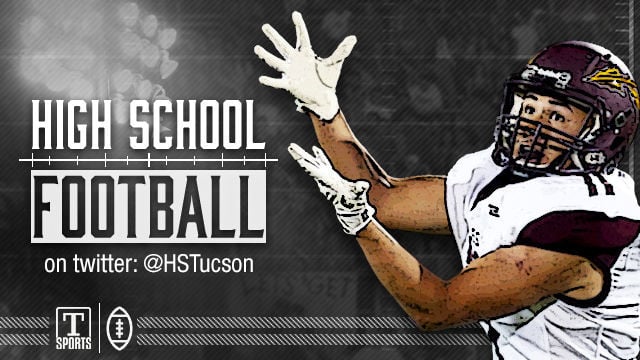 Friday night will feature three games and the better matchup of the day is just actually just up the road and a few minutes away from Cienega. Pusch Ridge Christian travels to Empire for a 3A clash. 
PUSCH RIDGE CHRISTIAN (5-0) at Empire (3-2)
Where: 10701 E. Mary Ann Cleveland Way, Vail
Winner: The last time the Ravens were at home, they took Catalina Foothills down to the wire in overtime. Pusch Ridge is better than  Foothills. Pusch Ridge has momentum, therefore it should result in another win. Lions win on the road, 24-14. 
Nogales (2-3) at WALDEN GROVE (4-1)
Where: 15510 S. Sahuarita Park Road, Sahuarita
Winner: The Red Wolves have been one the most surprising teams this season, and the run game has been their biggest strength. Walden Grove has over twice as many yards rushing than passing and quarterback Nick Flores is the leader in both categories. Walden Grove wins this one, 38-0. 
Amphitheater (0-5) at SAHUARITA (1-4)
Where: 350 W Sahuarita Road, Sahuarita
Winner: The Mustangs have dropped their last two games, but should regain confidence playing at home against a struggling Amphitheater team. The Panthers have scored eight total points in five games and Sahuarita hasn't been shut out since the first game of the season. The Mustangs should win this one, 24-7.