Republican candidate for U.S. Senate Martha McSally
US Senate candidate Martha McSally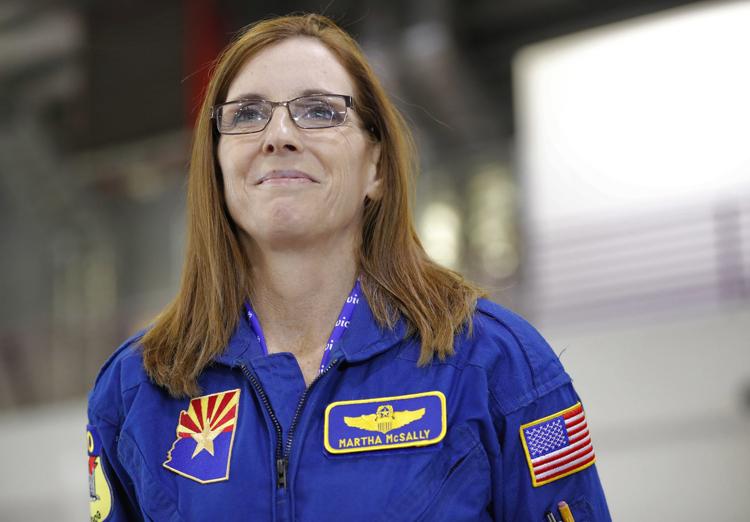 Who endorses Martha McSally (R) for U.S. Senate?
(The list is updated regularly, as information is made available to the Star by candidates or groups issuing endorsements. Send details to sgassen@tucson.com)
Former Arizona Gov. Jan Brewer
Mesa Chamber of Commerce
Martha McSally's statement
Name: Martha McSally
Race: U.S. Senate
Party affiliation: Republican
Statement:
I served 26 years in the Air Force, becoming the first woman to fly a fighter in combat and command a fighter squadron. After serving our country in uniform, I ran for Congress in Southern Arizona, and won my race in 2014.
Since "deploying" to DC in January 2015, I've led efforts in Congress and worked alongside our President to bring solutions to our community's and this country's most pressing issues--including saving the A-10, funding our military, securing our border and cutting taxes for hard working Arizonans.
Military readiness is vital to our national security, yet Democrats continue to play politics and vote to cut funding for our troops. I worked with President Trump to increase funding and rebuild our military.
Arizonans deserve a raise. I fought for the Tax Cuts and Jobs Act in the House, and led the fight to preserve deductions that support working women and seniors, and I'm proud to see all Arizonians reap the benefits.
Violent gangs continue to use our porous border and immigration loopholes to traffic drugs and people, yet Kyrsten Sinema advocated and voted for extreme open border policies that protect violent criminals instead of our communities. Sinema also voted to cut funding for ICE and our ports of entry—the gateway to supply the opioid crisis. Sinema would vote with Elizabeth Warren on open borders policies and Supreme Court judges in the Senate, and we can't allow that to happen.
Arizonans deserve opportunity and security, and this race could decide the Senate majority and the future of this country. I fought for this country in uniform, and I will fight for all Arizonans as this state's next United States Senator. I would be honored to represent our state as the first woman Senator and the first Republican from Southern AZ in our history.