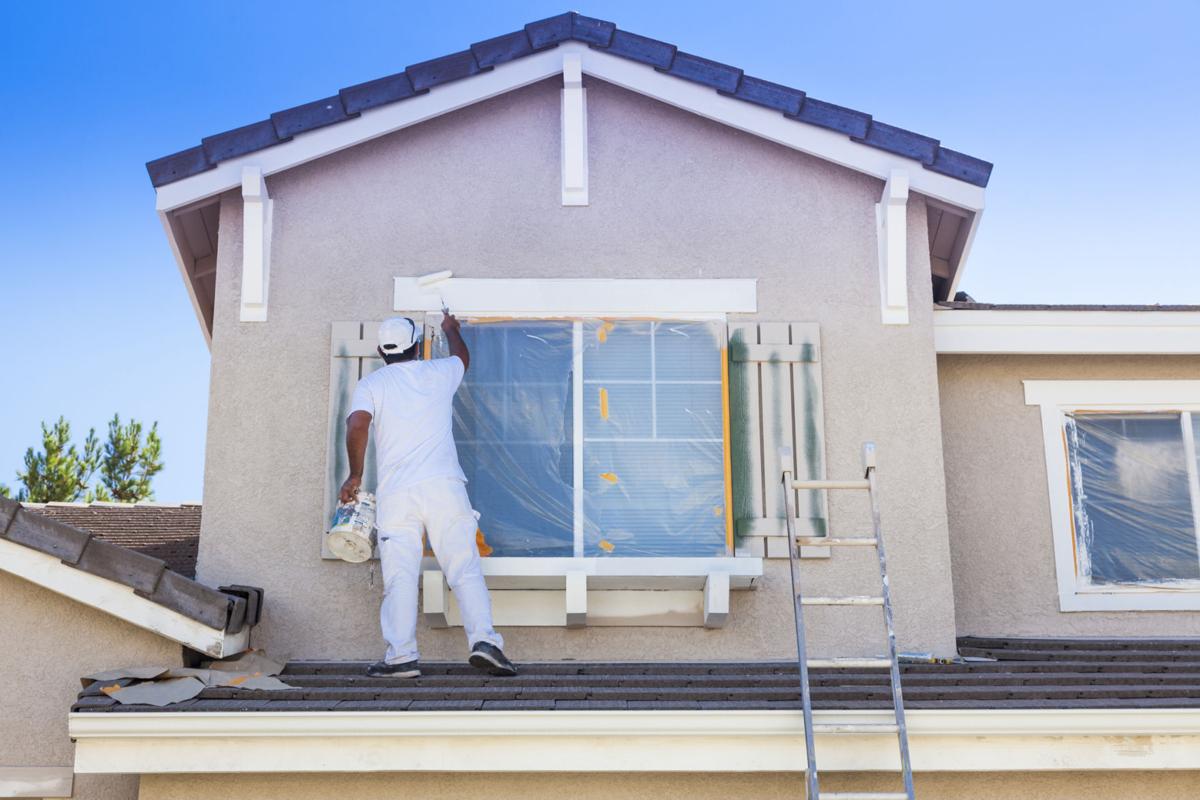 Question: Does color affect the lifespan of exterior paint?
Answer: Yes. Some colors fare better in the weather and under the sun than others. In Arizona, you'll repaint less often with a light-colored, 100% acrylic paint or stain. Dark colors absorb more heat, so they break down faster under the hot sun.
Q: Should I paint the exterior of my home with ceramic paint?
A: Manufacturers of "radiant barrier" or "insulating" paint claim it can prevent you from repainting as often, extend the life of your roof and walls, and hide unsightly cracks in stucco. They also say it will lower your energy bill by reflecting the sun away from your house.
This type of paint contains tiny ceramic spheres and sometimes metallic aluminum pigments. It is applied as thick as a credit card. This combination of paint and ceramic works to reflect sunlight so the heat doesn't pass into the home.
If you go this route, prepare to spend at least three times more money than regular good-quality acrylic paint. It can also be expensive to repair later because you can't patch it the same way you can when you have a problem with regular paint. Instead, you'll need to recoat the entire wall for an even blend.
The typical warranty on these products does not cover cracks that occur during normal expansion, contraction or foundation settling. The warranty only covers cracks resulting from product defects.
Don't expect that the paint will allow you to never paint again. All home maintenance jobs require some degree of upkeep.
Still, ceramic coating may help protect your home from UV rays, and some swear it helps make a room a little more soundproof. But the claim that it will cut your cooling bills by 30%, or even 15%, is disputed. Some researchers have said the average savings is as low as 2%.
Some painters also say the paint works like a raincoat, making it hard for water to penetrate. If the rain or moisture does get behind the paint, it will not be able to escape and can cause a mountain of issues including conditions conducive to mold and rot.
My recommendation: Don't rely on paint to insulate your house. Blown-in attic and wall insulation will keep your house cooler. I also suggest acrylic paint. It has greater elasticity than other paints, which minimizes cracking as the wall surface expands and contracts. It has a better transfer of ambient moisture so water is never trapped inside the home, and, if applied properly, will hold up for five to 10 years. In my experience, Arizona homes should never be painted with elastomeric paint for any reason. Ceramic paint is not worth the extra money, not even close.
Q: Can I paint over cracked or damaged wood?
A: If you apply good paint to bad wood, that paint isn't going to make it through a year. Before painting, inspect the siding, wood, or stucco, for cracks, holes, water damage and other problems. Repair them before painting. If you don't, the paint will soon flake off, and the underlying problem could result in severely damaged or rotted wood. Walk around your house twice a year to look for cracks in the siding and patch them before they become major problems. Adjust the sprinklers so they don't soak the wood or stucco parts of your house. Stucco is not a waterproof barrier.
Inspect the fascia board before painting. Fascia board is the flat piece of wood right below the edge of the roof. If you have gutters, they're attached to the fascia board, one of the first parts of a house to get wet and damaged. If you see rot or mold, replace the fascia board before you paint. Protect it with an elastomeric compound, which creates a flexible, water-resistant film over the wood. Then apply a double coat of acrylic paint, not elastomeric paint. Tip: Apply the compound to the front and edge of the fascia board, but not to the back side. Moisture needs a path to escape.
Important note: If your house was built before 1978, it is likely lead was in the original paint. Before chipping or scraping off paint, get it tested. If it contains lead, hire a certified EPA lead paint certified contractor to do the work for you. Find a testing professional and contractor at tucne.ws/epacert.
An Arizona home building and remodeling industry expert since 1988, Rosie Romero is the host of the syndicated Saturday morning Rosie on the House radio broadcast, heard locally from 10-11 a.m. on KNST-AM (790) in Tucson. Ask Rosie on the House your homeowner questions by emailing info@rosieonthehouse.com or call (888) 767-4348.