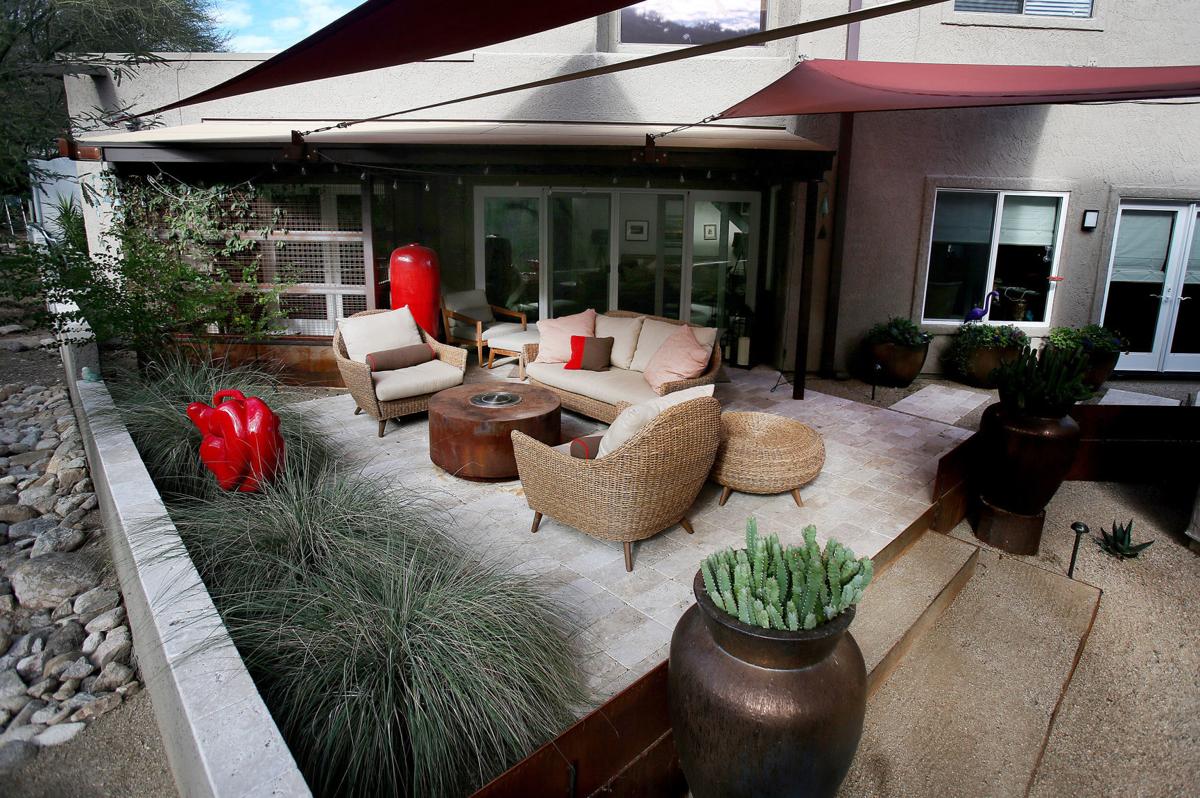 What is so special about creating outdoor spaces at home?
Imagine returning home each day to a space that invites you in and encourages you to relax, leaving the day behind. This is an outdoor space full of fresh air, comfortable seating, just the right amount of light and perhaps a block fireplace. It is an attractive space with beautiful interlocking pavers and colors that reflect the beauty of the desert. In the Arizona desert it is possible to create this special place right in your own yard. Having an outdoor space to retreat to after work or a place to entertain on weekends is good for the soul, mind and body.
That sounds like it could be a significant investment in time and money. What is the return on investment for outdoor living spaces?
Outdoor living spaces can add value to your home. The 2019 Cost vs Value reports that a backyard patio in Tucson can add as much as 63% value to a home. The patio that the Cost vs Value report used as a template is 20-by-20 with a flagstone floor, lighting, a fire pit, shade and a modular kitchen (grill, sink, storage, and mini fridge) all connected via underground gas or electric power.
How do you decide which projects will be worth the time and investment to create?
First, consider what you like to do when you are outside. Maybe you like to cook, so a space with a barbecue or pizza oven would be something you would enjoy. A functional place with comfortable outdoor furniture, lighting and a dining table might also be in order. Outdoor spaces located away from the house or on obscure porches can provide quiet places for reading, studying or listening to your favorite tunes.
Next, it is a good idea to try to envision what the whole yard plan would look like. If the project needs to be done in stages, have at least a general plan so that the finished design flows well.
What kind of time requirement is involved in creating an outdoor living space?
Spending time gathering ideas and doing your research will save you time in the long run. If you have a date you would like to have the job completed by be sure to factor in time that it takes to obtain permits and order material. If you have an HOA don't forget to check the guidelines. If you are handy you may be able to do some of the work yourself. Consider too, that you might need to hire contractors for the stonework, electrical outlets, plumbing, drainage or landscaping. Be sure to use contractors licensed and bonded by the Arizona Registrar of Contractors (roc.az.gov) and for interlocking stone work, an ICPI (Interlocking Concrete Pavement Institute certificate) is a must.
Do you have a product you recommend?
Belgard products are perfect for outdoor additions and are known for their beauty and sustainability. This spring Travertino, the newest paver to the Belgard family, will hit the market. According to Megan Pratt at Oldcastle, Travertino has the aesthetic appeal of travertine with all of the benefits of a paver. Backed by Belgard's lifetime manufacturer's warranty and manufactured in Phoenix, Travertino has the thru mix color typical of Belgard's other pavers. It easily installs over concrete and pool deck with their Techniseal DriBond product.
Belgard pavers lend themselves to endless creativity. For example, pavers can be used for flooring, pool decking or driveways; dry stack blocks make great retaining walls or planters and kits are available for fireplaces, fire pits and brick ovens. Colors like charcoal, fuego and sierra allow the right mood to be set. Multiple textures and paver styles from porcelain pavers that offer a contemporary modern look or wood planks to natural stone replacement like Mega-Libre that enhances your décor, and everything in between, make custom spaces easy to create.
If your yard has drainage issues, consider the permeable paver for your driveway or patio and or Turfstone for a grass area that needs drainage. Both allow water to drain through to the earth below and help to avoid standing or running water.
Check out Belgard.com for help with inspiration and ideas. You will also find a project guide and a project visualizer.
In our opinion, outdoor living spaces are what makes Arizona so special. With thought and planning, a backyard or courtyard can become a favorite place to gather or a valuable place to refresh your spirit.
For more do-it-yourself tips, go to rosieonthehouse.com. Rosie Romero is the host of the Saturday morning "Rosie on the House" radio program, heard locally from 8-11 a.m. on KNST (790-AM) in Tucson.
Be the first to know
Get local news delivered to your inbox!