PHOENIX — In their inaugural season, the best way for the Tucson Sugar Skulls to show the Indoor Football League that the new guys on the block were a force to be reckoned with was to take down the only team to win a championship in both the IFL and Arena League.
The Arizona Rattlers, who are coached by Sugar Skulls co-owner Kevin Guy, check both boxes. The Sugar Skulls couldn't take care of business, though, losing for the first time in franchise history 63-28 on Saturday in front of an announced crowd of 16,110 at Talking Stick Resort Arena.
The Sugar Skulls (2-1) were humbled by the in-state matchup.
"It was a learning experience," Sugar Skulls coach Marcus Coleman said. "As a coach, we see where we are. Our guys have to step in and realize just doing it during the week isn't going to get it done.
"It's got to translate on game day, especially against a good team like Arizona. At the end of the day, we just didn't get it done."
For Guy, there was nothing awkward about coaching against the team he owns with his wife Cathy.
"It was just another game," he said. "It didn't even enter my mind. I was just out there doing my job. At the end of the day, Coach Coleman and his staff have to do their job."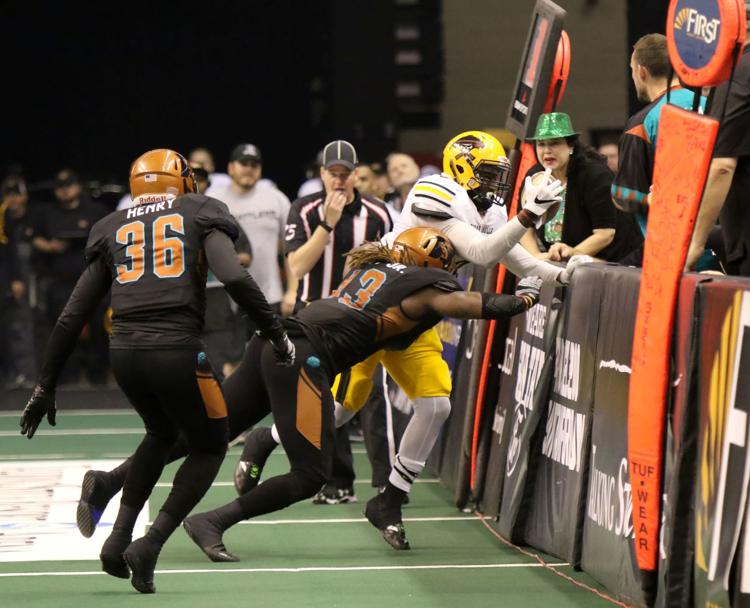 Tucson running back Mike Jones missed last week's game, but started in place of ex-Rattlers rusher Shadrach Thornton. Jones played in Tucson's first game and scored three touchdowns on 43 rushing yards, but Thornton started the second game.
"We got great chemistry. He's a veteran so I look up to him and he's a great teacher," Jones said.
So far, Coleman and offensive coordinator Hurtis Chinn have alternated their starting running backs.
"It's week-to-week. Whoever is the better fit that week or whoever has a better practice that week gets the nod," Coleman said.
Jones put the Sugar Skulls on the board first with a 2-yard touchdown on Tucson's second offensive drive. Jones finished the game with nine carries for 63 yards and two touchdowns. The Sugar Skulls' 7-0 lead was the only time they led Arizona (3-0).
Former Ohio State quarterback and Rattlers starter Verlon Reed Jr. answered with a 26-yard touchdown pass to Dezmon Epps to tie the game 7-7 at the end of the first quarter.
Then the storm came. The Sugar Skulls' field goal from their own end zone was blocked and recovered by Rattlers cornerback Dillon Winfrey in the end zone for a touchdown.
After throwing for a league-high 234 yards and eight touchdowns in last week's home opener against Bismarck and receiving IFL Offensive Player of the Week honors, Sugar Skulls quarterback Matt Behrendt completed just 6 of 14 passes for 37 yards with one rushing touchdown.
Behrendt fumbled the ball on the following drive, which was recovered by the Rattlers on the Tucson 7-yard line. Two plays later, Reed rushed into the end zone for another touchdown.
Tucson was unable to recover from Arizona's 14-point swing.
"We were in it for the most part. … That was the moment when we couldn't get it back and it just started snowballing after that," Coleman said. "Even though we had plays on both sides of the ball, we just couldn't get it back."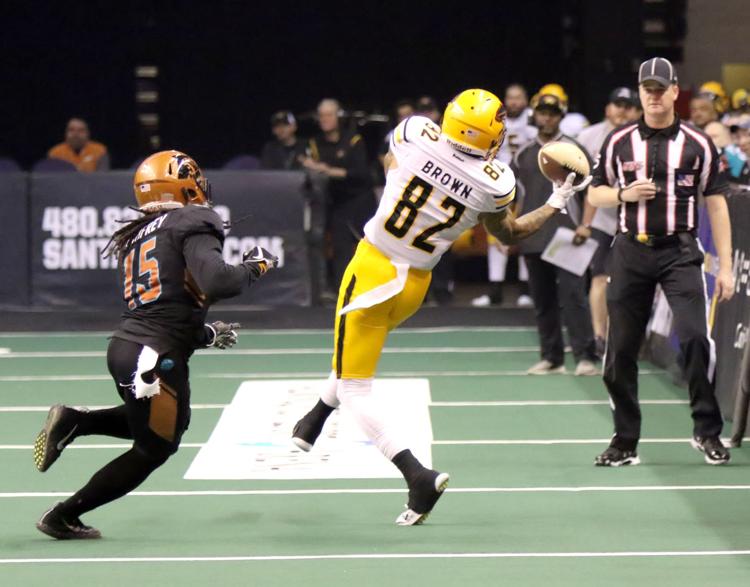 A change was needed and Coleman installed last season's IFL passing leader Jake Medlock at quarterback to start the second half.
Medlock completed 1 of 3 passes for four yards and the Rattlers fed off Tucson's offensive woes. Arizona recorded 215 yards of total offense in 28 plays while the Sugar Skulls had 152 yards in 40 plays. Reed was a big part of the production and he finished with 121 passing yards and five all-purpose touchdowns.
With two minutes left in the third quarter, Arizona put the game out of reach and took a 49-14 lead. Medlock finally scored his first touchdown of the season and connected with wide receiver Jarid Brown for a 22-yard score with four minutes left of the game. The Sugar Skulls quarterbacks viewed the blowout loss as a "wakeup call."
"Players are going to take it in a good way or a bad way and we're really going to see who the true ball players are," Behrendt said. "They were the better team today and we have a lot of work to do."