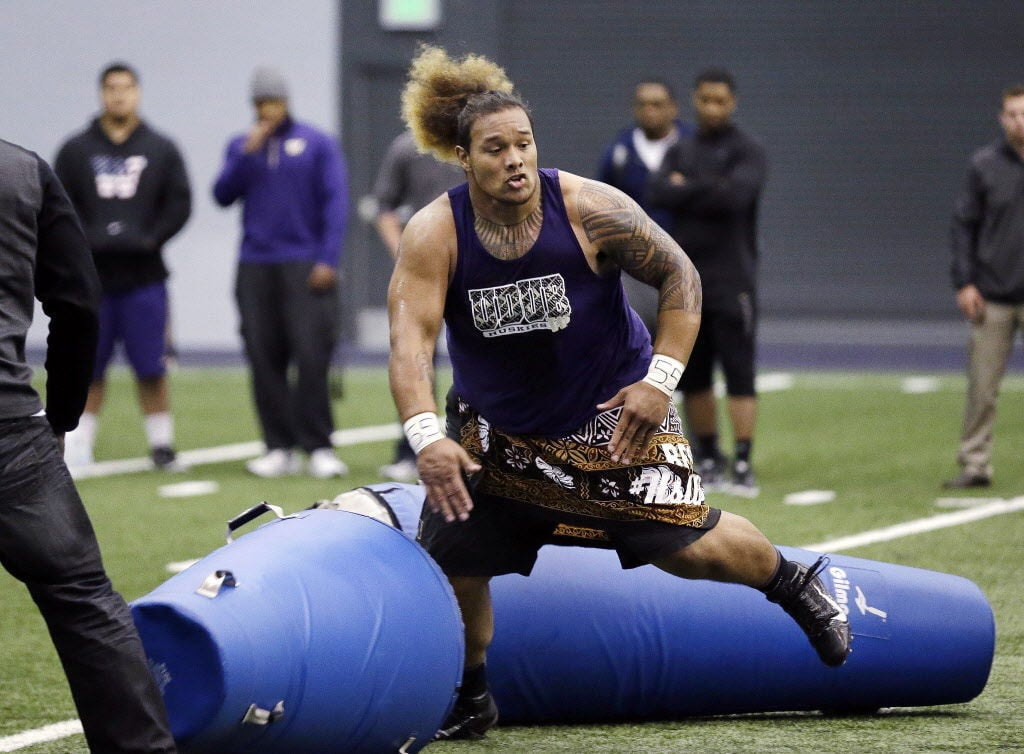 For the rare lucky ones out there, when they give up football, football doesn't give up on them.
Haig Abnous thought he was through, thought the game was through for him. He'd willed himself into four more years of football after walking on at cornerback for Mike Stoops and Arizona in 2007 following his high school career at Danville, California's San Ramon High School.
He wanted it so bad, just one more day, another practice, but tryouts proved fruitless.
Then, he was found, by renowned agent Jeff Sperbeck, off an assist from, of all people, NBA legend Chris Mullin. Mullin, family friend and neighbor of Abnous' — who calls him "basically my second father" — emailed Sperbeck to give the plucky kid a chance. Mullin saw his passion, his commitment. Abnous drove over to his parents' office.
They'd been nervous about his future. All he wanted to do was play.
Now Abnous will spend Thursday afternoon living out another man's dream, with his own discarded long ago. He is a professional sports agent, and a young one, with an even younger premier client. He will be side-by-side with Washington nose tackle Danny Shelton, a projected first-half-of-the-first-round pick, Abnous' first major recruit.
"Honestly, my pitch to Danny was that I'm passionate about what I do and who I work with: I'm dedicated and this is what I eat, sleep and live," said Abnous, a 2010 UA grad.
"My fiancée laughs at me for this, but they're going to have to pry the Blackberry from my hands. But I don't work a day. I just do what I love to do and it's not work."
One of the lucky ones, it seems, but also one of the smart ones.
Abnous sold Shelton not on his relatability but his credibility. Some young agents pride themselves on their ability to speak the same language as their young clients. They're on Instagram. They've used Uber. They know what "on fleek" means.
Abnous is not flashing his youth but flexing his experience. He has also worked with Brandin Cooks and Nick Toon and Billy Winn, all recent NFL draft picks, as well as Sperbeck's established clientele, which includes NFL legends John Elway and Ronnie Lott.
"It is important to be able to talk to them, but if you have a track record of being respectable and having clients, age will never be a problem," Abnous said. "Age becomes a problem when you make it an excuse. I can easily say being young, people wouldn't want to work with me, because I'm not as experienced and so I have to continue to work hard, to get them to see I'm here to help them."
And as much as Shelton went with Abnous, Abnous went with Shelton. He did his homework on the Pac-12 terror who had nine sacks and 16.5 tackles for loss as he became an all-conference first-team pick.
Abnous found a good dude with a heck of a work ethic, evidenced by his three Pac-12 all-academic team nods.
Abnous singled him out early in the process, hoping to secure him as a …
"I hate the word client," Abnous said. "I don't think it's a word. Everyone uses brother. I don't have a word, but they are like my brother. (Former Oregon running back) LaMichael James is the first guy I worked with. I look at him as a younger brother. If I were to do something for my little brother, I would do it for LaMichael. If I can't answer a question with my heart feeling this is the right thing, I don't do it, for me or for them."
He's off to a good start.
He's engaged to a woman, Ani Bagdasarian, whom he says helped pull him out of his post-playing-days haze. They just bought a house, and they'll be married in June. Things are coming together for one former Wildcat who has closed the book on one career and is now well on his way in another.
"I thought if I couldn't play football, I didn't know what to do," Abnous said. "It's like a chapter, I see now. I never saw it that way. I thought, 'This is how people look at me, what they see me as. Am I still going to be cool?'
"Now I know it's a chapter, and it ends."