A game-by-game look at Arizona's 2017 football schedule
Here are some quick thoughts on each of Arizona's opponents. 
Sept. 2: Arizona 62, Northern Arizona 24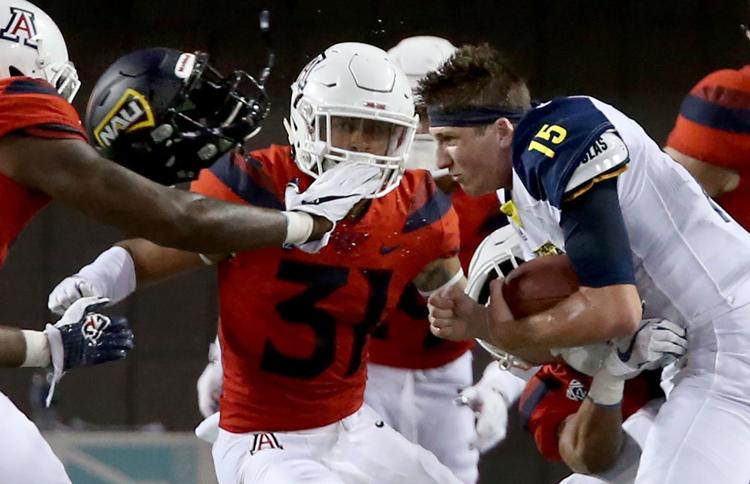 Date: Sept. 2, 2017
Opponent: NAU
Location: Arizona Stadium, Tucson
Final score: Arizona 62, NAU 24
Record: 1-0
Key player: Arizona safety Demetrius Flannigan-Fowles had eight tackles -- two of them solo -- and two interceptions. The junior from Tucson was the Wildcats' top defensive player against the Lumberjacks. 
Sept. 9: Houston 19, Arizona 16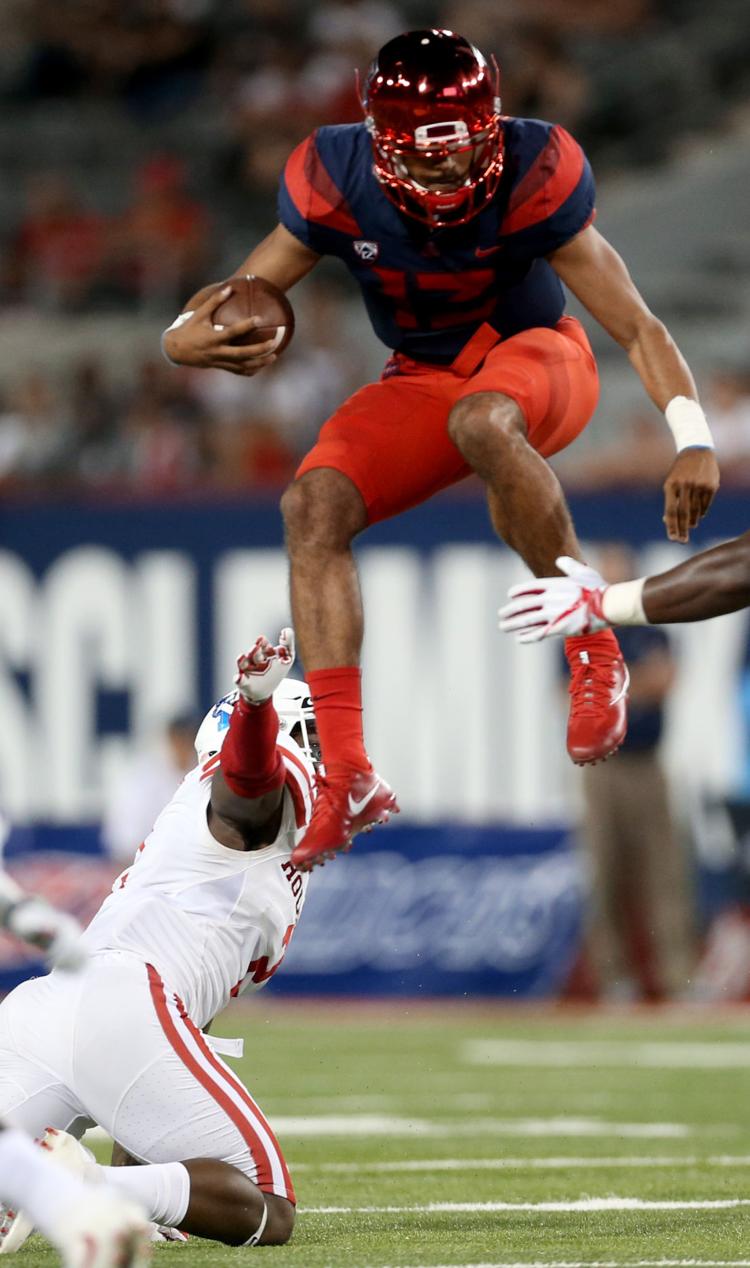 Date: Sept. 9, 2017
Opponent: Houston
Location: Arizona Stadium, Tucson
Final score: Houston 19, Arizona 16
Record: 1-1
Key player: Quarterback Brandon Dawkins is known for causing havoc with his feet, but against Houston, he went 17 of 29 passing for 178 yards. That passing performance was Dawkins' best since Oct. 2016 at Utah, but it wasn't enough as the Wildcats dropped their first game of the season. 
Sept. 15: Arizona 63, UTEP 16
Date: Sept. 15, 2017
Opponent: UTEP
Location: Sun Bowl, El Paso, Tex.
Final score: Arizona 63, UTEP 16
Record: 2-1
Key player: Brandon Dawkins contributed six touchdowns, but the play of the game was a 63-yard punt return for a touchdown by wide receiver Shun Brown. When Brown appeared to run out-of-bounds, he planted his foot and spun around two UTEP defenders and earned a spot on SportsCenter's Top 10 plays. 
Sept. 22: No. 23 Utah 30, Arizona 24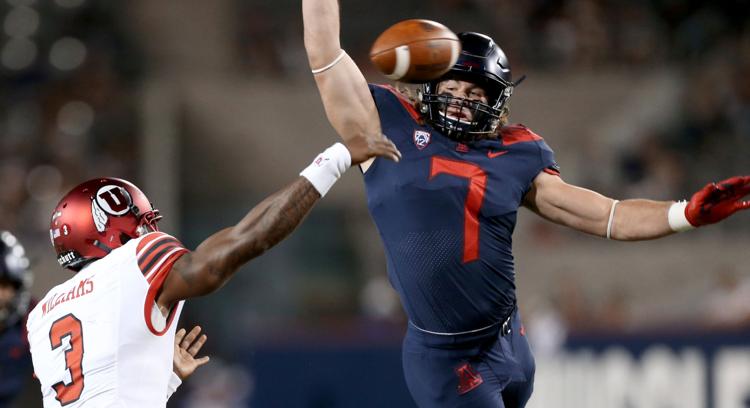 Oct. 7: Arizona 45, Colorado 42
Oct. 14: Arizona 47, UCLA 30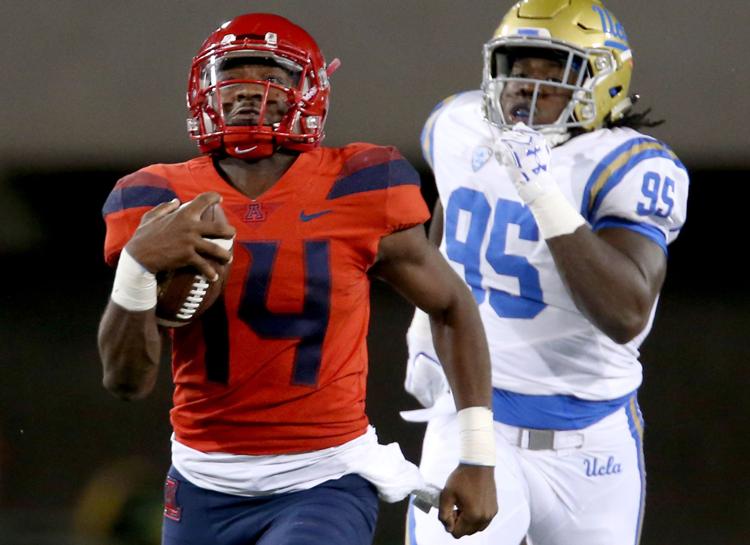 Date: Oct. 14, 2017
Opponent: UCLA
Location: Arizona Stadium
Final score: Arizona 47, UCLA 30
Record: 4-2
Key player(s): Quarterback Khalil Tate followed up his record-breaking performance against Colorado with a 230-yard, three touchdown outing against UCLA. Tate also went 9-of-13 passing for 148 yards. The other player-of-the-game came from the defense in true freshman linebacker Kylan Wilborn who had four sacks and a forced fumble. Against an elite passer in UCLA quarterback Josh Rosen, Wilborn gave him fits and the Bruins didn't have an answer for the pass rush. 
Oct. 21: Arizona 45, Cal 44 (2OT)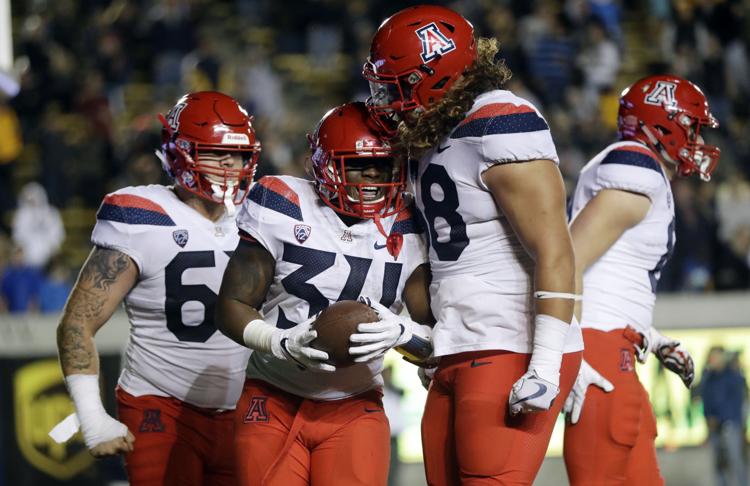 Oct. 28: Washington State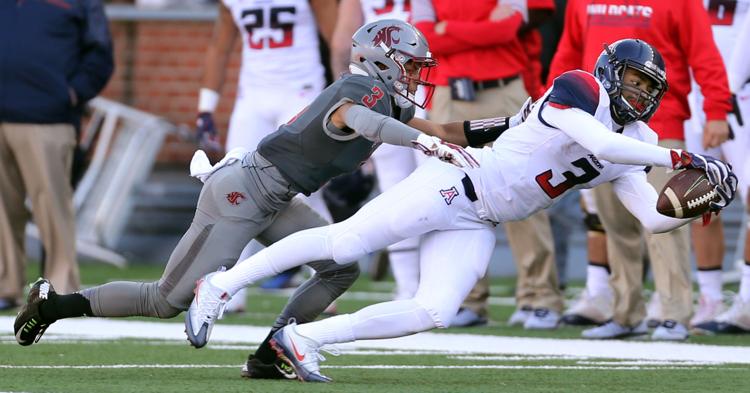 Comment: The good news — this can't possibly go worse than last year's 69-7 humiliation in Pullman. The bad news – QB Luke Falk is back. His numbers in two games against the UA are comical: 79 of 97 (81.4 percent) for 825 yards with nine touchdowns and zero interceptions. The Wildcats might try hitting him a time or two in Round 3. 
Nov. 4: At USC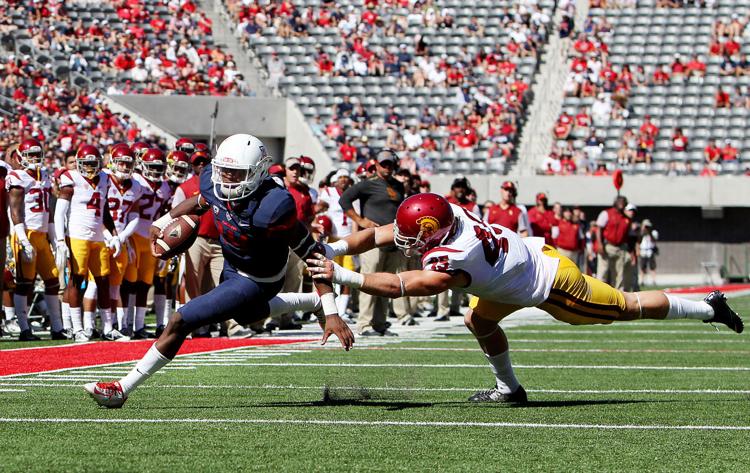 Comment: This is where the roughest part of Arizona's schedule begins – the first of three November road games to close the season. The Trojans lose a ton of talent but return Sam Darnold, who might be the best quarterback in the country. Last year's 48-14 USC victory snapped a string of nine consecutive one-score games in the series. 
Nov. 11: Oregon State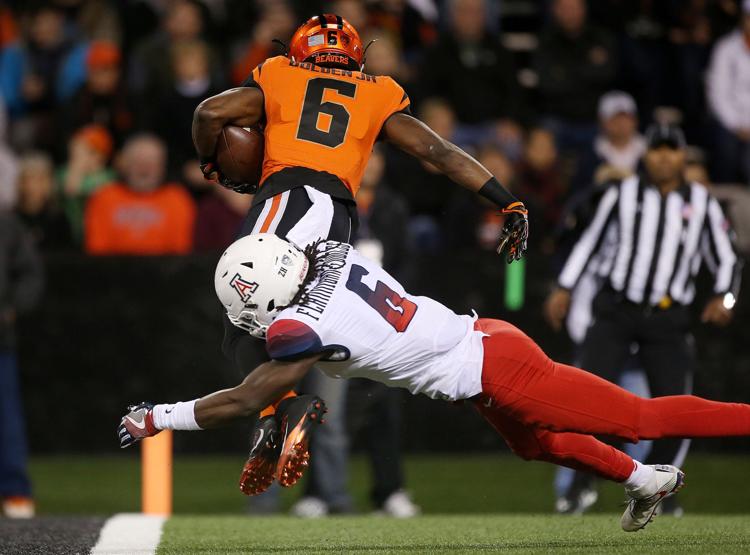 Comment: This looks like the most winnable game of the month — and it might be a game the Wildcats have to win to ensure bowl eligibility. It's possible Oregon State — which won its final two games, beating Arizona and Oregon — will be this year's Colorado. But that seems premature. 
Nov. 18: At Oregon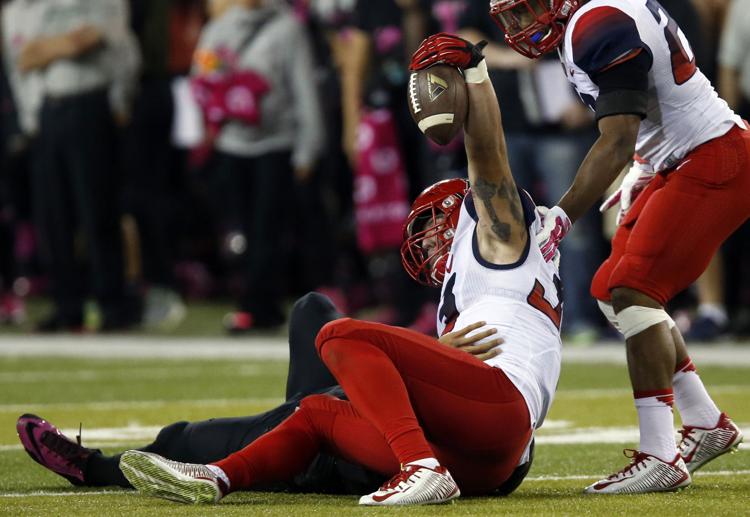 Comment: This isn't a traditional rivalry by any means, but there's unquestionably some rancor between the schools after Oregon poached two of Arizona's 2017 commits, including QB Braxton Burmeister. Remember the last time the Wildcats visited Eugene? Things have changed dramatically since, on both sides. 
Nov. 25: Arizona State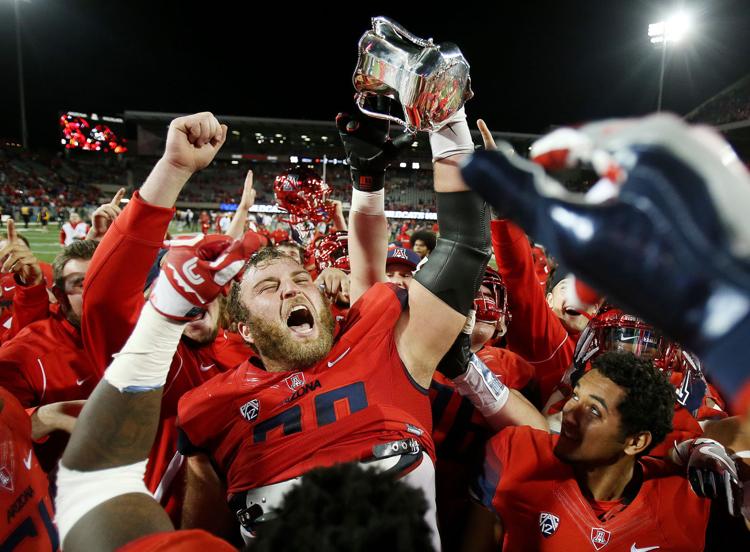 Comment: Will RichRod and Todd Graham both be coaching for their jobs? Will both schools need to win to reach bowl games? Will ASU's defense show up? Who will Arizona's quarterback be by season's end? So many questions. Far too much time to ponder them.