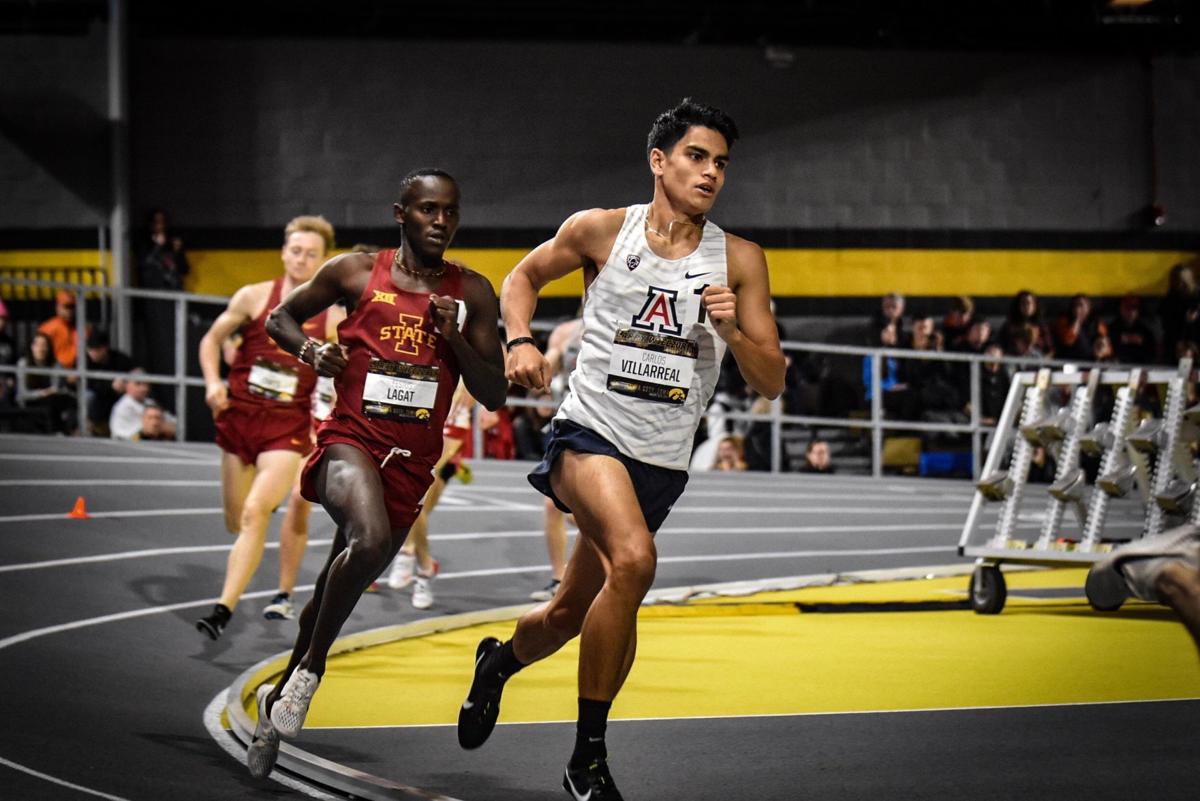 Call it the "Carlos kick."
It's the "kick," or final burst of speed, that Arizona track star Carlos Villarreal cranks up in the final phases of his 1,500-meter races.
At some meets, the redshirt junior has hit the accelerator and passed several runners en route to a second- or first-place finish. At other times, Villarreal has hung back in the early phases of the four-lap race and his closing kick has come too little, too late.
Track and field aficionados will be watching closely to see what tactic Villarreal employs Wednesday in the semifinals of the 1,500 race at the NCAA Track and Field Championships in Austin, Texas.
Midway in the Bryan Clay meet in April, Villarreal stood in about ninth place in a pack of top collegiate runners. He turned on the speed burners by going around and passing a half-dozen runners. He took the lead from Oliver Hoare of Wisconsin.
In the last 20 meters, however, Villarreal said, "My legs started to give out and lock up." He stumbled right before the finish line and Hoare won.
That race in Azusa, California, was the world's fastest at the time. Hoare won in 3:37.20, two-hundreds of a second faster than Villarreal. Those are still the two fastest times this year in the NCAA.
Villarreal has sometimes encountered problems when he has hung back too long.
That often has been the case in "tactical races." That means the runners go slower than usual in the early phases of a race, planning to rely on their kick to finish well. In some cases, Villarreal has gotten stuck in the back or middle of the pack of runners and has had to expend too much energy to get around.
At the Pac-12 championships last month, the Rio Rico High School grad hung back too long and finished fourth.
In contrast, Villarreal took the lead at an earlier point on April 25 in the 1,500 at the NCAA Preliminaries in Sacramento. He kicked at the end but did not have to go outside other runners to take the lead. He won easily in 3:39.67 and looked like he could have run faster.
Coach Fred Harvey says he wants Villarreal to use the same type of "take charge" tactic and not just rely on his kick. But the objective Wednesday will just be to qualify for Friday's final.
He's tentatively scheduled to run Wednesday at about 2:15 p.m. in the first of two heats. Eight runners will qualify for the finals.
Be the first to know
Get local news delivered to your inbox!