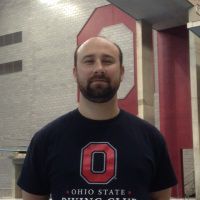 The UA has hired a new diving coach. 
John Appleman was introduced as head coach Augie Busch's new aide on Tuesday morning. Appleman had been serving as the manager for The Ohio State University Diving Club; he was also a standout diver at George Mason University who competed for Team USA.
Appleman replaces Omar Ojeda, who was not retained.
"I am thrilled to have John leading our diving program into the future," Busch said. "John has shown he is capable of developing divers of all talent levels. He has tremendous stature in the realm of USA junior diving and has turned the Ohio State diving club into one of the nation's premier clubs. From the beginning, I felt aligned with him in terms of building team culture and creating great connections with student-athletes. I have no doubt our diving program will thrive under his vision and leadership."
Appleman has coached for Team USA for the last years, and was the head diving coach at last year's Junior Pan Am Championship. He has coached 37 Junior National Champions, a Senior National Champion and five divers currently on the USA Diving Junior National Team.