LINCOLN, Neb. — Same court, same result.
Arizona's rebound season ended with a thud — a 25-17, 25-22, 25-18 loss to Missouri in the first round of the NCAA Volleyball Tournament at the Devaney Center in Lincoln. It was the Wildcats' first postseason match since losing 3-0, also in Lincoln, to Washington in the 2016 regional semifinal.
"I'm going to have to talk to the committee to not ever put us here again," Arizona coach Dave Rubio said.
No. 23 Arizona (22-11) held opponents to a .198 hitting percentage this season, but the Tigers hit an astounding .412. That was Missouri's season-best, and Arizona's worst.
"They played way better than they looked on film. They really passed well, and they were always in system," Rubio said. "We didn't present much of a problem for them."
The Wildcats hit .221, including 13 errors. Missouri only had one block, meaning 12 of those errors had more to do with Arizona's hitters than Missouri's defense.
"I'm sure they're not happy about the unforced errors they made," Missouri coach Wayne Kreklow said. "They had us a couple times and it seemed that someone on that side would miss a serve or make some kind of an unforced error that would let us off the hook."
Neither coach nor the players could figure out what went wrong.
"Everything leading up to the match felt really good," outside hitter Paige Whipple said. "It was a shock when we got out there. That wasn't us."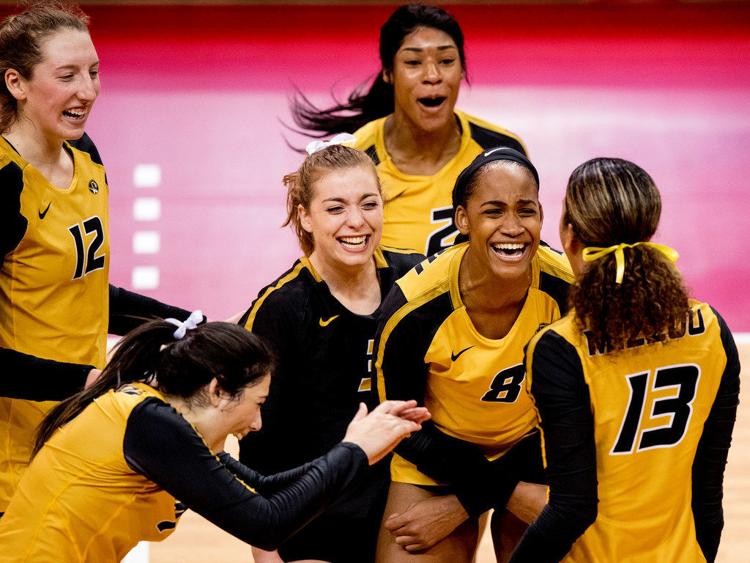 Whipple had 11 kills with no errors, hitting .355, but the rest of the Wildcats combined to hit .164. Kendra Dahlke struggled in her final match, hitting .097 with seven errors.
Missouri, in the tournament for the fourth-straight year, used a 6-1 run to take a 14-9 lead in the first set, and was never seriously threatened thereafter. The No. 24 Tigers (24-7) made the most out of scramble plays, turning bad sets into kills.
"Out-of-system balls were really successful tonight," Missouri's Tyanna Omazic said. "That has to do a lot with us being up and available."
None was better than Missouri's 24th point on which Kalei Malina Ua's serve for Arizona was dug inches from the floor, and after a couple pinballing passes, Kylie Deberg blasted away from the back row. Her swing hit the tape, crawled over the net, and fell to the floor for Deberg's fifth kill of the set.
Arizona's strong serve built a 17-13 led in the second set, but the Tigers rallied with an 8-2 run. Dariana Hollingsworth had three kills on Missouri's final six points, including the winner. Arizona hit .314 in the set, but that couldn't keep up with the Tigers' .438 percentage.
Rubio used both his timeouts early in the third set, but they did no good. Missouri raced to a 13-7 advantage and led by at least five the rest of the way.
Arizona, which was 11-18 a year ago, finished 22-11 — the largest such one-year improvement since the program entered Division I. It did so despite a rash of injuries, including a concussion that kept outside hitter Liz Shelton off the court for the final 21 matches.
"We had a different lineup for nine weeks," Rubio said. "What we did was remarkable."
Arizona will return plenty of talent as Dahlke was the only senior who played Friday. She ends her career with 1,378 kills, seventh in school history.
"She certainly means a lot to our program," Rubio said. "She's had to really work to become the player she's become and I'm proud of the fact that she was able to endure the rough spots in her four-year career. A lot of kids would have walked away."