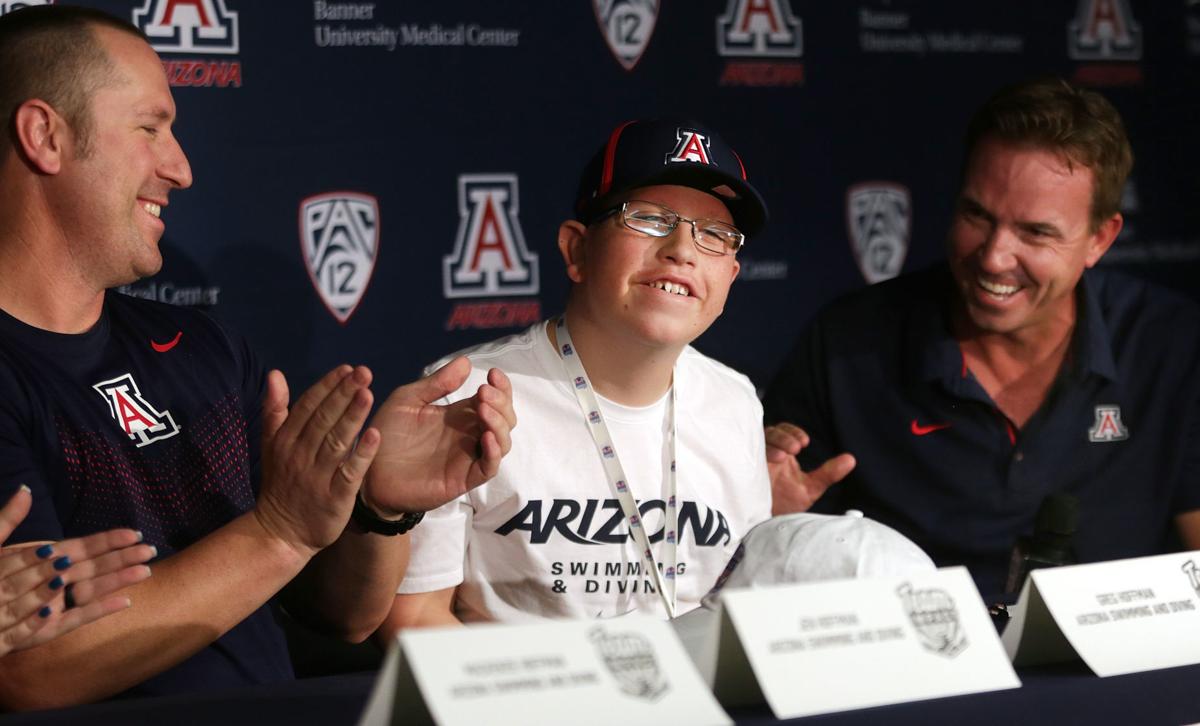 Colton Hoffman just might be Augie Busch's most valuable signing at Arizona.
Hoffman has been great for the Wildcats' still-developing culture. He fits what Busch preaches: team over self. He cheers for every one of his teammates on the pool deck.
Yet Hoffman has yet to get wet as a Wildcat — unless you count the big water slide that he rode at his birthday.
See, Hoffman is just 13 years old. And he doesn't swim.
"To have him there for us puts it all in perspective," said UA junior Taylor Nations.
Hoffman has a rare genetic disorder — unbalanced translocation between genes. He is the only human being living with the disorder. He has severe cognitive delays, heart issues, poor muscle tone and no depth perception, among other things.
Hoffman and the Wildcats were brought together by Team IMPACT, a non-profit that connects kids with chronic diseases with athletic teams. Hoffman signed a letter of intent with the Wildcats in September. At the time, his parents, Greg and Jen, didn't quite know what to expect.
Now, the Wildcats' swimmers "feel like our kids," Greg Hoffman said.
Said Jen Hoffman: "It's amazing what it's become — knowing he has this group of kids."
The partnership has helped Colton, too. He is truly a part of the team, and his personality shines when he's around the Wildcats. Colton wasn't able to attend many matches or practices because of his sensitivity to light, but he cheered on his teammates during the ASU match in February. The Pac-12 and NCAA tournaments kept the swimmers away from Tucson for a while, so they requested more time with him.
It's easy to see why. Junior Noah Reid calls Colton "super fun-loving and passionate."
"He loves to gives hugs and the smile that crosses his face is indescribable," Reid said. "He is super happy and sure has felt like one of us, because he is.
"I know how the world can view Colton with his setbacks in life, but you wouldn't know it from being around him. He has a great attitude. His perspective on life — even though he has all his struggles — puts life in perspective for us."
It may have been a little tough for Colton to pick just one favorite moment in his first year as a Wildcat. There are so many.
Was it signing day last September? Getting his own locker in the men's locker room? Going down the big water slide with his teammates at his birthday party? Hoffman waited for UA diver Casey Ponton, with whom he has forged a special bond, to show up at his birthday party on April 28 to go down the slide with him.
His best gift, hands down, was his new UA backpack. Colton showed it off to all his guests at the party.
There's something else to be proud of, too. Earlier this year, the Hoffman family welcomed a new addition to their family — Happy, a golden retriever service dog. Happy goes everywhere Colton does; he barks when Colton needs help, and opens and closes doors. He can even bowl, as the Wildcats learned when they met Colton and Happy at a local bowling alley.
"Happy can push the ball off the rolling-thing. It's cute," Nations said. "It kind of hit me when I was watching Colton bowl. If he hit one pin he was excited and celebrating. He was excited over something as small as that. We're upset hitting only one pin. Seeing this boy as happy as can be despite his adversity — we're taking a lot from him, as well, like learning to appreciate life and having fun, too."
Cats' Schnell aiming for World Championships
Delaney Schnell, a Tucsonan and the UA's top diver, will take part in the USA Diving qualifying meet May 19-28 in Indianapolis. If Schnell makes the team, she will compete in the World Championships in Gwanju, South Korea, from July 12-28.
No Texas Invitational for 2019-20 season
One of the most prestigious swimming meets of the year won't be on Arizona's schedule next season. The Texas Hall of Fame Swimming Invitational has been canceled for the 2019-2020 season. Texas spokesman Ben Breitbach blamed a scheduling issue.
Teams will still compete in the diving portion of the Texas Invitational.
The Wildcats have filled the open slot in the schedule with a meet in Minnesota. The full schedule won't be released until this summer.
Arizona has been a constant at the Texas Invitational since the 2000s. There were many memorable moments for the Wildcats, including Kevin Cordes' time of 50.70 seconds in the 100 breaststroke in 2013 to break his own American record. Last year, Nick Thorne set a UA record in the 200-yard butterfly with a time of 1:40.57.