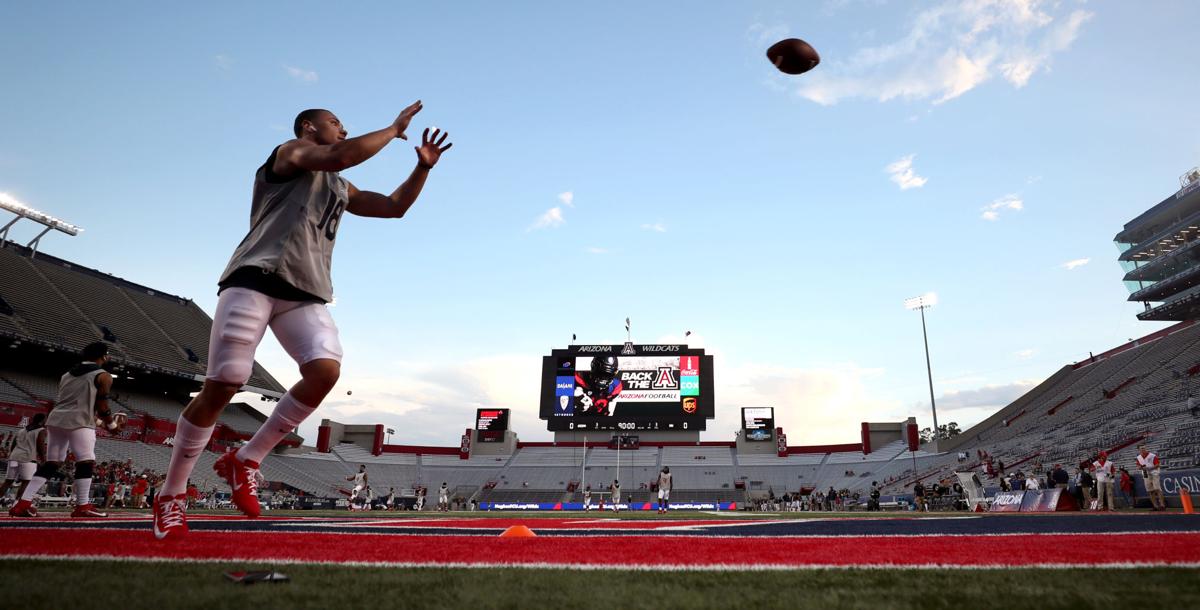 Observations from warmups before the Arizona Wildcats' home opener against NAU on Saturday night at Arizona Stadium (7:45 p.m., Pac-12 Networks):
* Starting tight end Bryce Wolma had a boot on his left foot during early warmups and is not in the lineup. Redshirt freshmen Zach Williams and Jake Peters likely will split time at tight end.
* Starting cornerback Lorenzo Burns is dressed and fully participated in warmups. Burns left the Hawaii game in the third quarter because of injury and did not return.
* The starting defensive line during 11-on-11 featured JB Brown at defensive tackle. Brown mostly has played end during his UA career but showed he could be effective inside this past offseason.
* Possible No. 2 defensive line, based on warmups: Justin Belknap, Finton Connolly, Kyon Barrs and Kwabena Watson. Barrs and Watson are freshmen who'd be making their UA debuts.
* QB Kevin Doyle is dressed. He didn't make the trip to Hawaii after missing time during training camp because of a shoulder injury.
* Reserve safety Chacho Ulloa, who didn't play vs. Hawaii, is dressed.
* Freshman receivers Boobie Curry, Jalen Johnson and Jaden Mitchell dressed and participating in warmups. None played against Hawaii. Curry is still listed as a co-starter on the depth chart.
* Freshman Kyle Ostendorp booted the last punt before the team retreated to the locker room. He is expected to make his first career start.
* Officials are monitoring the weather with rain in the area. If a lightning strike is detected within eight miles of the stadium, the game will be delayed at least a half hour.
Be sure to check Tucson.com and the Wildcaster app for updates during and after the game. You can also follow me on Twitter at @michaeljlev.
Contact sports reporter Michael Lev at 573-4148 or mlev@tucson.com. On Twitter @michaeljlev