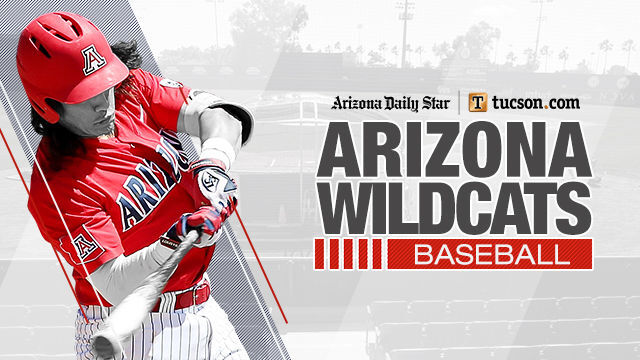 One of the offshoots of the Pac-12's pandemic attendance policy is that you can hear just about everything.
The Arizona Wildcats' "cheering section" — the pitchers sitting next to the dugout at Hi Corbett Field – had the volume set on high early in Sunday's game against Ball State. UA pitchers were working out of trouble. UA hitters helped the Wildcats take the lead. The Cats were making some noise.
As the game progressed, and the scoreboard flipped, Ball State's dugout grew louder.
The UA side went quiet — reflecting the Wildcats' at-bats with runners on base.
Continued trouble pushing runs across led to a second straight loss for Arizona. The Wildcats fell to the Cardinals 5-2.
They wrap up their four-game, season-opening series at 10 a.m. Monday.
UA coach Jay Johnson spoke to his players for almost 40 minutes after the final pitch. The talk was mostly about their mental approach.
"More than anything else, we need to make some adjustments from a mindset standpoint," Johnson said. "The goal is to be better tomorrow than we were today. Because today wasn't very good."
Arizona left 12 runners on base and notched just three hits in 21 at-bats with runners on. The Wildcats were 1 for 10 with runners in scoring position.
Even in winning the season opener and scoring seven runs Saturday night, Arizona left a lot of meat on the bone. The UA offense stranded 27 baserunners in the first two games, including 17 in an 11-inning setback Saturday.
For the series, the Wildcats are batting .186 (11 for 59) with runners on base and .162 (6 for 37) with runners in scoring position.
"I think guys are trying to do too much," Johnson said. "They're allowing the situation to supersede their playing. That's a tough admission for me as a coach for how strong the hit plan is here and how much it's drilled in.
"So we're gonna work on their mind to get them in a place where that doesn't happen."
Losing to non-conference opponents, especially at home, has been a rarity under Johnson. The Wildcats entered this season with a 60-13 record in non-conference games at Hi Corbett over the past five seasons. Their overall mark was 102-38 – second best in the Pac-12 during that span.
Arizona hasn't lost a non-conference home series with Johnson as its coach.
Now, the best they can do is split. This wasn't how it was supposed to go for a consensus top-25 team against a Ball State squad picked to finish in a tie for third in the Mid-American Conference by the league's coaches.
"I think we're a really legit team," UA first baseman Branden Boissiere said. "This is the best team I've ever played for. We're obviously going to go through our hardships during the season.
"We're really together as one right now. We're a unit. We really believe that things are gonna turn around real quickly for us. We're not going to let the past dictate the future."
Left-hander Garrett Irvin started for Arizona but exited with two outs in the second inning. That was a planned move, as Irvin had experienced some arm soreness over the fall and winter break and was capped at 30 pitches.
Still, it was a difficult situation for reliever Quinn Flanagan. The count on Noah Navarro was 1-2, but the bases were loaded.
Flanagan, a fourth-year sophomore, was undaunted. Flanagan induced a groundout to third to end the inning.
The Wildcats took the lead in the bottom of the frame. After Boissiere reached on an error, Daniel Susac doubled to left-center. Donta' Williams' single drove home Boissiere. Tony Bullard's sacrifice fly scored Susac.
Flanagan, a starter the past two seasons, allowed only one run over the next three innings. He opened the sixth with a walk — his fourth in 3 2/3 innings — and that's when the trouble began.
After a strikeout, Flanagan yielded a single to Ryan Peltier, putting runners on first and third. Freshman left-hander Riley Cooper entered from the bullpen, making his collegiate debut.
Cooper surrendered a single to Nick Powell that drove in the tying run. Cooper struck out the next batter and exited for another freshman, right-hander German Fajardo.
The Nogales High School product was on the team for last year's shortened season but did not make an appearance. His UA debut didn't go as he would have hoped.
Fajardo allowed back-to-back singles to Aaron Simpson and Ross Messina, scoring three runs.
"Both those guys ... are going to be very good pitchers and very good contributors," Johnson said of the freshman relievers.
"What I want them to do is not waste today's failure and use it as a learning and teaching tool. I would like that to come not at the expense of winning. Unfortunately, that's not the case."
Fittingly, the game ended with two Arizona runners left on base.
Jacob Blas reached on an error to lead off the bottom of the ninth inning. Ryan Holgate drew a two-out walk, advancing Blas to second. On an 0-1 pitch, Mac Bingham popped out to second.
Inside pitch
UA pitchers walked nine batters, two more than in the first two games combined.
Holgate had two hits and two walks and is batting .417 (5 for 12). The rest of the team is hitting .191.
UA freshman right-hander TJ Nichols is slated to start Monday. Johnson has described Nichols as the best pitching prospect Arizona has landed during his time here.