Five Arizona players earned All-Pac-12 recognition Tuesday, headlined by senior shortstop Nik McClaughry, who was named the conference's Defensive Player of the Year.
McClaughry, first baseman Kiko Romero and outfielders Mac Bingham and Chase Davis made the All-Pac-12 Team. Third baseman Tony Bullard received an honorable mention nod.
McClaughry led the league with 162 defensive assists. His four errors were the fewest, and his .983 fielding percentage was the highest among the 16 players with at least 100 assists.
McClaughry is just the second Wildcat to win the league's DPOY honor, joining Alex Mejia, the shortstop for the 2012 national championship team.
"I was really happy for him because I know how much he prides himself on that," Garen Caulfield, who rooms with McClaughry, said after Arizona's 12-3 win over Arizona State in the Pac-12 Tournament on Tuesday.
"There's no one more deserving of that award than him."
McClaughry also batted .327 during the regular season with a .436 on-base percentage and 64 runs scored, third most in the league.
Freshman Mason White, McClaughry's double-play partner for most of the season, lauded the veteran's consistency.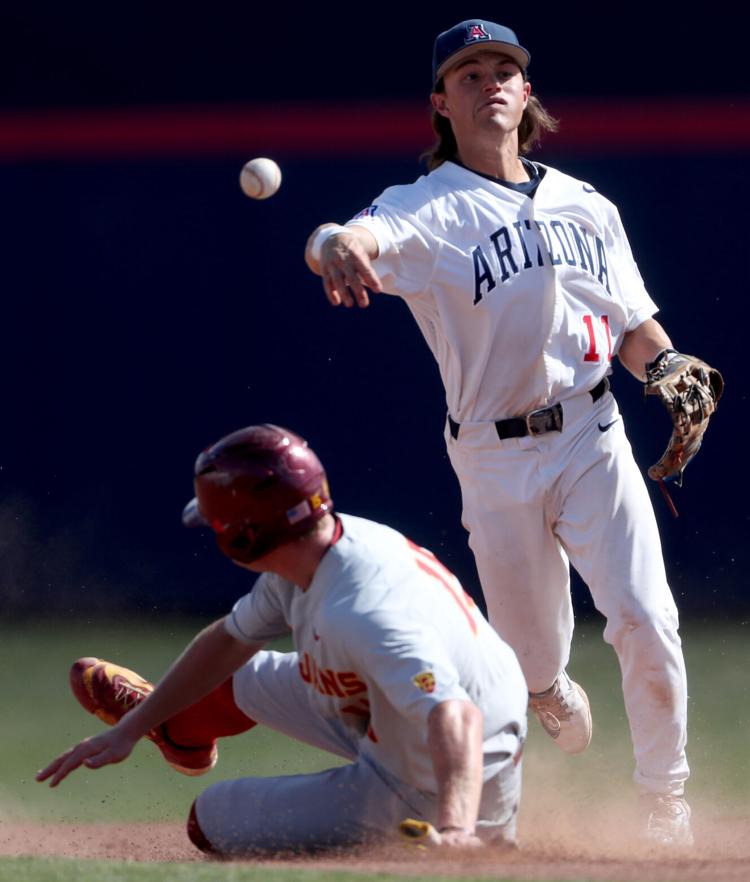 "There's really not a day off, ever," White said. "Every groundball matters. If it's in the first inning or the ninth inning, it's the same attitude towards every groundball.
"Even in practice. Every rep counts. Every throw counts. There's no, 'I'll take this one seriously and take this one off.' Every rep is the same.
"It's just the way he goes about the game."
Romero — a Canyon del Oro High School product in his first year as a Wildcat after transferring from Central Arizona College — led the Pac-12 with 80 RBIs, 17 more than his next closest competitor, Stanford's Alberto Rios. Romero popped 17 home runs, tied for third-most in the league, and slashed .346/.438/.706.
Defensively, Romero handled a league-high 500 total chances and made only three errors.
Davis, also a junior, led the league with 19 home runs. His 62 RBIs tied for third, and his 65 runs scored ranked second. Davis slashed .371/.496/.756. His slugging percentage was the highest in the conference.
Bingham, a senior, posted a slash line of .364/.428/.592 with 10 home runs, 50 RBIs and 63 runs scored (fourth in the league behind Oregon State's Travis Bazzana, Davis and McClaughry). Bingham's 83 hits led the conference.
Bullard, also a senior, slashed .322/.385/.571 with 10 home runs and 38 RBIs while regularly drawing praise for his defense from UA coach Chip Hale.
McClaughry's selection as Defensive Player of the Year prevented regular-season champion Stanford from sweeping the individual awards.
Rios was named Player of the Year; Quinn Mathews was Pitcher of the Year; Malcolm Moore was Freshman of the Year; David Esquer was Coach of the Year; and Tommy Troy was the batting champion at .404.
Contact sports reporter Michael Lev at mlev@tucson.com. On Twitter: @michaeljlev