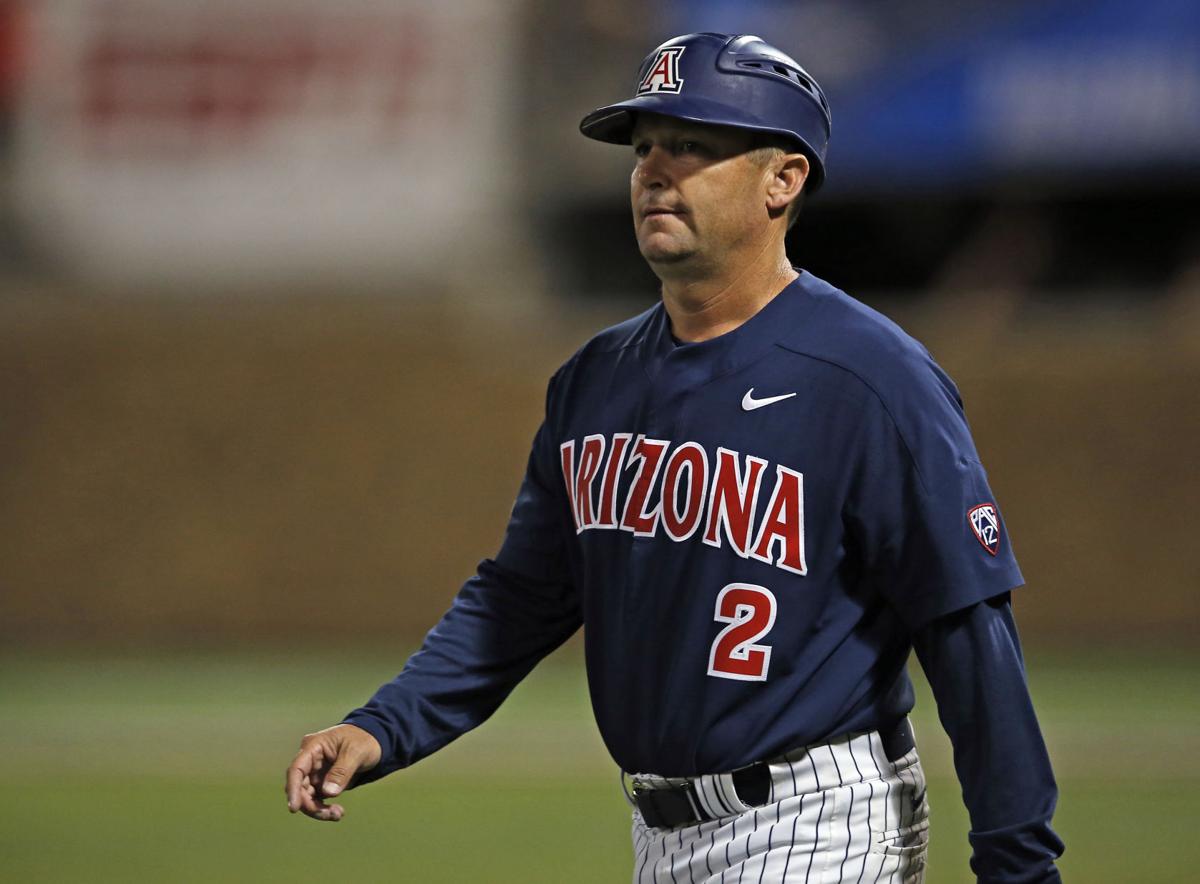 It was a recruiting cycle unlike any other.
Arizona coach Jay Johnson hasn't been on a plane since the Wildcats returned from a trip to Texas on March 4. He hasn't been on the road to see a recruit since last November.
The challenges he and his staff faced in recruiting because of the coronavirus pandemic were not unique. But they were endlessly challenging and demanded adjustments to the usual procedures.
"It's no different than a tough environment to play in: You've got to adapt, improvise and overcome," Johnson said Wednesday after announcing the Wildcats' signing class for 2020-21.
"I'm proud of my staff. I think we've done a good job with that. But we need to continue to do a good job of that. Because if this dead period's going to go on, players are still making commitments to programs. And we want to make sure we're getting the best ones."
Arizona announced the addition of 14 players. Perfect Game ranked the Wildcats' class 30th in the nation. They didn't crack Baseball America's Top 25 after coming in at No. 11 last year. But Johnson is pleased with the class' balance of pitchers and hitters, its athletic versatility and its commitment to academics — a key factor in getting pro prospects to campus.
The group features eight players whose primary position is listed as pitcher, including two who are also catchers.
The top-rated prospect in the class is right-hander Anthony Susac of Jesuit High School in Sacramento. Susac is Baseball America's 39th-ranked high school prospect for the 2021 MLB draft. He is also the cousin of UA freshman catcher Daniel Susac. That could influence Anthony's thinking come draft time.
"I certainly hope so," Johnson said. "I mentioned the quality of the kids in this group, and that starts with the families. I have no interest in signing players that don't have interest in coming to college. I don't want to be a leverage chip in the professional baseball draft. Look around. This is real. This is real, big-time baseball that can create value for all of these players.
"Anthony's sister is at Stanford right now. He's a great student. He's one of those guys that's an academic-scholarship guy. Education is really important to them."
Catcher/infielder Ryan Campos of Mesa Red Mountain High School is Arizona's lone in-state signee. Johnson considers him "the best player in the state of Arizona for the class of 2021." Perfect Game ranks him as the No. 2 catcher in the state.
Twelve of Arizona's signees are from the Pac-12 footprint, or right next door. But that almost became irrelevant this year when the pandemic prohibited in-person recruiting. Everything has been done virtually, which has both advantages and disadvantages.
"It was definitely something none of us had ever experienced before," Johnson said. "The positives are you have spent a lot of time on Zoom meetings and phone calls and probably had an opportunity to get to know the players better.
"It's been a little bit frustrating at times, because the strength of our organization, I want it to be the people. I would love for recruits to be able to interact with our players on a visit because I think highly of the character and the quality of the players that we have in the program right now. And I think if a recruit comes in and sees that high standard, they're going to be positively impacted by that."
Establishing relationships early in the process helped offset the lack of in-person recruiting and campus visits. Signee Tyler Whitaker of Last Vegas' Bishop Gorman High School committed to Arizona while in eighth grade. Outfielder Matty Clark of Damien High School in Upland, California, committed when he was a high school freshman.
The recruitment of junior-college right-hander Kris Bow, meanwhile, came together in the past two months.
"It just depends," Johnson said. "Is there a right time? The right time is what's right for that player and what's right for our program. We try to be flexible.
"With this group, because of the pandemic, getting an opportunity to get on the phone with them a lot, really get to know them as people, I'm very comfortable with who they are. … I have a lot of peace of mind of knowing what we're getting, which you would think wouldn't be the case."
Pitching staff's 'jump'
The Wildcats are still conducting fall workouts. Their fall-ball training will conclude next weekend with the annual Wild vs. Cats scrimmage at Hi Corbett Field.
Arizona has more viable pitching options than at any point in the Johnson era. He said scouts from 28 of 30 MLB teams came to watch the Wildcats' intrasquad scrimmage last weekend.
"They're obviously attracted to the talent that some of those guys have," Johnson said. "What's been impressive is the jump. We did a good job getting a couple of those guys through the draft this year. And so I think they're well positioned.
"With that being said, it hasn't been all dominated by the pitching. I would actually give the advantage to the offense at this point in time. There's some maturity, there's maybe a little more game experience on that side of it.
"But looking at the ability that those guys have and have demonstrated at times, if they continue to improve, we will be in every game that we play. We are going to be competitive in every game because of the pitching staff."
2021 outlook
The 2021 season remains on track despite postponements and cancellations in other sports. Arizona is slated to open the season Feb. 18 and to participate in the Frisco College Baseball Classic in Frisco, Texas, from March 5-7.
"We already lost a season," Johnson said. "So there's a lot of motivation, amongst people across the country, to make sure baseball season happens in its fullest. My hope is we have fans — I'm an optimistic guy in that regard — (and) that we're on planes and traveling … We're hopeful that that's what's going to happen.
"That being said, I wouldn't be surprised by anything – if our schedule got uprooted and (we) had to do something different."
Inside pitch
Right-hander Bryce Collins will sit out the '21 season as he continues to recover from Tommy John surgery, Johnson said. Collins had the surgery in May 2019.
Right-hander George Arias Jr., who had elbow issues in the spring, has been a full participant during fall practices. Arias is a Tucson High grad and the son of former major-leaguer George Arias.