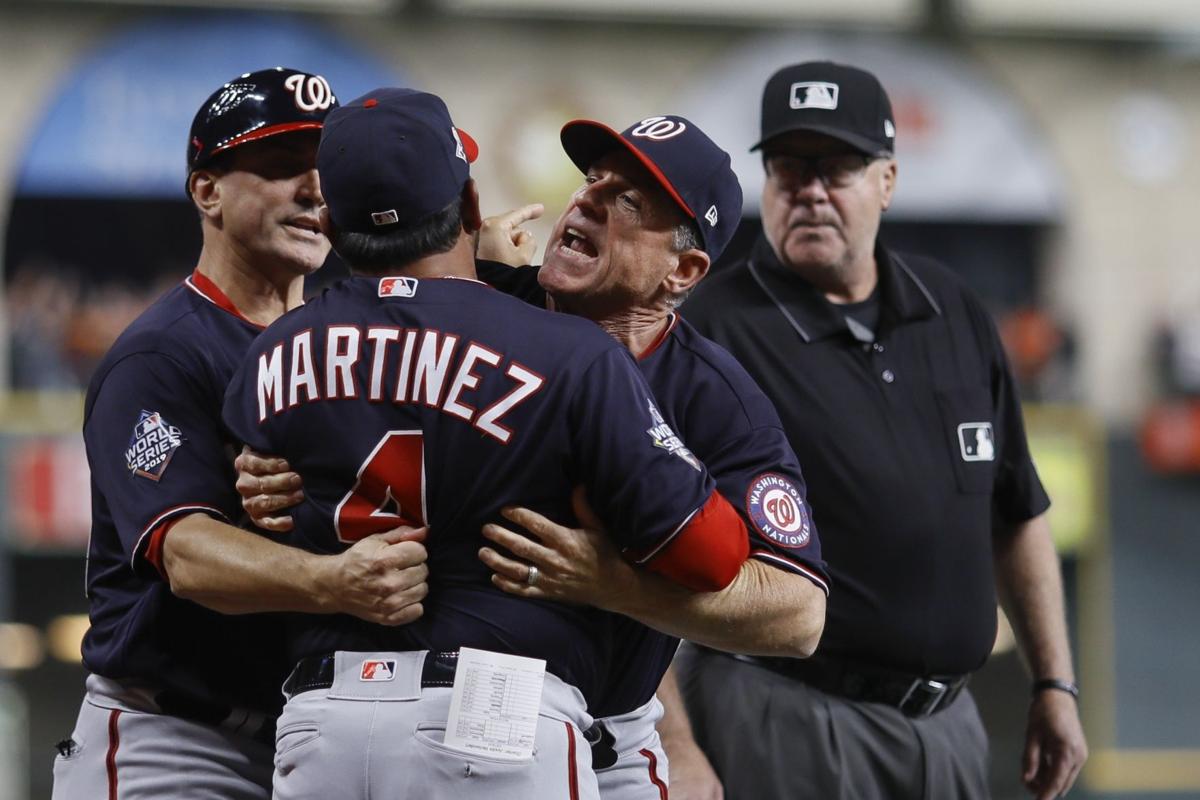 Former Arizona Wildcats star and Tucson Sidewinders and Arizona Diamondbacks manager Chip Hale managed the Washington Nationals for the final three innings of Tuesday's World Series game following the ejection of manager Dave Martinez. 
Martinez was ejected in the middle of the seventh inning of Tuesday's 7-2 win over Houston, a game that forces a winner-take-all Game 7 on Wednesday, for arguing a runner's-interference call from the previous half-inning. Hale restrained Martinez as he argued with two umpires just outside the visitor's dugout, and then took over the managerial duties when Martinez was tossed. 
The trouble started in the top of the seventh, when speedy Nationals leadoff man Trea Turner was called out for interference — he hit a tapper down the third base line, and plate ump Sam Holbrook said Turner was out for running outside the line.
It was a big call because catcher Robinson Chirinos' throw had gotten away, leaving runners at second and third.
Martinez came on the field to shout at Holbrook but left fairly soon.
There was a delay of over 4 1/2 minutes while umpires got on the headsets with the replay room. Part of the discussion was whether the play was reviewable — rather, it was an umpire's judgment, which cannot be challenged.
After the top of the seventh ended, Martinez came on the field to talk to Holbrook and Cederstrom. Suddenly, Martinez got extremely agitated, and Hale had to hold him back.
Hale is in his second season as Washington's bench coach. He has also spent time on coaching staffs in Oakland, and with the Diamondbacks and New York Mets. He managed the D-backs from 2007-09 after winning a Pacific Coast League title with the Triple-A Tucson Sidewinders. Tuesday's opposing manager, Houston's A.J. Hinch, is also a former Diamondbacks skipper.