For some, the Cape Cod Baseball League serves as a springboard to pro ball. For Arizona's Matt Fraizer, it quickly became a reality check.
After a promising sophomore season, Fraizer struggled last summer at the Cape. The left-handed-hitting outfielder batted just .165 for the Orleans Firebirds, striking out in 25 of 91 at-bats. Fraizer described the experience as "eye-opening."
"It really showed where I was as a baseball player, where I really needed to improve," Fraizer said. "Going in, I thought I was going to have better results. Obviously, it wasn't how it turned out."
Upon returning to school in August, Fraizer met with the UA coaching staff. They formulated a plan to dissect and rebuild his swing.
"If something's not working and you keep doing the same thing, it's insane," Fraizer said. "So we went back to work and really dialed in. And I feel like we've definitely made some strides together."
Those strides were evident during the Wildcats' season-opening sweep over UMass Lowell. Batting leadoff after hitting in the bottom third of the order for most of last season, Fraizer went 8 for 17 with nine RBIs in Arizona's first four games. He walked four times and struck out only once.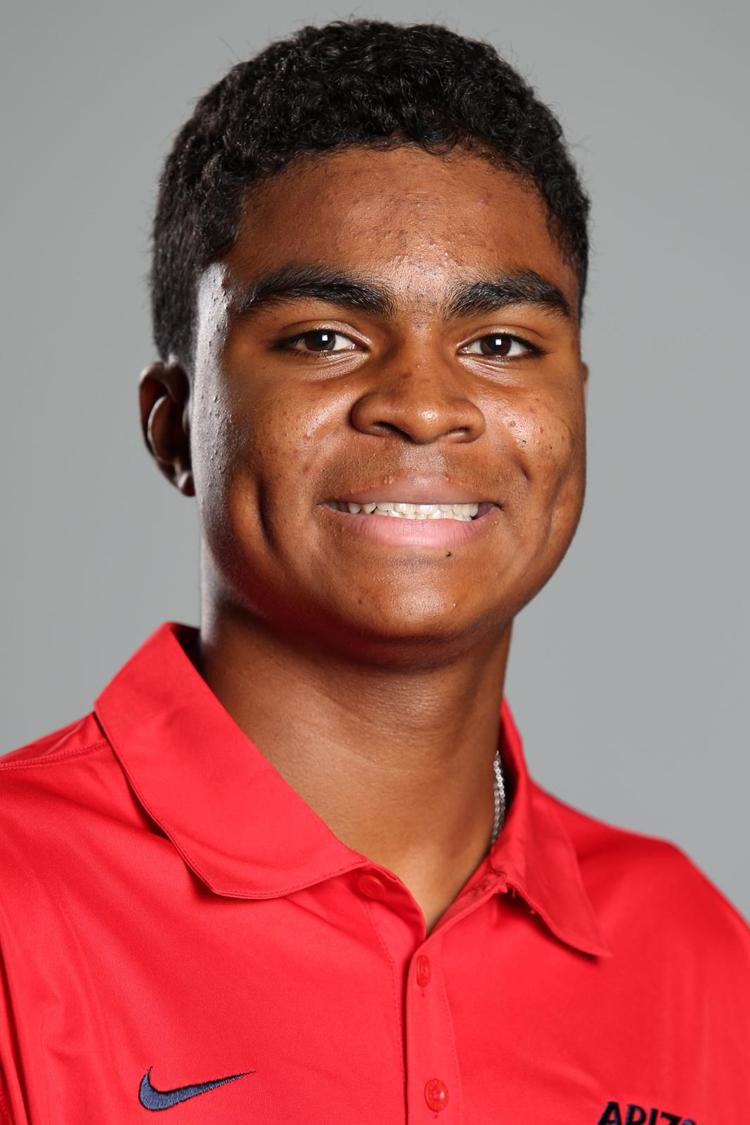 "It was really good to see the hard work pay off a little bit this weekend," said Fraizer, who hit .266 last season, his first as a full-time starter. "It was almost a good thing I went through struggles. I needed to change something."
The swing overhaul project, under the guidance of UA coach Jay Johnson and hitting instructor Marc Wanaka, involved the use of Blast motion-capture technology. Blast is the official bat-sensor technology of MLB and is used by hundreds of college programs, according to its website.
After collecting data on his swing, Fraizer and the coaches compared it to some of the most successful major-leaguer hitters.
"We tweaked some things to make my bat be on plane with the ball longer," said Fraizer, who also wore glasses during the opening series. "(If) the bat's going to be more on plane with the baseball, it's obviously going to have a better outcome if you're a tick early or a tick late."
Fraizer didn't see the results he was seeking at first. It wasn't until winter break, when he worked on his swing almost every day, that it started to feel natural.
"I give Matt a lot of credit," said Johnson, whose team begins a four-game road trip at Rice on Wednesday. "He just kind of kept with it.
"He did not have a good fall results-wise. We basically said we're going to take that out of it. We're going to trust the process of what we're doing.
"He sent me some video over Christmas break, and you could tell it was starting to click. It was starting to come. From the second we've been back, he's been awesome."
Holgate's hello
No UA newcomer made a bigger first impression than freshman right fielder Ryan Holgate.
After going 0 for 3 in his Wildcats debut Friday, Holgate hit a home run in three consecutive games. Batting third between veterans Cameron Cannon and Nick Quintana, Holgate finished the weekend 6 for 14 with a team-high 12 RBIs.
"Our pitchers and the two teams we played in the fall (Cal State Fullerton and BYU) would tell you what kind of threat he is," Johnson said. "He continues to just take advanced at-bats. Obviously, everybody can see the balls hit over the scoreboard."
Holgate's second home run cleared the batter's eye at Hi Corbett Field. His third appeared to land on the roof of the Terry Francona Hitting Center despite a steady breeze that knocked down several other fly balls Sunday.
Hi Corbett isn't conducive to home runs — both power alleys measure at more than 400 feet — but Holgate doesn't mind the dimensions.
"Basically, when I go up to the plate, I just think about hitting the ball hard," said Holgate, a 6-1, 213-pound left-handed batter from Davis, California.
Holgate signed with Arizona after initially committing to Cal. He stuck with the UA despite being picked in the 32nd round of the 2018 MLB draft by the Minnesota Twins.
Holgate said the college experience has been "even better than what I was expecting. Every day I get to wake up and wear this uniform. It's amazing."
Fighting words
Holgate's second homer nearly led to a brawl.
After the ball cleared the batter's eye, Holgate's teammates exploded out of the dugout to greet him. Perhaps because of their overexuberance — or out of frustration in the midst of a long weekend — UMass Lowell pitcher Connor Metelski threw the next pitch about a foot over Quintana's head.
Quintana stepped toward Metelski, both dugouts emptied and Johnson furiously tried to keep the peace.
"We can't get in a fight," said Johnson, who said it's "not OK" to throw at a batter under any circumstances. "It's a heavy suspension, as it should be."
A player ejected for fighting has to sit out an additional four games.
"When you're trying to accomplish great things together, you can't do that," Johnson continued. "I'm proud of our players for wanting to defend the honor and safety of one of their teammates when it's challenged like that. But we can't get in a fight."
The players heeded Johnson's warning and eventually backed down. Quintana said it was the first time he had been in the batter's box in a situation like that.
"It was kind of weird," he said. "I made the steps forward. Something just came over me.
"It's baseball; it happens. But when I saw my guys all out of the dugout, it was really cool. We all have each other's backs. To see that, that was dope."
Said Fraizer: "I would have the same reaction for every last player on our team, but with 'Q' it's more personal, being roommates with him the last two years. I was a little extra animated.
"I understand it's baseball. But at the head? If you're going to do it, miss down. That's risking their whole career."
Inside pitch
Johnson was disappointed in the bullpen's performance Sunday. Lefty Gil Luna was charged with three earned runs in two-thirds of an inning, and righty Zach Sherman allowed both hitters he faced to reach base. "You can make an excuse of the score, long weekend, waiting, sitting around. They've gotta be more prepared to pitch," Johnson said. "That whole set of pitchers has to be better for us to be the best team we can be."
Arizona moved from
No. 26
to No. 24 in Collegiate Baseball's rankings. The NCBWA bumped the Wildcats from 32 to 30.