Nick Quintana is everybody's preseason All-American.
Five different outlets have named the Arizona Wildcats third baseman to their second or third teams. The junior also earned a spot on the preseason watch list for the Golden Spikes Award, given to the premier amateur baseball player in America.
Quintana's teammate, Cameron Cannon, garnered second-team preseason All-America honors from D1Baseball.com. The website ranks him as the second-best second baseman in the country, although Cannon primarily will play shortstop this season. Baseball America lists Cannon as the No. 81 prospect in the 2019 MLB draft — nine spots ahead of Quintana.
"It's kinda cool to see our names with a bunch of other guys in the country who are really good at baseball," Quintana said Tuesday at a news conference to preview the 2019 season. "But at this stage, it doesn't really matter. We're just trying to win 56 games and move on to the postseason, unlike last year."
Postseason success would mean more to Quintana and Cannon than any preseason honor ever could.
Despite breakout performances by the then-sophomores, Arizona fell just short of a postseason berth. The Wildcats were one of the first four teams out of the 2018 NCAA Tournament.
Arizona begins its quest for a third playoff appearance in Jay Johnson's four seasons as coach against UMass Lowell on Friday. First pitch is slated for 6 p.m. at Hi Corbett Field.
More than half the Wildcats' roster consists of new players. Four upperclassmen form their core: Quintana, Cannon, outfielder Matt Fraizer and pitcher Randy Labaut, who will start the opener.
Quintana and Cannon will anchor the infield. Johnson doesn't expect those preseason accolades — and the elevated expectations that accompany them — to weigh the players down.
"Those types of things — rankings, preseason awards — are just validation of a job well done in previous years," Johnson said. "Nick and Cameron are two of the best players in the country. They're both going to move on to professional baseball, I would assume, at the end of this year.
"With older guys, especially guys who have ability like those guys do, and experience, it's just trying to get them to be the best version of themselves. They don't have to force anything or try to do too much."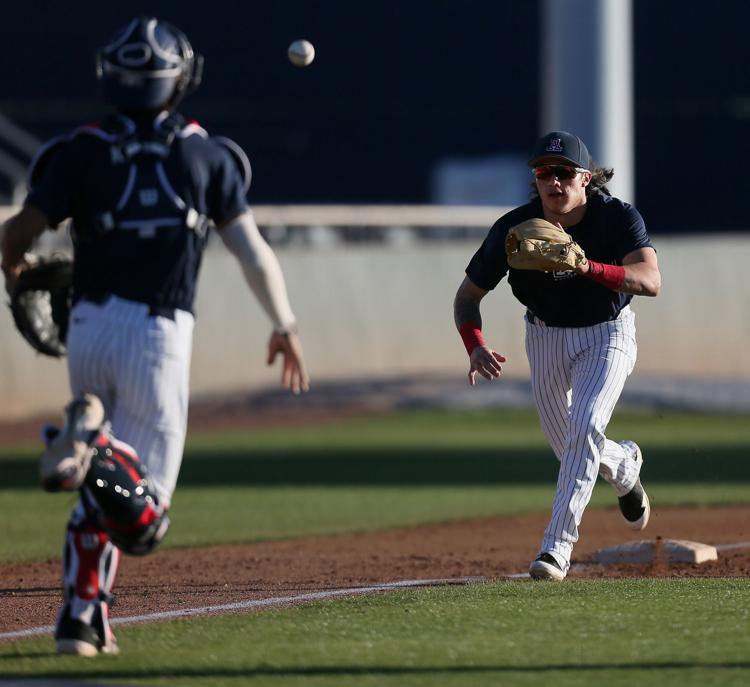 Maintaining that disciplined approach is easier said than done. Quintana conceded that he put too much pressure on himself at times last season. He got off to a frigid start before heating up and finishing with team highs in home runs (14) and RBIs (55).
"There's always going to be pressure, especially when we're put on these preseason teams," Quintana said. "Ultimately, it just comes down to, you do what you do that got you on that preseason list. Nothing really changes.
"There might be more eyes on you. You might feel like you have to do more. But you don't necessarily need to."
Cannon paced the 2018 Wildcats in doubles (21) and walks (37). He ranked second in home runs (eight) and third in RBIs (50), batting average (.321) and on-base percentage (.427).
Despite those numbers, a promising performance in the Cape Cod League last summer and all the preseason hype, Cannon still feels as if he has something to prove.
"I'd be lying if I said I didn't think about it," Cannon said. "But I do my best to stay in the present and try to get better every day. Hopefully that has an impact."
Trevor and weather
Before having his UA jersey retired and throwing out the first pitch Friday, Trevor Hoffman will address the current Wildcats in the clubhouse. Johnson prepared his players for opening day by having them watch Hoffman's Hall of Fame speech last Friday before the team's open scrimmage.
"That dude's a superstar," Johnson said of Hoffman, who ranks second in MLB history with 601 saves. "Very rarely do you get to be face to face with someone who's absolutely the best in the world of all time at what they did. Mariano Rivera, Trevor Hoffman; Trevor Hoffman, Mariano Rivera. That in itself is pretty awesome.
"I've known Trevor for several years. The thing that stands out to me about him is how elite he was at preparation for his craft, how professional he was, how dialed in he was into a great routine. That's a guy whose success was not accidental."
The first 2,500 fans in attendance will receive a Hoffman bobblehead. Johnson is hopeful the weather will cooperate with what promises to be a festive evening. Last year's opener got rained out.
"Ten days ago, it said it was going to rain," Johnson said. "Five days ago, it said we were all clear. I actually just looked at it on the way over here, and it said it might rain (again).
"Luckily, we live in the best place in the country for college baseball. We have a great tarp, a phenomenal grounds crew. Knock on wood, it's not raining for 24 hours straight. We just need a window."
As of Tuesday evening, the forecast for Friday called for a 70 percent chance of rain. But it's not supposed to last past the morning.
Inside pitch
Johnson announced his pitching plan for the four-game series vs. the River Hawks. After Labaut, left-hander Andrew Nardi and right-hander Bryce Collins are slated to start Saturday's doubleheader. Right-hander Quinn Flanagan is penciled in for Sunday. Nardi is a junior college transfer. Collins is a true freshman. Flanagan is a redshirt freshman who hasn't pitched in a game since his sophomore year of high school because of an arm injury.
Johnson said senior lefty Avery Weems will begin the season in the bullpen. Weems and sophomore Gil Luna will be Arizona's primary left-handed relievers. Johnson said Arizona has five or six right-handed options who offer different looks and "will force teams to make adjustments."
Fraizer and sophomore infielder Jacob Blas are the top two candidates to bat leadoff, Johnson said. Fraizer hit .266 last season with a .352 on-base percentage. He has worked on altering his swing plane after struggling in the Cape Cod League (.165 average). Blas hit .305 with a .407 OBP as a freshman.
Fraizer on not making the postseason last year: "It was heartbreaking. Then again, when we look back on our season, there were a lot of things we could have done differently. It wasn't really the (selection) committee's fault. We took it upon us as a team — OK, this is what went wrong. This is what we can … learn so we don't make the same mistakes this year."
Arizona was picked to finish fourth in the Pac-12 in the annual poll of league coaches. The coaches picked UCLA to win the conference, followed by Stanford and defending national champion Oregon State.