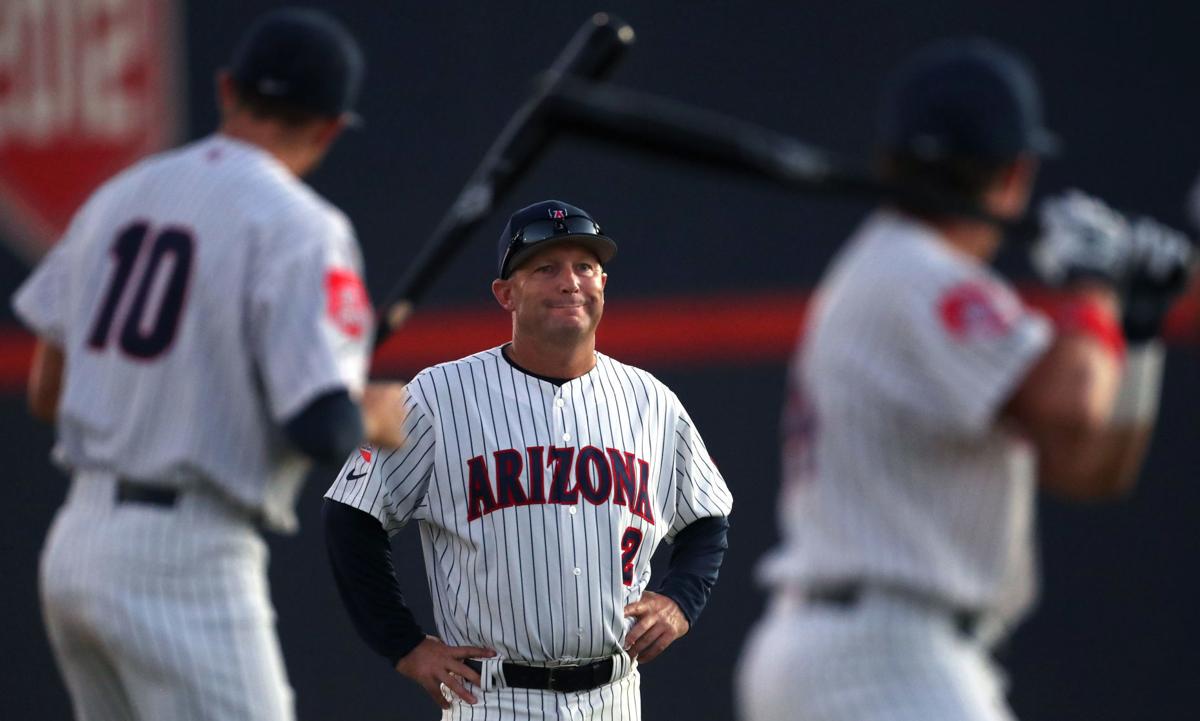 The Arizona Wildcats secured the best recruiting class of Jay Johnson's tenure — and one of the best in the nation — despite a major staff change during a key point in the process.
Johnson revealed the UA's 2020 signing class Wednesday. The initial list consists of 11 players and is ranked 11th in the country by Baseball America. Johnson, who's entering his fifth season at Arizona, said it's as good a class as he's had "at any point at any school."
"I feel like we've had a couple good ones in a row," Johnson said. "I don't know that any have been as strong as this."
Arizona arguably had the best freshman class in the nation this past season, at least offensively. Catcher-first baseman Austin Wells led the group and was named the Pac-12 Freshman of the Year.
Wells will be eligible for the MLB draft next year, and Johnson said he's "anticipating" losing Wells and fellow catcher Matthew Dyer at that time. Arizona helped secure the catching position by signing top-70 prospect Daniel Susac of Roseville, California.
Susac might not have landed at Arizona if Nate Yeskie weren't on the UA staff. Yeskie came to Tucson in late July from Oregon State, where Susac previously had committed.
Yeskie replaced Sergio Brown, who had been Arizona's infield coach and recruiting coordinator. Brown laid the groundwork for the 2020 class before leaving for Cal State Fullerton in late June.
Yeskie coached Susac's older brother, Andrew, who played catcher at OSU before becoming a second-round draft pick in 2011. Andrew Susac has spent parts of five seasons in the big leagues.
Daniel Susac joins 2019 signee Kaden Hopson as potential catchers of the future after Wells and Dyer depart.
The highest-rated player in Arizona's class is left-handed-hitting outfielder Chase Davis of Elk Grove, California, whom Baseball America ranks as the 25th-best high school prospect in the nation. Infielder Nick Yorke (No. 90) of Campbell, California, and pitcher TJ Nichols of Roseville (96) also cracked BA's top 100.
The class consists of five position players and six pitchers, including right-hander Mason Millett of Pima College.
Inside pitch
Hobson was among five Wildcats who posted three hits in Arizona's 20-inning exhibition scrimmage against Cal Poly Pomona on Saturday. Junior infielder Jacob Blas led the offense by going 5 for 6 with a double.
Four Wildcats pitched two scoreless innings apiece against the Broncos: returnee Gil Luna and newcomers Davis Vainer, Hunter Cope and Tyler Smith. Veteran Preston Price did not allow an earned run in his two innings.
Junior outfielder Donta Williams remains limited because of a bruised shoulder.
Arizona faces NC Dinos at 6 p.m. Friday at Hi Corbett Field. The UA concludes its exhibition schedule against the University of San Diego on Sunday in Phoenix.