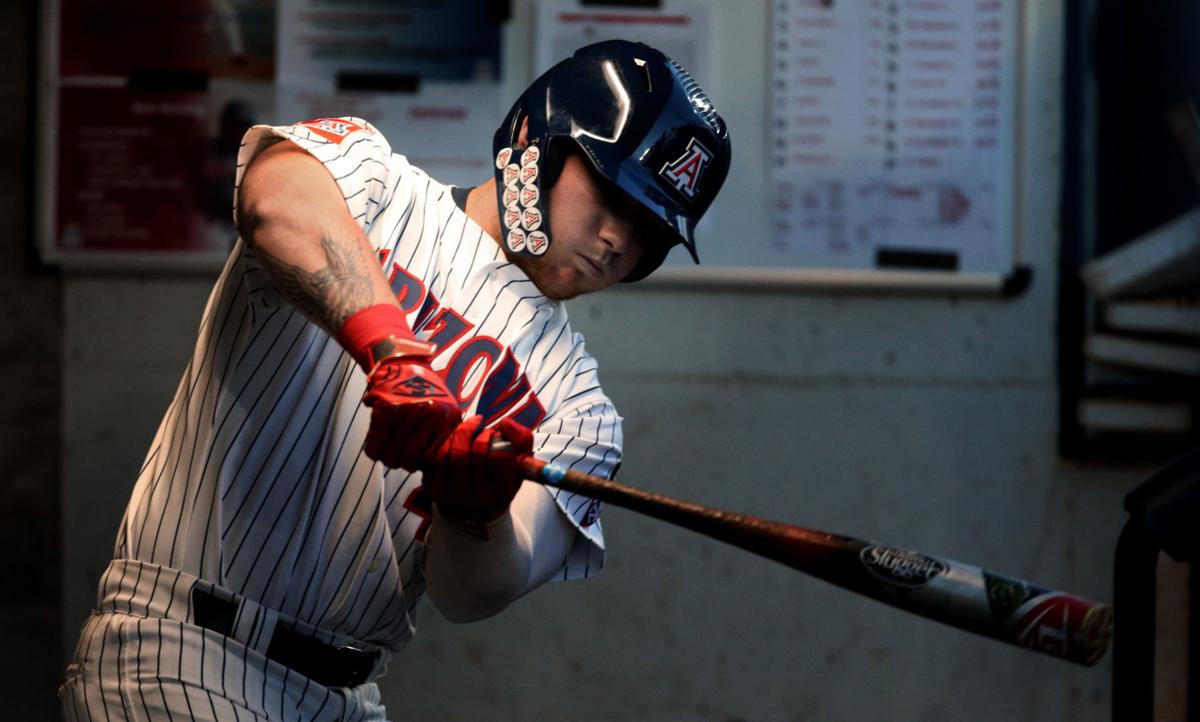 Postgame pizza is hard to resist.
But Ryan Holgate was determined to improve his body — and, correspondingly, his game — so he spurned those slices of sausage and pieces of pepperoni. His host family with the La Crosse Loggers of the Northwoods League graciously provided him with healthier alternatives, such as chicken and rice.
Combined with a workout regimen that included lifting in the morning and extra running before and after games, Holgate transformed his physique last summer. The 6-foot-2 Arizona Wildcats right fielder weighed 232 pounds as a freshman last season. He recently checked in at 203.
"I was kind of blown away, honestly, when he walked in the office after summer baseball," said UA coach Jay Johnson, whose team opens the 2020 season against Albany on Friday night at Hi Corbett Field. "That Northwoods League is a tough grind. They're playing every day, and they're on buses. Sometimes the nutritional component can be hard there. But he obviously has done a great job with that."
Holgate said he feels fitter, fresher, stronger and more mobile than a year ago — and that's a scary thought for Arizona opponents.
Holgate, a prized recruit from Davis, California, had a good freshman season, at least by normal standards. He hit seven home runs, drew 35 walks and had a .378 on-base percentage.
Arizona's 2019 freshman class was anything but normal, however. Austin Wells was the Pac-12 Freshman of the Year. Dayton Dooney hit 10 homers. Branden Boissiere hit .403 in Pac-12 play.
It was easy to overlook the fact that Holgate had more homers than Wells (five) and as many walks as top-of-the-order sparkplug Cameron Cannon, who was picked in the second round of the '19 MLB draft by the Boston Red Sox.
No Wildcat is more apt to blast a baseball onto the roof of the Terry Francona Hitting Center than the left-handed-hitting Holgate, who introduced himself to Tucson by slugging three home runs in his first four games. But as Johnson noted, Holgate "really wants to be a complete baseball player." His .240 batting average and .891 fielding percentage were the lowest among UA regulars last season.
So Holgate went to work last summer. He lifted with Arizona teammates Tony Bullard and Kyson Donahue every morning. Holgate stretched and sprinted before games. And he skipped the pizza after them.
"It was definitely a gradual process," Holgate said. "At first it was kind of moving slow. Then I started to notice a little change. And then I was kind of like, 'Oh, I think I could really do this.'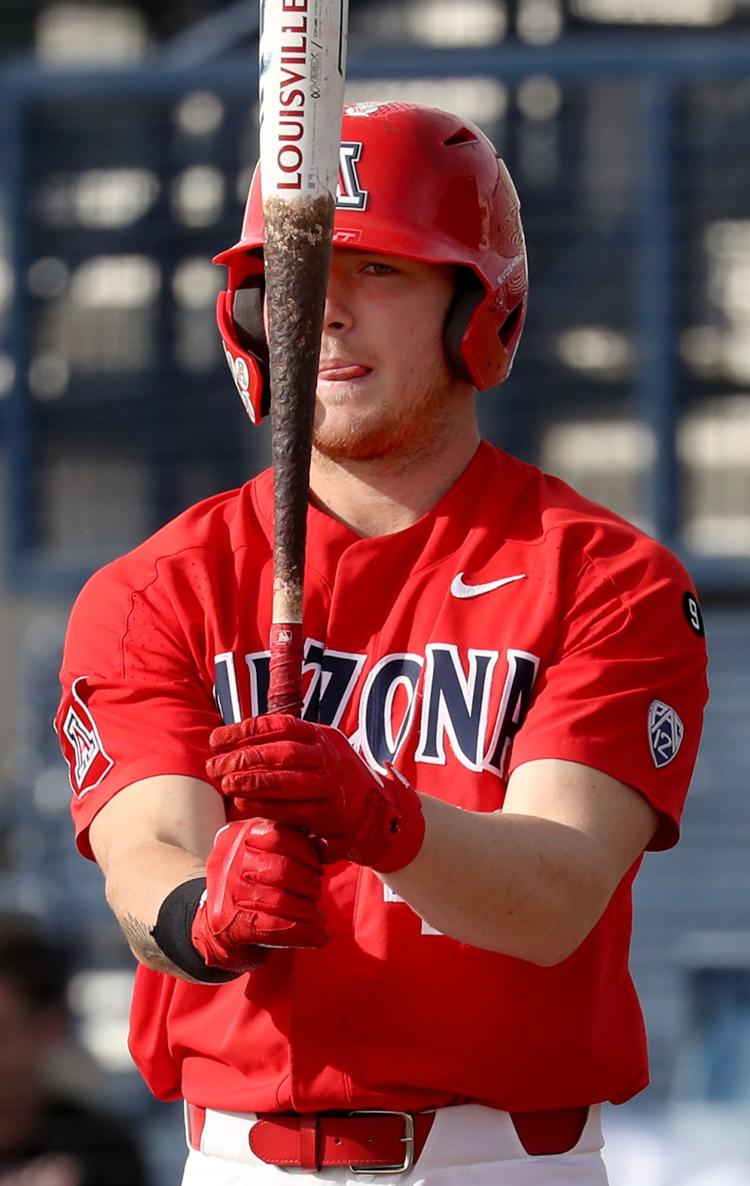 "I was starting to feel a little faster, a little more mobile. And it wasn't like my strength was going down. Everything was going up. So I knew I was on the right track."
Holgate led the Northwoods League with 13 home runs. He slashed .297/.392/.554 and drove in 53 runs in 222 at-bats.
Holgate continued to eat better upon returning to school. After living in the dorms as a freshman, he moved into a house with teammates Bullard, Donahue and Tyler Casagrande. It's easier to control your diet when you have your own kitchen.
Holgate knows he can't control the way pitchers approach him. They tend to be a little more careful, Johnson said, because any mistake can be launched over the fence. That led to Holgate's walk total, which tied for third most on the team. It also led to moments of impatience and a team-high 55 strikeouts.
After that sizzling start, Holgate's average steadily declined. He was hitting just .203 through April 26.
Holgate batted .327 (16 for 49) the rest of the way. He tried to approach every in-season challenge with a positive attitude, which is more difficult than it sounds.
"Every baseball player will battle that. There's always negative thoughts in your head," Holgate said. "You've just got to erase it and think of it in a way of, 'How can I make this better? How can I make myself improve from here on out?'
"It's kind of the beauty of the game. Failing is what's going to make you better if you take it in the right way.
"It's all a learning experience. That was probably one of the best years of baseball I've had in my life, even though it wasn't a super big success. I don't think I've ever learned so much or figured myself out more."
Tactful transition
When Johnson told longtime assistant Dave Lawn that Arizona had a chance to add highly regarded Nate Yeskie to the staff, Lawn was all for it — even though Yeskie would be displacing Lawn as pitching coach.
"My first question was, 'Well, can we get him?' And he says, 'Yeah, I think we can,' " Lawn said. "I don't know what my exact response was. I know I was thinking, 'You're a fool if you don't.' "
Johnson hired Yeskie, who had been at Oregon State the previous 11 seasons. Johnson retained Lawn, installing him as Arizona's defensive coordinator. He works daily with the Wildcats' catchers and first basemen.
The arrangement could have been awkward, with Yeskie being hailed as a potential savior after Arizona's pitching staff posted a 6.21 ERA last season. That hasn't been the case. Yeskie and Lawn's offices are next to each other at Hi Corbett. They share the same goal: Helping the Wildcats return to the College World Series.
"First of all, it was handled professionally," Lawn said. "And it was completely transparent. It wasn't like I got hit over the head with a hammer. I was as aware of what was going on as Jay was.
"I'd known Nate for a long, long time. He was playing in high school when I was coaching college. He's been totally respectful and professional about the way he's dealt with me.
"There's a part of me that wanted to be a part of fixing it directly. But at the end of the day, the most important thing is that the best staff's put together, because all I really care about is winning."
Lawn has worked with Johnson for the past six seasons — two at Nevada and four at Arizona. They guided the Wildcats to a CWS berth in 2016. Lawn previously advanced to Omaha as an assistant with Cal and USC.
"If it wasn't him, we might have made a complete change," Johnson said. "We've won a lot of games together over six years — a lot. He's had a big responsibility and a big stake in that. And that's not lost on me.
"Not very many assistant coaches can say they've been to Omaha three times with three different programs. So there's tremendous value in that. There's a trust factor between us that I value, and I know he can bring a lot to the table."