The Arizona Wildcats continue to struggle against Utah. The way they're playing right now, they'd struggle against just about anyone.
The Cats weren't playing great baseball entering Friday's Pac-12 opener against the Utes, but they weren't playing terribly. As recently as last weekend, there were signs of better things to come.
Arizona backslid in a big way Friday. The Wildcats couldn't throw strikes and couldn't get outs. Arizona lost to Utah 21-10 — one of the most lopsided defeats in Jay Johnson's three-plus seasons as coach.
"There was no phase of the game that was good enough to win a Division I baseball game tonight," Johnson said.
The loss dropped the Wildcats to 10-7. They're 4-5 on their current homestand. They had a .792 winning percentage at Hi Corbett Field under Johnson before it began.
Utah had Arizona's number before Johnson arrived. The Utes had won the last four series entering this one, dating to Andy Lopez's last year as UA coach in 2015.
Utah had a 10-game winning streak against Arizona that the Wildcats snapped with an 18-12 victory in last year's series finale in Salt Lake City. The Utes have now won 11 of their last 12 against the Cats.
Before Friday, Arizona had lost by 10 or more runs three times under Johnson. It appeared a seven-run bottom of the seventh would prevent the opener of this series from becoming No. 4. (The Wildcats trailed 18-3 entering that half-inning.) But Utah scored three runs in the ninth to bump the margin back to double digits.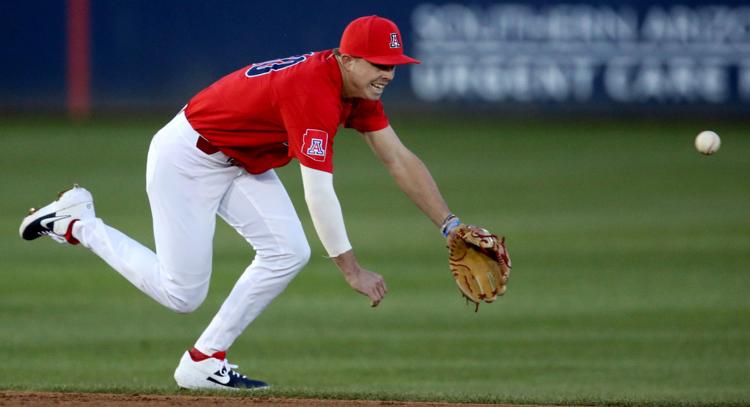 Arizona lost by 10 runs twice last season, on the road against USC and Cal. The UA's worst defeat under Johnson came by a score of 13-1 at Texas Tech on March 7, 2017. The Red Raiders were ranked sixth in the country. They would finish 45-17.
The Wildcats won their final preseason series last weekend. Although they dropped the finale against College of Charleston, their defensive struggles seemed to be in the rearview mirror. Pitching remained a concern, but Johnson and his staff identified the problem — too many walks and hit batsmen allowed — and went about rectifying it.
Johnson tabbed one of his best control artists, left-hander Avery Weems, to open conference play. The senior had walked only four batters in 19ª innings entering Friday.
Weems' final line showed only two walks, and he wasn't even on the mound when one of them was completed. But he fell behind each of the first four batters he faced, allowing two singles and a walk, in a three-run first inning.
A leaping catch by shortstop Jacob Blas off a Zack Moeller line drive limited Utah to one run in the second. Weems couldn't get an out in the third. After a leadoff single, Johnson pulled Weems with a 3-1 count on Isaac Deveaux.
Freshman right-hander George Arias Jr., who had been one of Arizona's more reliable relievers, walked Deveaux. After a strikeout, Arias hit Chandler Anderson to load the bases.
Three singles, a four-pitch walk, a sacrifice fly and a wild pitch led to six Utah runs. The Utes would score five more in the third — including one on an errant throw from home to second in a first-and-third situation — and at least one in every inning but the eighth.
"Plain and simple, it was an awful performance on the mound," Johnson said. "We have to get better. You're not going to win giving up runs every single inning."
Even Arizona's most reliable hitter couldn't come through when the game was still close. Second baseman Cameron Cannon, who entered Friday with a seven-game hitting streak and a .439 batting average, struck out on three pitches with the bases loaded and one out in the second. Cannon went 0 for 4 with two strikeouts, only his second multiple-strikeout game of the season.
"A game like that is very difficult to swallow," Johnson said. "You really have to make the choice to come back and get better. It's all phases that have to improve."
Inside pitch
Arizona has allowed five or more runs in an inning seven times on its current homestand.
Nick Quintana, Ryan Holgate, Jacob Blas and Tate Soderstrom each had two RBIs for the Wildcats. It was Quintana's second straight game with multiple RBIs.
The highlight of Arizona's seven-run seventh was Dayton Dooney doubling to conclude a 12-pitch at-bat during which he fouled off seven pitches.
The game lasted 4 hours, 20 minutes. The teams combined to throw 410 pitches.
Right-hander Quinn Flanagan will start for Arizona on Saturday, Johnson said.
A moment of silence was observed before the game for Karl Eller and Kevin Ward. Eller, the entrepreneur for whom Arizona's business school is named, died Sunday at age 90. Ward, a former UA baseball and football player, died Saturday at 57.