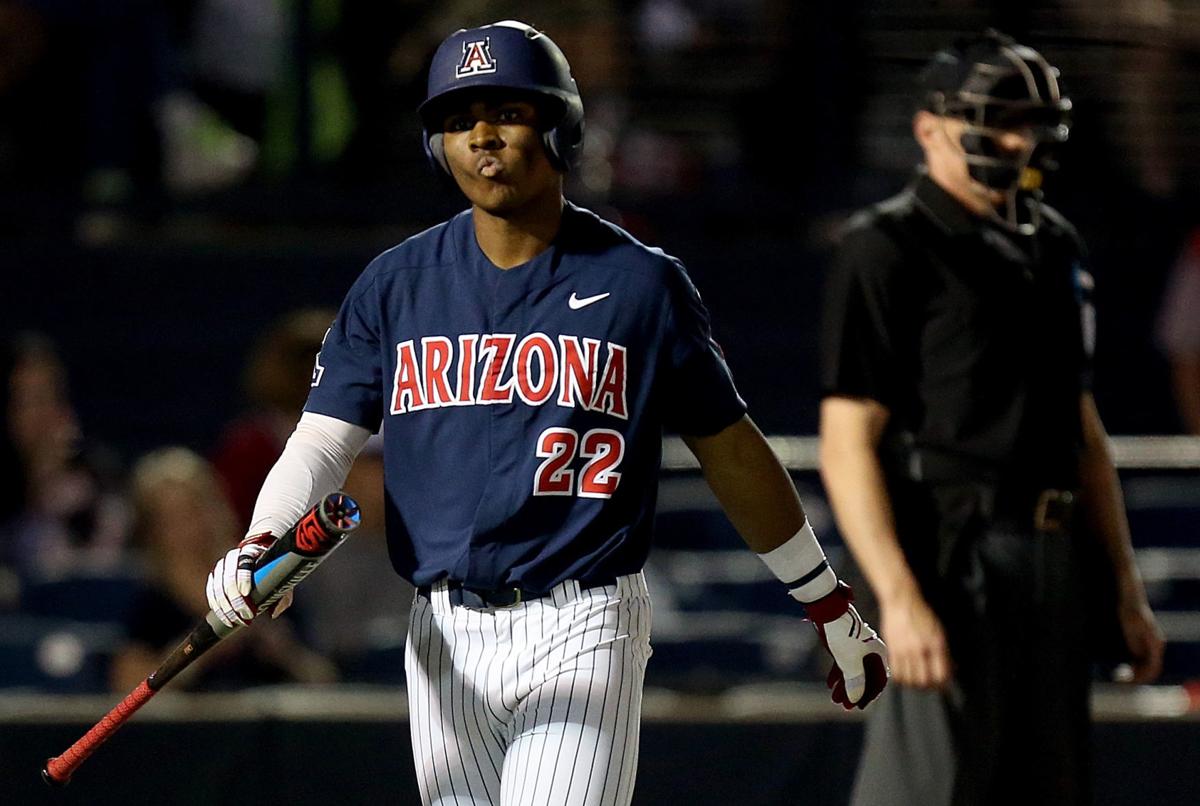 After revealing the field of 64 for the NCAA Tournament on Monday, ESPNU posted a graphic depicting the last four in and the first four out. Arizona was in the right-hand column, which was the wrong place to be.
The Wildcats watched the selection show from their clubhouse at Hi Corbett Field. Jay Johnson snapped a picture of that graphic with his phone, and he vowed to turn it into the screen-saver on his computer "for the rest of my career as a coach."
He isn't doing it for motivational purposes. Rather, the screen-saver will serve as a reminder that you can always get better. The 2018 UA baseball team needed to be just a little bit better to make the tournament for the third year in a row.
Being among the first four out "kind of summed up our season," Johnson said. "There were a few games that we left on the table where we didn't perform well enough to win. So being just short … I wasn't surprised, let's just put it that way."
Johnson had spent most of the previous two days stating Arizona's case. The Wildcats had a stellar non-conference RPI of 11. Their non-conference strength of schedule and overall RPI ranked in the top 50. They finished the season on an uptick.
But the selection committee placed considerable emphasis on conference record, and that proved to be Arizona's undoing. The Wildcats were 14-16 in the Pac-12. Only one at-large entry, Texas A&M, had a sub.-500 conference record. The Aggies are 39-20 with an RPI of 15. Kentucky, which also had a 13-17 mark in the SEC, had an RPI of 30 and didn't make it.
The last time a Pac-12 team made the NCAA Tournament with a sub-.500 league record was 2010, when the conference had only 10 members.
"It's very difficult to make the tournament," said Johnson, who led Arizona to the postseason in each of his first two years. "There are 33 at-large bids. When one conference (the SEC), right or wrong, gets nine of those, there's 24 at-large teams in the country. We have control of one of 25 bids (including the automatic bid for winning the Pac-12). That makes the margin for error really, really small. We just missed."
Coming about as close as they possibly could provided little solace to the players. Juniors such as Alfonso Rivas III and Cesar Salazar hadn't experienced anything other than the rush of the postseason before Monday.
"It's very different, being on the other side of the bubble," said Rivas, who is expected to be selected in the top five rounds of next week's MLB draft. "We're kind of bummed out. But you know what? The play reflects the position we put ourselves in. Our season was up and down. We weren't as consistent as we wanted to be."
Johnson's main message after the selections were announced was one of personal responsibility. Arizona won't blame Ray Tanner, the chairman of the selection committee, or any of its members. Instead, Johnson and his staff will try to figure out what went wrong this year and strive to make sure it doesn't happen again.
"It's 100 percent on us," said Salazar, who's also bound for the pros next week. "We needed to play better baseball. It is what it is. I thought we finished with a great season. Huge couple of last-weekend wins. But we left it to the committee, and things didn't go our way."
Given what Tanner said about the committee valuing conference records, it's possible the Wildcats could have made it with just one more league victory. They let far too many Pac-12 games get away.
Arizona went 5-13 in one-run games, including a 3-8 mark in league play. An 8-7 loss to Stanford — the No. 2 overall seed in the NCAA Tournament — on April 21 was particularly painful. The Wildcats had rallied to take a 6-3 lead in the bottom of the eighth inning before giving it back in the top of the ninth.
Arizona twice lost one-run games in which it had the bases loaded with no outs and a chance to tie or take the lead but failed to plate any runs.
The first instance happened March 24 against Washington State, the second this past Friday at Oregon.
Salazar's role in the latter personified the maddening inconsistency of this team. The previous night, Salazar hit two home runs and had a career-high six RBIs. In his previous at-bat, he hit a tying solo homer that also broke up a no-hit bid by the Ducks' Kenyon Yovan.
With the bases loaded in the ninth inning, and Arizona trailing 2-1, Salazar struck out on three pitches. A strikeout and a flyout followed, and the Wildcats suffered their 16th conference loss.
"I feel like I could have done a little better job to put us in a better positon," Salazar said, referring to his last at-bat Friday.
After Arizona lost in Game 3 of the College World Series finals in 2016, then-freshman Salazar vowed that he and his teammates would make it back to Omaha. The UA made the tournament last year, becoming the only Pac-12 school to do so in '16 and '17, but lost in the regional round.
Only now, after Monday's disappointing outcome, do Salazar and Rivas realize just how difficult it is to make the College World Series.
"It was the best experience of my life," Salazar said. "I wish I would have done it again."
Instead, the Wildcats are left to grasp with an unusual feeling: being left out of the tournament altogether.
"It seems like it's done too fast," Rivas said. "We feel like we have a lot left in the tank and can't show it."
Added Johnson: "Nobody's going to tell me this is a bad team or not a good season. Is it the exact season we wanted? No. But we're going to take responsibility for it, and we're going to move forward.
"I'm at peace with it, but it hurts. This hurts badly."