About 20 minutes before the Arizona Wildcats' season opener, "Hell's Bells" blared throughout Hi Corbett Field. Trevor Hoffman emerged from the UA dugout and strolled toward the mound.
The Hall of Fame closer would throw one pitch — the ceremonial first offering. He was here to have his Wildcats jersey retired after becoming the first Arizona player to make it to Cooperstown.
After Hoffman's No. 15 was unveiled on the wall in right-center field – just left of Terry Francona's No. 32 — the former UA shortstop acknowledged and thanked the crowd.
"I'm truly humbled to be on your wall," Hoffman said.
The Wildcats didn't need any Hoffman-esque, late-inning heroics Friday night. Arizona scored four runs in the bottom of the first and cruised to a 12-4 victory over UMass Lowell.
Left-hander Randy Labaut, who missed 10 weeks last season because of a leg injury, allowed two earned runs in five innings to pick up the win. Freshman Austin Wells hit a three-run homer in his first collegiate at-bat to highlight the four-run first. He finished 3 for 5 with four RBIs.
Arizona has won 12 straight home openers, including four in a row under Jay Johnson.
"It's not a surprise that they were ready to play in all three phases," Johnson said. "There was the excitement of opening night but a very professional feel to how they approached it."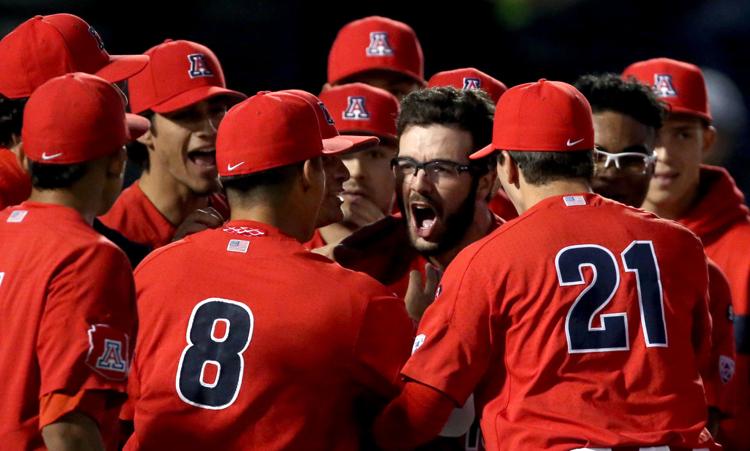 Labaut labored a bit after rolling through the top of the first and sitting in the dugout for about 20 minutes in the bottom half. He caught a break in the fourth when an interference call turned a fielder's choice into an inning-ending double play. Labaut finished his night the way he started it, with a 1-2-3 frame.
"It means everything to go out there and compete for the team," Labaut said. "It was fun."
Senior right-hander Cameron Haskell allowed one run over the final four innings to earn his first career save.
Fans were lined up outside Hi Corbett two-plus hours before the first pitch to ensure they received a Hoffman bobblehead. It wasn't the first time Hoffman had been depicted in bobblehead form. But having his UA jersey retired — like being elected to the National Baseball Hall of Fame last summer — was a once-in-a-lifetime experience.
Hoffman said the gesture by his alma mater left him "in a bit of awe."
"There have been some tremendous players that have come through the U of A that have put up significant numbers, more so than myself," said Hoffman, who hit .371 as a junior in 1988 and compiled 24 doubles and 83 RBIs in his two-year UA career.
"I understand that some of this has to do with my play on the field at the big-league level. But I hope I can represent some people who had some tremendous careers while they were here."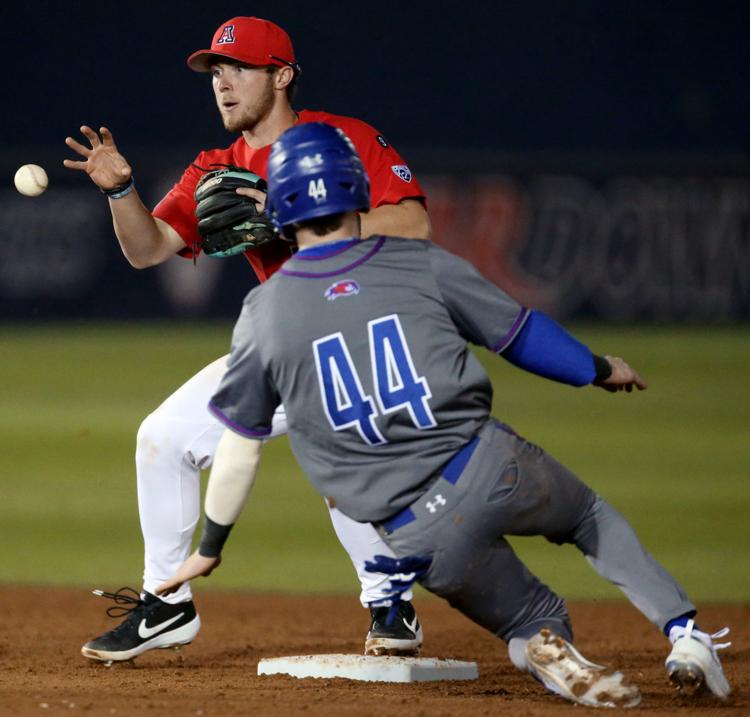 No one had a more distinguished UA career than Francona, who in 1980 won the Golden Spikes Award and was named the Most Outstanding Player in the College World Series — which the Wildcats won. Hoffman said it's "pretty special" to be linked to Francona.
"But our connection with Arizona baseball is the most important thing," Hoffman said. "For myself, having played for Coach (Jerry) Kindall and everything he stood for was an honor."
During his speech to the crowd, Hoffman recognized Kindall, who passed away in December 2017, as well as his top assistants, Jerry Stitt and Jim Wing.
Stitt and Wing participated in the pre-game ceremony along with school president Robert C. Robbins, UA athletic director Dave Heeke and several of Hoffman's college teammates, including pitcher Lance Dickson.
Hoffman said he was "just trying to get on the field and play" when he transferred to Arizona from Cypress (Calif.) College. The Wildcats were just two years removed their third national championship.
Arizona didn't make the postseason in Hoffman's first year and got knocked out in the regional round the following season by Long Beach State. (Hoffman made sure to note that Arizona swept a road series against Arizona State that year.) His UA experience was about more than baseball, though, a message he conveyed to the current team in the clubhouse Friday afternoon.
"It was a little bit about cherishing opening day. You never know how many you're going to get in uniform," Hoffman said. "Respect your teammates and understand that the relationships you're building today will last a lifetime. I am living proof of that."
Hoffman mentioned ex-teammates Scott Erickson, Dickson, Kevin Long, J.T. Snow and Alan Zinter.
"We're still really close," Hoffman said.
Erickson, Dickson, Snow and Zinter played in the majors. None achieved as much as Hoffman, who ranks second in MLB history with 601 saves.
Hoffman transitioned from position player to pitcher in the minors, and from flamethrower to change-up artist in the majors. He was a little worried about throwing out the first pitch, joking that his arm "has been retired a little too long." Hoffman also was wearing a suit.
UA reliever Preston Price squatted behind home to receive Hoffman's throw. Standing just in front of the rubber, Hoffman lofted the ball over the plate. Price barely had to move his glove.
Inside pitch
UMass Lowell coach Ken Harring played against Hoffman in rookie ball in the Pioneer League in 1989.
Former UA pitcher Cameron Ming stopped by the press box to visit reporters. Ming and ex-teammate Jared Oliva are working out at Hi Corbett before they report to spring training in Florida later this month.
Left-hander Andrew Nardi and right-hander Bryce Collins are set to make their UA debuts as the scheduled starters in Saturday's doubleheader.