When rain forced the postponement of Arizona's scheduled game at Cal State Fullerton on Wednesday, Will Gaines, the Wildcats' director of baseball operations, had to scramble to make new travel plans. The team still needed to get to Los Angeles for a weekend series against UCLA. Nearly 40 flight itineraries had to be switched from Tuesday to Thursday.
The players had other ideas.
"A lot of the older players came to me and said, 'Hey, what if we just were to bus? We think it'd be fun as a team,' " UA coach Chip Hale said. "So we're going to try it. We're gonna bus there and fly back."
At 7 a.m. Thursday, the Wildcats boarded two buses and embarked on an eight-hour journey to L.A. There's no such thing as too much team bonding, even when things are going well. And they're going great for 12-3 Arizona, which has won nine consecutive games, including a three-game sweep of Cal to open Pac-12 play last weekend.
"It'll be the hardest on us all coaches sitting on a bus for this long," Hale said, smiling. "But we've all done it in the minor leagues. We're used to it."
They didn't have smartphones and iPads back in Hale's minor-league days. Without them, the Wildcats might not have been able to catch the first session of the NCAA Tournament, including the UA men's basketball team's opening-round game, scheduled for an approximate 1:10 p.m. tipoff Thursday.
The baseball team's version of March Madness: a series at No. 12 UCLA followed by another road trip to Phoenix next weekend to face Arizona State, with only one home game, vs. Utah Tech, in between.
Hale discussed the state of the Wildcats and their hottest hitter in an interview with the Star. The conversation has been lightly edited.
What's been going well for your team?
A: "I think just being resilient. We've been down in some games. They've kept fighting. The at-bats seem to get better as the game goes on. We felt like we were scoring early and then sort of had a lull in the middle innings, then came back in the late innings. We've gotten that out of the way where the fourth, fifth and sixth, we're starting to put better at-bats together and getting into the other team's bullpen."
You got some practice playing on the road by winning at Grand Canyon. Can you take any lessons from that experience? Does that help this weekend?
A: "Yeah, I think it does help. I think actually the trip to Phoenix at the start of the year (for the MLB Desert Invitational) helps. Because we were (together) as a team, we were at the hotel, we got used to going to lift weights somewhere different than our weight room. All the things that go into being on a road trip.
"And then I think the GCU trip was big because that's become a big rival. Let's face it: They're a really good club. With (Andy) Stankiewicz and now (Gregg) Wallis, they've built that program into a power. Whether the name is sexy or not, they're as good as a lot of teams we play."
You swept both North Dakota State and Cal, but the NDSU series was a struggle at times. You really put it all together vs. Cal. Where did you see the growth?
A: "I think we caught Cal probably at the best time. They lost their No. 1 starter the week before. So they were trying to put together their staff. It was hard.
"But as we all know, it doesn't matter who you're playing – it's hard to sweep anybody, especially in Pac-12 play. I thought our at-bats were great all weekend. I thought we played good defense. And we got really good pitching performances from TJ (Nichols), (Bradon) Zastrow and (Aiden) May.
It can be especially hard to sweep when you've won the first two games.
A: "And we fell behind. To their credit – we talked about the veterans deciding to take a bus over to L.A. – those are the guys that are in the trenches, in the dugout, basically not letting guys just say, 'Hey, we've already won two, it's OK to lose this one.' "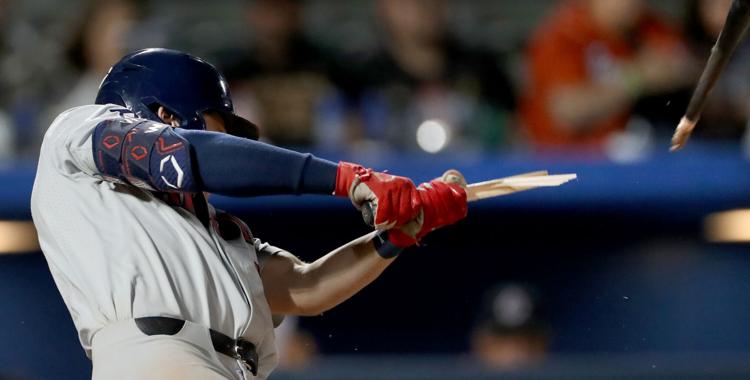 Kiko Romero is one of the hottest hitters in the nation. Has he been pretty much what you expected?
A: "Let's go back to the start. He basically got hot on this homestand. But before that, numbers-wise, he had not done what we thought he could do.
"We went through our whole team today and said, 'Overachieve, underachieve, pretty much what we thought.' Kiko, obviously the last weekend (9 for 11, three home runs, nine RBIs), that's impossible to repeat every week. But we saw him more that than what he did in the first couple of weeks.
"He's made some philosophical changes since junior college. A lot of the scouts, people who had seen him play, (said), 'He strikes out too much.' That was the word on the street. Well, he obviously took that to heart and probably has one of the better two-strike approaches of our team now (eight walks, eight strikeouts in 60 at-bats).
"He's fighting hard. He's a tough guy. That's one thing when you get junior-college players. You get them for a couple of reasons: Obviously, they're playing at a higher level than a high school kid. And they just come in here a lot tougher."
Inside pitch
• Right-hander Anthony Susac (arm) was scheduled to throw a bullpen session Wednesday. He didn't travel to UCLA. He could be available to face Utah Tech on Tuesday. "From what he tells us, from what the doctors say and what our trainer says, it's really improving and it should be a non-issue here by next week," Hale said.
• Third baseman Tony Bullard was lifted from Sunday's game vs. Cal because of Achilles' tightness. Hale said Bullard could have kept playing if it were a postseason game. He hasn't hit well this season, but his defense has been stellar. "I told the team that (last) weekend," Hale said. "I said I hope they realize how lucky they are to watch him play defense. The game-saving plays. The really hard plays that he makes look easy."
• Right-hander Cam Walty, who has made only one appearance so far, threw three innings in an intrasquad game Tuesday and is healthy and available. Right-hander Josh Randall (back) remains sidelined.
• Hale plans to continue to tinker with the lineup, especially in right field and at DH, to capitalize on matchups and whoever has the "hot hand." Outfielder Tyler Casagrande has raised his average to .342. Emilio Corona, his right-handed-hitting counterpart, hasn't gotten much playing time because Arizona hasn't faced many lefties. UCLA's probable starters are all right-handers.
• Arizona leads the Pac-12 in batting average (.314), doubles (47), total bases (293) and slugging percentage (.536). UCLA leads the league in ERA (2.32) and shutouts (three), ranks second in on-base percentage (.416) and is tied for second in home runs (23).
Contact sports reporter Michael Lev at mlev@tucson.com. On Twitter: @michaeljlev