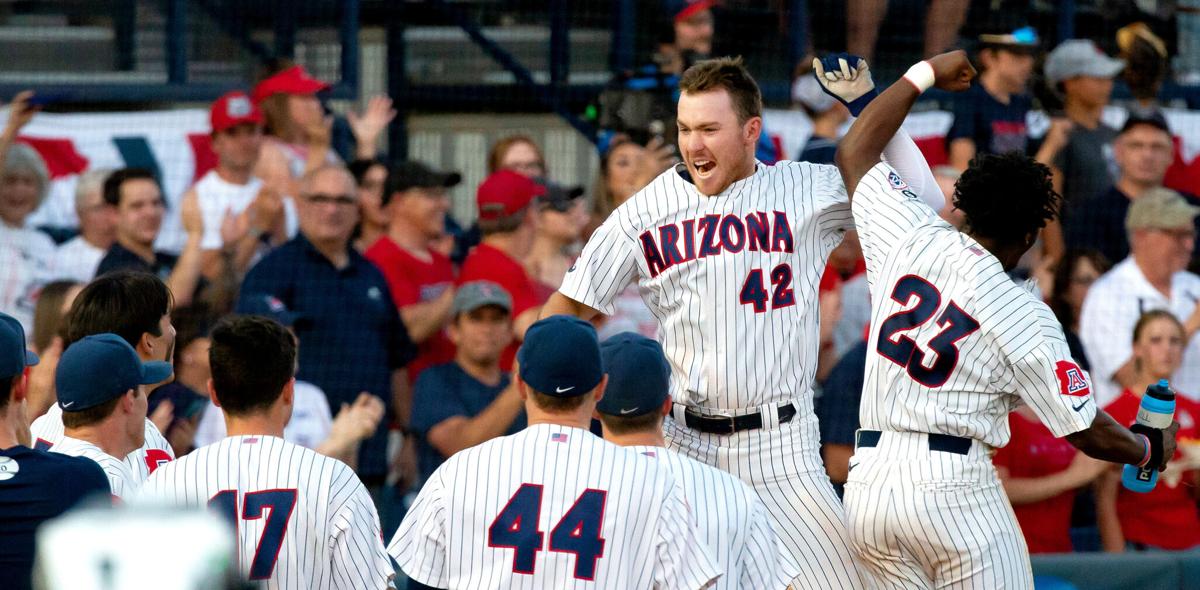 Everyone knows this Omaha-bound Arizona baseball team can hit. As the season progressed, the Wildcats proved they could pitch. Their defense stepped up in the Super Regionals against Ole Miss, committing only one error in three games.
But there's more to being a winning program than what's obviously visible on the field.
"They're just great people," UA coach Jay Johnson said of his team after a 16-3 victory Sunday that secured Arizona's 18th berth in the College World Series. "They're just highly competitive. They're made up of great character."
Those three elements — plus talent and fundamentals — have enabled the Wildcats to respond to adversity throughout the season. They have lost more than one game in a row only three times — the last time in mid-April. Twice in the postseason they have rallied from multiple-run deficits.
"We're a very consistent team," Johnson said. "That speaks to their mindset as much as their ability. They've answered every challenge along the way."
That trait should serve Arizona well in Omaha. The UA will open the double-elimination CWS against perennial powerhouse Vanderbilt. Stanford and NC State are the other teams on that side of the bracket.
"None of it surprises me," Johnson said. "Everybody points to that Washington State game where we got completely drummed (a 21-2 loss on April 16 that was Arizona's third defeat in a row). It wasn't like a big thing. We went back to the hotel, had study hall, went to the park an hour and a half early (the next day) and started working, because that's what we do.
"When things go bad, you have a choice of how to respond. These guys know how to respond. Some of them have been through failure, heartbreak. They know how to get back up. You see it the middle of games, and you see it after a bad game. They were trained to respond the right way."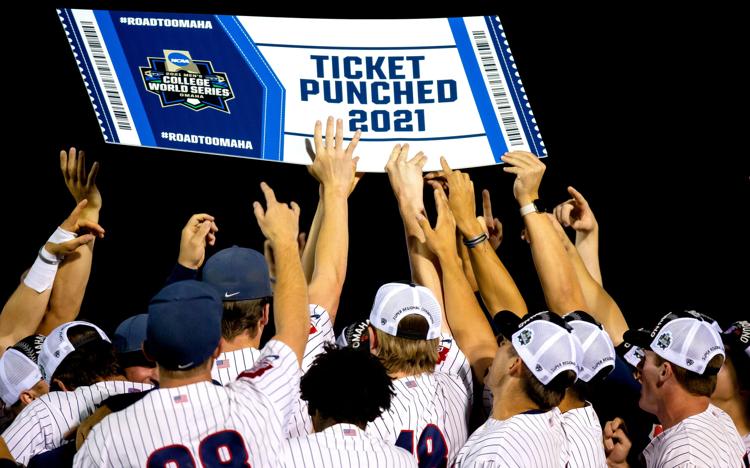 After that lopsided loss against WSU, Arizona reeled off a 10-game winning streak. There was no doubt in any Wildcat's mind that they would react the right way after losing to the Rebels 12-3 Saturday night.
After Ole Miss scored a run to make it 1-1 in the third inning, Arizona scored 12 over the next three frames.
"I just know how we bounce back from losses like that," veteran first baseman Branden Boissiere said. "We've had it happen to us before this season, so I just knew that ... we were going to bounce back, forget about everything and leave it on the field."
Embracing the challenge
Johnson and his team are looking forward to the challenge of facing Vanderbilt, which has won two of the past six national championships. He said he wanted to face Ole Miss in the Super Regionals, even though the Rebels have become, in his view, "one of the best programs in college baseball."
"When I saw the bracket come out, I wanted them to win their side," Johnson said. "I know that sounds crazy because of how good their team is. (Saturday) night, in the middle of the game, I was going, 'Wow, be careful what you wish for.' "
Arizona proved to be the better team. Vanderbilt brings its own set of challenges, including the nation's premier pitching combo: Kumar Rocker and Jack Leiter.
"I told the players on Selection Monday, there's no other way I'd have it," Johnson said. "This is meant to be for this team, and we're really excited. We know what they are, how quality they are. What better way to start the College World Series than that?"
Netz and Nichols
Johnson and pitching coach Nate Yeskie formulated a plan early Sunday for seven pitchers to face Ole Miss. Circumstances shrunk that number to four, and half of them technically were freshmen.
Dawson Netz, who began his UA career in 2020, served as the opener. He retired the first six batters he faced. He exited after yielding a single to lead off the third inning.
Although Netz had started only one game during the season, Johnson knew he would handle the assignment like a veteran.
"It was because of his makeup and character that I wanted him to start the game," Johnson said of Netz, who's from Sierra Madre, California, and whose sister, Devyn, is a member of the UA softball team.
"The most important outs of the game to me were going to be the first six to nine, so we kind of reverse-engineered it.
"He's a guy that rises to the challenge or to the moment. So I just felt like mentally he would be the best. And I thought it would throw them off a little bit. I didn't think they would have seen that coming."
Arizona next turned to true freshman TJ Nichols. Nichols said he was supposed to go one time through the Rebels' lineup. But a 1-1 tie turned into a 13-1 UA lead. Nichols also settled down after yielding a double to the first batter he faced, followed by a sacrifice fly that scored the tying run in the third.
"I'm just grateful he kept me in," said Nichols, who earned the win to improve to 6-3. "I was given an opportunity to succeed, and I did my best."
Inside pitch
Arizona relievers have compiled a 2.89 ERA across 28 postseason innings. Take out the middle game against Ole Miss — 6 2/3 innings, five earned runs — and that figure falls to 1.69.
Boissiere had 10 hits in 15 at-bats against Ole Miss, including a 4-for-6 showing Sunday that produced a career-high five RBIs. "What a performance," Johnson said. "That was Tony Gwynn-like as just a pure hitter."
Center fielder Donta' Williams leads the team in the postseason in batting average (.481), on-base percentage (.564), runs (nine), walks (five) and stolen bases (three). He went 8 for 14 against Ole Miss. Johnson said after Saturday's game that Williams is "one of the best players in the country right now."
Contact sports reporter Michael Lev at 573-4148 or mlev@tucson.com. On Twitter @michaeljlev