J.T. Snow played 13 seasons with the Yankees, Angels, Giants and Red Sox. He won six gold gloves, earned in consecutive years from 1995-2000.
Snow hit a three-run home run in the 2000 National League Division series off New York Mets reliever Armando Benitez. He hit three home runs in a 2004 game against the Phillies.
But ask any baseball fan what they remember about Snow, and the first thing that comes to mind is a moment from Game 5 of the 2002 World Series.
Snow, then a member of the Giants, rescued bat boy Darren Baker as the 3-year-old threatened to interrupt play. Snow crossed home plate, scoring on former Arizona Wildcat Kenny Lofton's triple, then scooped the son of manager Dusty Baker in his arms.
The iconic moment came full-circle this spring, when Snow — a former Arizona Wildcats star who is now an analyst for Pac-12 Networks — called a game featuring Darren Baker, now a sophomore at Cal. The two met on the field and talked before a game in the Utah series for one of the first times since that day.
Guy Haberman, Snow's Pac-12 baseball play-by-play partner, had a front row seat to this reunion.
"I asked J.T., 'Does this ever get old? People know you for this and not for the home run (against Benitez) and not for the gold gloves,'" said Haberman, who has been working with Snow since 2015. "He said it doesn't bother him, and I believe him. And I could see why. It was a fun thing for him. He embraces the moment."
The Giants lost that World Series, but have since won three titles. Snow was able to enjoy the championships in retirement; he acted as a team adviser and a roving minor-league coach after retiring from the game.
"I feel like I was on some of those teams that set the tone; that created a path for guys to follow," said Snow. "They're a great organization. A lot like Arizona, with the way to play and the way to conduct yourself."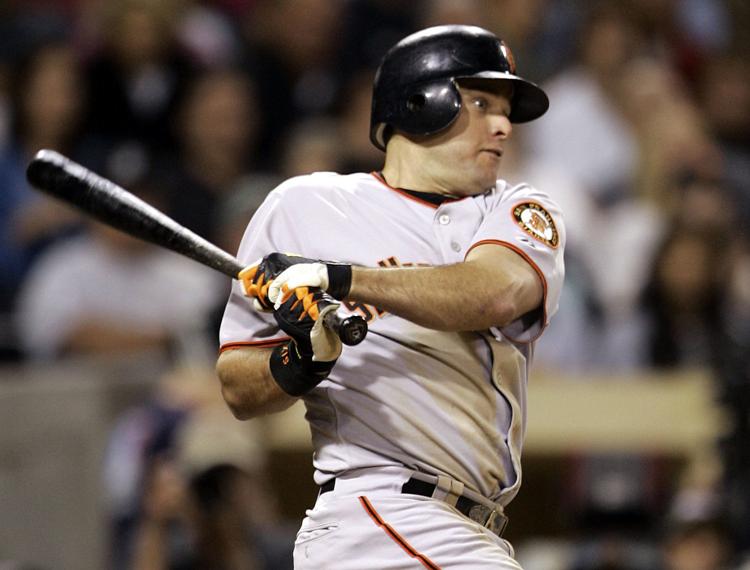 Born for broadcasting
Snow has been with the Pac-12 Networks for six years. It is, in many ways, a natural transition.
"I saw my dad — Jack Snow, who played for the Rams — do it," said Snow. "When he got out of football, I got to hang out with him in the press box in Orange County and in St. Louis. I got to see it.
"This was different and fun. I got positive feedback so I kept doing it. I really like doing college baseball. I wasn't drafted out of high school and Arizona was my only offer, so college baseball means a lot to me. It's low-key and I don't have to be controversial or edgy; that's not what college baseball is about. It brings you back. The same with (broadcasting) Little League. It's all about the kids. I love it."
When Haberman started working with Snow, he wondered if the former first baseman was dedicated to broadcasting. If the onetime Wildcat was willing to put in the work to improve. It didn't take long for Haberman to get his answer.
"With J.T. you knew right away that he did. When we talk to coaches before a game, J.T. pulls out his reporters' notebook — that says a lot. The details matter to him," he said. "J.T is a welcoming person and is the same on the air and off the air. People like to talk to him. For every game, we do our open down on the field. When we walk back up to the booth, he stops and talks to two, three, even four people. He gets all these insights. If you watch the game, he'll say 'I talked to so-and-so's dad or mom before the game.
"He always has the right balance. He won't force stories about himself, but will tell stories that people identify with. J.T. is awesome. I think being around pro sports when he was a kid is why he is the way he is."
Kindall's lasting influence
Snow's father started him on his journey to the big leagues. The old football player and his son spent hours in the park playing catch. Jack didn't take it easy on young J.T. — there were few perfect throws, and J.T. had to make clean picks every time.
Snow credits another coach — Arizona legend Jerry Kindall — for taking it to the next level. Snow played three seasons (1987-89) at UA, finishing with a .333 average and .447 on-base percentage. He earned All-Pac-10 South honors as a junior, when the Wildcats won the league.
"When I left, I was prepared — and my confidence came from Arizona," he said. (Kindall) did it by respecting the game. We were always prepared and very intelligent on the field; we knew where to be. He showed us how to play; how to hustle. It was more in the mental side and prep; how to play the game. He taught us to know yourself; how to work and how to practice."
Snow has passed those lessons to his son, Shane, who is entering his junior year on the University of Hawaii's golf team.
"I tell him to keep his composure, play with passion, show up on time and play hard. Give it your all," Snow said.
Snow played alongside future big-leaguers Scott Erickson, Alan Zinter, Kevin Long, Trevor Hoffman and Lofton while with the Wildcats. He remains close with all of them — including Hoffman, who will be inducted into the Baseball Hall of Fame this summer.
"I'm not surprised," Snow said of Hoffman's enshrinement. "He had a great work ethic and was a great shortstop in college. He had the best arm of any infielder I ever played with. He begged our coaches to let him pitch, but he was more valuable at shortstop for us. I'm not surprised he made it, but as a pitcher and one of the great closers of all time; that's a great story."
Snow's own story — son of a football player stars in college, plays in the pros and takes up broadcasting — is pretty good, too.
"Playing baseball for three years in Tucson and at Arizona were the best three years of my life," Snow said. "Hanging out with my buddies and playing baseball was a lot of fun."