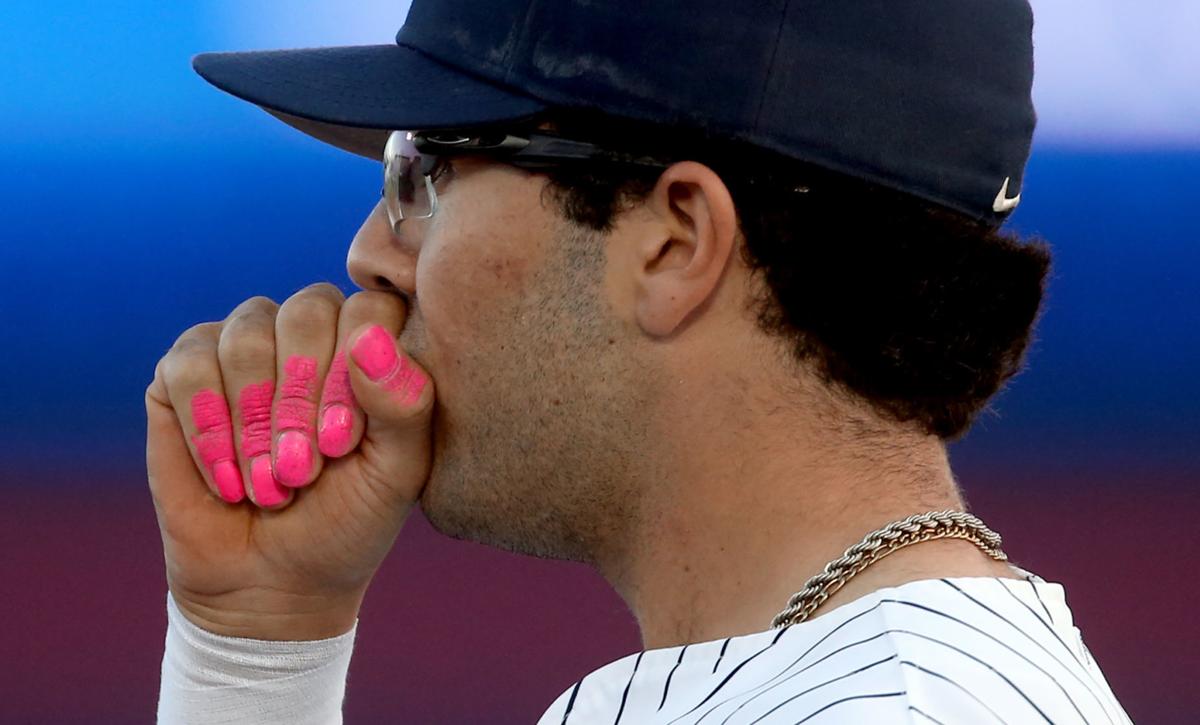 Austin Wells knows who Adley Rutschman is, what he's done and where he might go in the 2019 MLB draft.
That's about the extent of it.
The Arizona freshman will get an up-close look at Oregon State's junior catcher when the Wildcats visit the fifth-ranked Beavers for a three-game series that starts Thursday. Wells could get a preview by looking in the mirror.
Arizona's first-year catcher/first baseman is trending in Rutschman's direction. The OSU star was voted Most Outstanding Player in the 2018 College World Series, and he's projected to be the first pick in the '19 draft. If Wells continues on his current trajectory, he could be a high pick as early as 2020.
Wells is batting .372, the highest mark among freshmen among Power 5 conference players. He has reached base in 28 consecutive games via a hit or walk. His average hasn't fallen below .333 the entire season. (He hit a home run in his first collegiate at-bat.)
Wells is also athletic enough to have played first base and left field, to have legged out three triples and to have stolen five bases in five attempts.
"Austin's a really talented player," UA coach Jay Johnson said. "He has great strength. He sees the ball incredibly well. He has a mental disposition that allows him to stay consistent and really be in the moment and move on to the next at-bat.
"He's one of those high-level guys that combines a really good baseball toolset with really elite makeup that allows the toolset to show up in competitive games."
Although he's far from satisfied with his performance, Wells mostly has avoided the ups and downs that plague most freshmen. He credits years of training with his dad – former UA outfielder Greg Wells – and others.
"It was always about confidence," Austin Wells said, "getting past it, flushing everything down the drain and getting after it the next day."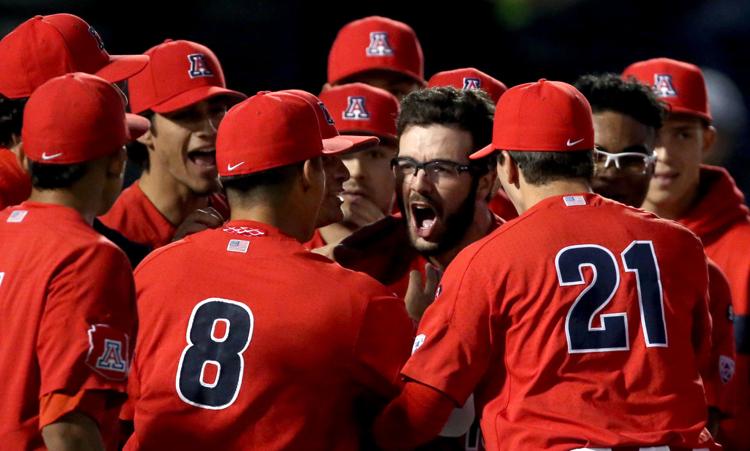 If Wells seems unusually mature for a freshman, he is. He turns 20 in July. Because he'll be 21 within 45 days of the 2020 draft, he could choose to leave Arizona after his sophomore year. He might have gone pro straight out of high school if not for an elbow injury that limited him to first base and DH duty last season.
In the meantime, Wells just wants to win. Despite standout performances by Wells and fellow catcher/first baseman Matthew Dyer (.397), among others, the Wildcats haven't met preseason expectations. They're 18-16 overall and 6-9 in Pac-12 play.
"Having individual success doesn't mean a lot to me when the team isn't winning," Wells said. "I would give all that away to have six, seven, eight more wins."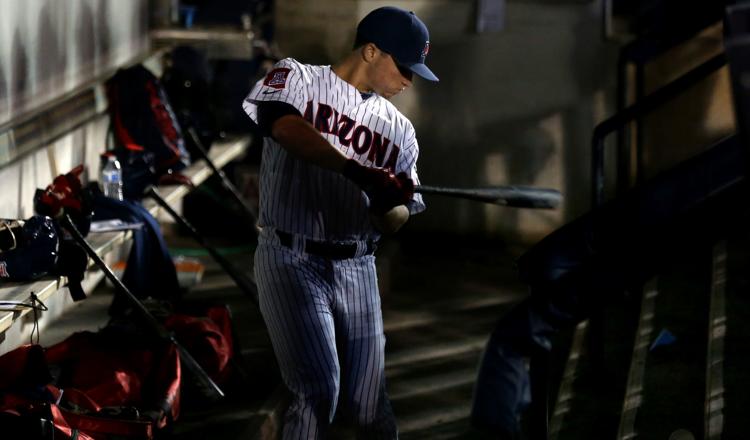 Boissiere bounces back
Injuries threatened to end UA freshman outfielder Branden Boissiere's baseball career before it could get going.
Boissiere underwent Tommy John surgery as a sophomore at Woodcrest Christian High School in Riverside, California. Then, while on a family vacation in Wyoming, Boissiere got in an ATV accident. The vehicle landed on his right ankle, breaking multiple bones and tearing off a chunk of skin.
"At that point," Boissiere said, "I was scared if I was going to be able to play baseball again."
Boissiere made it back for the tail end of his senior season. He had been committed to USC for some time, but the Trojans decided to drop him the following summer. Johnson had been interested in Boissiere since the fall of 2015. When Boissiere called him last summer, Johnson was happy to offer him a spot.
"He decided to give me the opportunity to walk on here, and I'm grateful for that," Boissiere said. "I'm just trying to work hard to get back to my full potential."
Johnson said there was talk at first of redshirting Boissiere, who also can pitch, "to let his body get fully rebooted." But Boissiere played so well in fall that Johnson not only kept him on the active roster but started him on opening night.
Boissiere went 1 for 3 with two RBIs in his UA debut. But the transition from high school to college proved challenging – as it does for most – and Boissiere's playing time diminished.
Boissiere was batting .130 when he entered Friday's game against Cal as a pinch-hitter. He went 3 for 3 that night and started the next two games. He had two hits Saturday and two more Sunday, lifting both his average — to .303 — and his spirits.
"I've got to give him a lot of credit," Johnson said. "The high school he played at, Woodcrest Christian, from that level of baseball to this level of baseball is a massive jump. And he probably had a month, month and a half where maybe that was exposed a little bit.
"But he went to work over the last five or six weeks with limited opportunities and put together some good work. And he looked like the hitter we really believe him to be this last weekend. I think that's a sign of good things to come."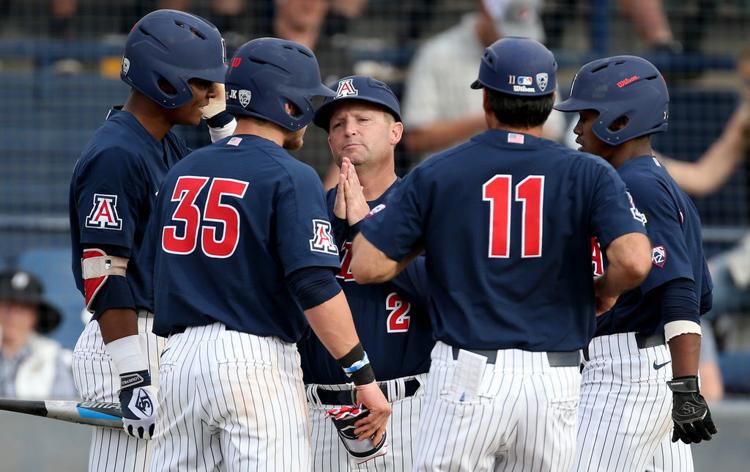 ESPN exposure
The series finale in Corvallis will be televised on ESPNU — the only regular-season Pac-12 game airing on an ESPN network this year.
Johnson said that game was picked because the Wildcats and Beavers were the two winningest programs in the league over the previous three seasons.
"I think it's cool," Johnson said. "We've fought through some adversity here, and we're not at the level that they are at right now. But I think it's validation of consistency and performance. Hopefully this particular team, which is the only one I care about right now, has its best baseball in front of it."
The first two games of the series will air on Pac-12 Arizona.
Inside pitch
Johnson on Rutschman, who's hitting .413 after batting .408 as a sophomore: "The talent is easy to see. He's a legitimate switch-hitter. Maybe early on his career you could say hey, we want him to hit from a certain side. I think he made adjustments through last year where he's pretty equal; he can hurt you from both sides of the plate. … Defensively, he has all the tools as far as receiving, blocking, throwing. And then the thing that always stands out – and he gets a lot of credit for, well-deserved – is how he handles their pitching staff. They have some really good arms. I think he makes them better."
Oregon State (25-8-1, 11-4) ranks third in the Pac-12 and sixth in the nation with an ERA of 2.83. The Beavers rank second in the league and seventh nationally with a WHIP of 1.13. The Wildcats rank 263rd at 1.76. Only one UA pitcher has a WHIP under 1.50: right-hander Quinn Flanagan (1.40).
UA freshman shortstop Dayton Dooney remains day to day because of a shoulder injury. He accompanied the team to Corvallis and will play if healthy.
Arizona took two of three from OSU last year in Tucson, rallying from a 5-2 eighth-inning deficit in Game 3 to win in a walk-off. The Beavers swept the Wildcats in Corvallis in 2017, winning each of the first two games via walk-off.
Thursday's matchup features a pair of left-handers: Randy Labaut (3-3, 6.55 ERA) for UA and Brandon Eisert (7-1, 1.30) for OSU. The scheduled starters for Friday are righties Flanagan (4-2, 4.50) and Bryce Fehmel (5-0, 3.54). The series finale pits lefty Andrew Nardi (3-3, 6.63) against righty Grant Gambrell (2-1, 3.27).
Be the first to know
Get local news delivered to your inbox!