The challenge for Jay Johnson and the Arizona Wildcats in 2019 is two-fold: (1) Integrate a large batch of newcomers; and (2) return to the postseason after missing the cut a year ago.
What makes that task all the more difficult is that the latter can't happen without the former proceeding somewhat smoothly. As talented as Arizona's new guys are, Johnson knows there will be bumps.
"I'm sure there will be a learning curve," Johnson said Friday afternoon before the Wildcats began their first full-squad practice of the year. "It won't always be smooth sailing. But the expectation is … that they'll be ready to play."
They're going to have to be. Arizona is counting on them to fill critical spots in the lineup and on the mound.
Of the 35 players listed on the UA's online roster, 21 never have played an inning for the Wildcats. Of that group, 14 are true freshmen, two are redshirt freshmen and five are transfers.
At least five newcomers are expected to be regulars in the lineup as of now: catchers Matt Dyer and Austin Wells; first baseman Dayton Dooney; and outfielders Branden Boisierre and Ryan Holgate. Dyer is a transfer from Oregon. The other four are freshmen.
Johnson listed seven pitchers who will be prepped over the next three weeks to be starters. Two are transfers (Andrew Nardi, Nate Brown), two are true freshmen (George Arias Jr., Bryce Collins) and one is a redshirt freshman (Quinn Flanagan).
"We're excited about it," Johnson said. "It's almost been like a reset button in some regard. This is the biggest class we've had come in. A lot of them were recruited off the early success we had when we first got here and will have an opportunity to contribute to this team."
The new guys will complement a returning core led by infielders Cameron Cannon and Nick Quintana – who both earned preseason All-America accolades – and left-hander Randy Labaut. The veterans have expressed confidence in the newcomers. As Labaut said Friday: "Their mindset is to win every single game they play."
The problem is, none has played in a real game for Arizona yet. Several impressed during fall scrimmages against Cal State Fullerton and BYU. But as Johnson acknowledged: "There's a big difference between training (and) crossing the line to competition."
Johnson and the older players are hopeful that the new Wildcats will acclimate quickly enough to keep Arizona in contention for an NCAA Tournament berth.
The Wildcats were among the first four out last year, missing the tournament for the first time in Johnson's three seasons as coach. Arizona did not appear in the preseason Top 25s recently released by Baseball America, D1Baseball.com and USA Today. The Wildcats did receive votes in the latter, which is voted upon by coaches. D1Baseball projects Arizona to make the NCAA Tournament as one of six Pac-12 representatives.
Labaut distinctly remembers what it was like to fall off the bubble last May. It's an experience he'd rather not repeat.
"It was definitely tough," Labaut said. "Not hearing our name called is definitely something we hold (onto) sometimes. It was hard.
"But we take that as (motivation) to really leave everything on the table, leave everything on the line and encourage the young guys. Just get everybody on board to win games."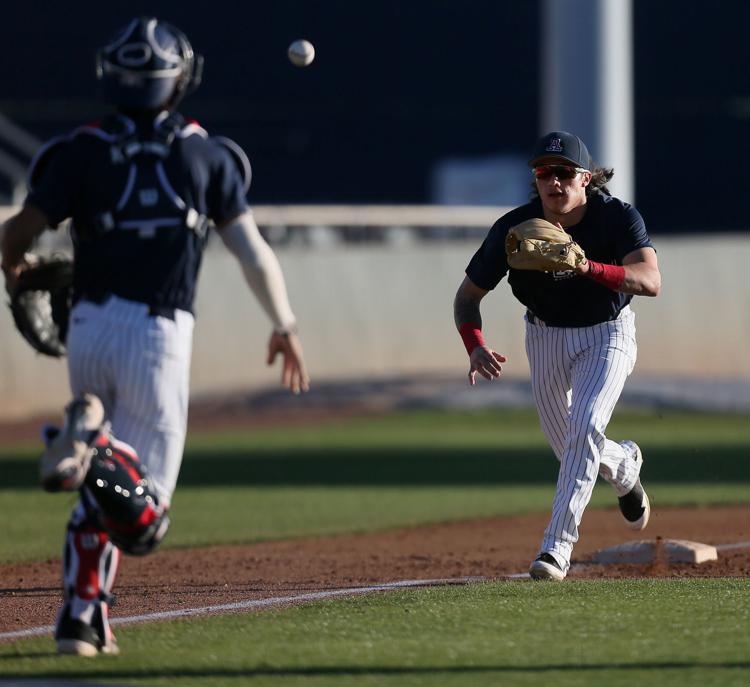 Healthy Labaut
The Wildcats would have stood a better chance last year if they had Labaut available for the entire season. The lefty missed about two months because of compartment syndrome in his left leg.
Labaut returned to pitch two hitless innings in the regular-season finale at Oregon. He said Friday that he's "healthier than ever."
"When they told me I had to get surgery, it's something I wasn't expecting," said Labaut, who exited a March 17 game at Washington because of pain in his leg and had to undergo emergency surgery the next day. "I was just crying. I've done so many things to stay healthy.
"But it's something you can't control as a baseball player sometimes. Injuries happen. I couldn't believe it at first. It was a dark (time) in my life. But I'm over it."
Barring any setbacks, Labaut likely will be Arizona's starter in the Feb. 15 season opener against UMass Lowell at Hi Corbett Field.
Johnson on Hoffman
Johnson's time as a player and coach in San Diego overlapped with Trevor Hoffman's stellar career with the Padres. Hoffman will have his UA jersey retired and will throw out the first pitch before the opener.
"Trevor Hoffman is exactly what I want our players to aspire to be," Johnson said. "Not just as an athlete – he's one of the greatest of all time as a closer – but he's an elite person.
"Having had an opportunity to see him when he was at the height of his career was pretty special. I got a chance to meet him when I was playing in college and hear how he went about his craft, the preparation, his routine. It's not a surprise that he achieved at the level he achieved."
2016 reunion
After adding former UA second baseman Cody Ramer to the staff in the fall, Johnson completed the double play by bringing aboard former shortstop Louis Boyd.
Ramer and Boyd were key cogs in Arizona's run to the College World Series finals in 2016, Johnson's first season. Both will serve as graduate assistants.
"I spent a lot of that year walking around with a big smile on my face. Those two guys were a big part of it," Johnson said. "They're just such great people, and they have such a great feel for baseball. They can't help but have a positive effect. All of our players know that they were in that position a couple years ago. It commands respect."
As grad assistants, Ramer and Boyd aren't allowed to participate in on-field coaching. They can hit fungoes, throwing batting practice and have non-coaching "baseball conversations" with the current players.
"My freshmen year, they were truly leaders of the team," said Labaut, the only remaining player from the '16 squad. "Their mindset, it was always positive."
Inside pitch
D1Baseball named Cannon a second-team preseason All-American. Quintana earned third-team recognition from D1Baseball and Perfect Game.
Dooney, Dyer and Wells are among five candidates to get time at first base, Johnson said.
The Wildcats scrimmaged Friday night and will do so again Saturday night and Sunday afternoon.
Defending national champion Oregon State, UCLA and Stanford all rank in the top 12 in the Baseball America, D1Baseball and USA Today preseason polls.