They came in together. They played next to each other. They could be drafted in the same round.
Nick Quintana and Cameron Cannon are the top-rated Arizona Wildcats entering the 2019 MLB draft, which begins Monday. Both are projected to be top-100 picks. At worst, they should be selected by early Tuesday, when Round 3 kicks off the draft's second day.
Quintana is the No. 81 prospect, according to Baseball America. Cannon is No. 94. MLB.com has them 77th and 79th, respectively.
The parallels between them don't end with their draft rankings.
Both have brothers who preceded them into pro baseball and have helped them along the way. Both are right-handed batters who played primarily on the left side of the infield. Both improved as players, matured as people and upped their stock by eschewing the draft three years ago.
"I'm really proud of those guys," UA coach Jay Johnson said. "They both committed to us here before we'd accomplished anything. We had sold them on a vision for what this day would look like three or four years later.
"They both did what they set out to do individually as far as developing themselves mentally, physically and maturity-wise. Whatever organizations draft them are going to get two great kids and great players."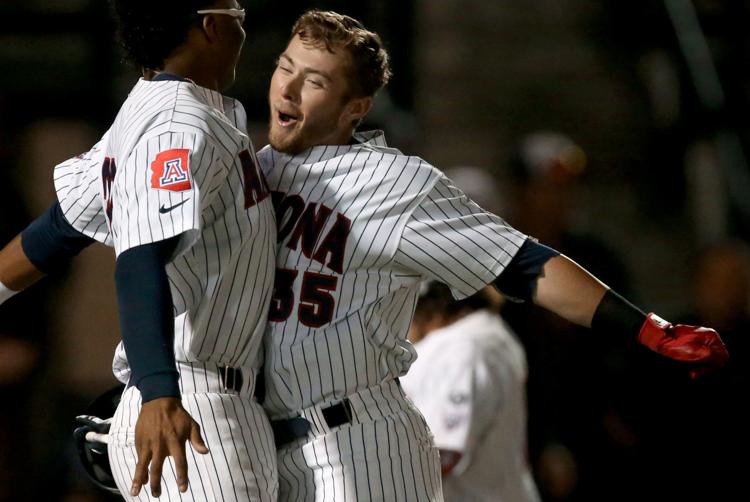 Both endured highs and lows while developing into top-100 prospects.
Quintana came to Arizona with considerable fanfare; the Boston Red Sox thought enough of him to draft him in the 11th round in 2016. He had a promising freshman season, bating .293 with six home runs. But Quintana struggled in the field, making 19 errors at third base.
He dramatically improved his defense the following season, but he remained a streaky hitter. Quintana was batting just .244 with nary a home run through the first five games of Pac-12 play before getting hot and finishing with 14 homers, 55 RBIs and a .313 batting average.
As a junior, Quintana put it all together. He notched career highs in homers (15), RBIs (77) and all three triple-slash rates (.342/.462/.626). His averaged dipped below .280 only once after the first series of the season.
"The maturity off the field, on the field, that 100 percent comes from experience," Quintana said. "Living on your own, going to class on your own, putting in extra work on your own – that helps an individual become a better person, a better athlete. The experiences that I've had here … I feel like a lot of those factors have helped me grow mentally, physically."
Quintana isn't sure it would have worked out this way had he gone straight to the pros out of Arbor View High School in Las Vegas. His older brother, Zach, did that as a third-round pick of the Milwaukee Brewers in 2012. Zach came to regret that decision, Nick said. Zach, a pitcher, is no longer playing pro baseball. He's back in school, pursuing a degree.
"I didn't think I was physically ready. I didn't think I was mature enough," Nick Quintana said. "Everything I've done (since) has molded me into the person I am now."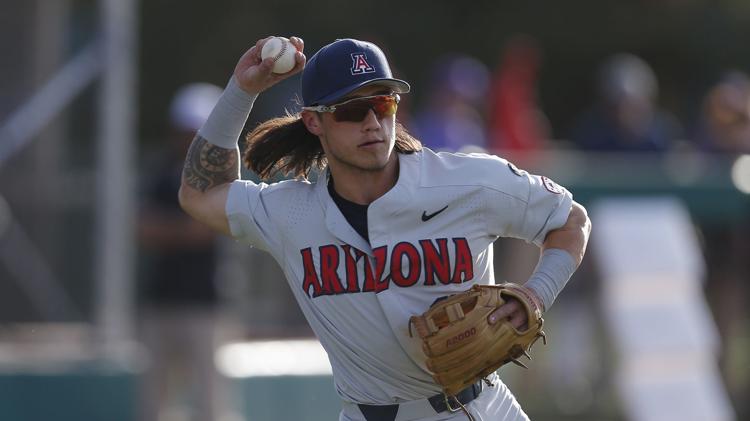 Cannon was drafted by the Diamondbacks in the 21st round in '16 out of Glendale Mountain Ridge High School. His older half-brother, Tanner Murphy, was a 22nd-round pick in 2010. He decided to go pro, joining the Baltimore Orioles organization. His playing career ended in 2016.
Cannon elected to attend Arizona, where he eventually became one of the best hitters in the Pac-12. Cannon batted .321 as a sophomore and .397 as a junior. When the regular season ended, he led NCAA Division I with 29 doubles.
Cannon also endured a fielding slump this season, committing 11 errors in five games in early March. The move coincided with a full-time shift from second base to shortstop.
By the end of the season, Cannon had regained his form and confidence. He made only four errors in the final 23 games.
Two main factors helped Cannon get through it: coaching from Johnson and his staff, and advice from Murphy.
"It's baseball," Cannon said. "There are going to be ups and downs. You have to enjoy the little things, not worry about results and put in the work."
Cannon's brother urged him to enjoy every moment of his college career. Murphy knows the challenges that lie ahead.
"My dream is to play in the big leagues, since I can remember," Cannon said. "I grew up with my brother playing Wiffle Ball. We've talked about it ever since."
Decisions for Fraizer, Dyer
The situations for two other third-year players remain up in the air entering the draft.
Junior center fielder Matt Fraizer, who missed the final 37 games because of a broken hand, has applied for a medical-hardship waiver that would make him a redshirt junior next season should he decide to return. Fraizer is expected to be granted the waiver, which would help him retain negotiating leverage if he enters the draft in 2020.
But if Fraizer is drafted high enough this year, he'll be tempted to leave. He and his family are looking for a team to be "fair" with Matt, said his father, Terance. The round in which Matt is drafted is more important to the family than the monetary bonus he would receive, Terance said. He went through the process as a 24th-round pick by the Oakland Athletics in 1992 and knows that the higher a player is drafted, the more invested a team will be in his development.
Fraizer was on the verge of a breakout season before injuring his hand against Utah in mid-March. Thanks largely to some critical swing adjustments, Fraizer was batting .412 in 85 at-bats. He had a team-high 28 RBIs, matching his total from the previous season. He also had struck out only six times.
Johnson would love to have Fraizer back and has agreed to offer him a significant increase in scholarship money. Getting his degree is important to Fraizer and his family. Terance has a deal with all his kids: He doesn't pay for their schooling, but if they graduate, he'll pay off their student debt.
Baseball America ranks Fraizer as the No. 272 prospect in the 2019 draft, which would place him in the eighth or ninth round. Teammate Matthew Dyer is No. 315.
Dyer just completed his first season at Arizona but is eligible for the draft as a third-year sophomore. (He transferred to the UA from Oregon and sat out the 2018 season.)
Dyer, who played catcher, first base and outfield, batted .393 with 10 doubles, four triples and four home runs in 168 at-bats. He missed the final 12 games because of a hand injury.
Like Fraizer, Dyer will be tempted to leave if he's drafted high enough. His father, Mike, said Matthew has a bonus figure in mind that the family is hopeful a team will meet for the versatile, athletic utility player. Dyer happily will return to Arizona otherwise.
"If their demands aren't met," Johnson said of Dyer and Fraizer, "we'd be elated to have both of them back."
Inside pitch
One other Wildcat faces a difficult decision during the draft: left-hander Randy Labaut. A redshirt junior this past season, Labaut has one more year of eligibility. Labaut, who migrated to the United States with his family from Cuba at age 13, will have to weigh his draft slot and bonus against coming back to earn his degree. Labaut went 8-3 with a 5.19 ERA but finished the season strong, winning his final five starts. He did not crack BA's Top 500.
Per usual, Johnson will be closely monitoring what happens to a handful of UA signees. Right-hander Andrew Dalquist of Redondo Beach, California, is Arizona's highest-rated prospect, coming it at No. 67 in BA's rankings. Righty Jose Dicochea of Sahuarita High School is No. 226. Catcher-first baseman Will Bartlett of IMG Academy is No. 319. Right-hander Dawson Netz of Pasadena, California, is No. 374.