SCOTTSDALE — Nik McClaughry is the Pac-12 Defensive Player of the Year.
The Arizona shortstop has developed into a pretty darn good offensive player too.
McClaughry went for 4 for 5 and scored the winning run in Arizona's 13-12 walk-off victory over Oregon State on Day 2 of the Pac-12 Tournament on Wednesday at Scottsdale Stadium. The win pushed the eighth-seeded Wildcats into the tournament semifinals Friday.
McClaughry had a home run and three RBIs in the tournament opener. The senior is batting a career-best .336. He leads one of the highest-scoring teams in the nation with 69 runs.
"That's why he's in that 2-hole," UA coach Chip Hale said. "I think he's underrated. Yesterday I said the same thing. He's an underrated baseball player, and he's gonna find his way to the big leagues somehow, someway."
McClaughry said making the all-conference team was a bigger deal to him than winning DPOY. His defensive prowess was already established. He didn't win DPOY last season but easily could have.
"I feel like I'm an all-around player," McClaughry said. "I showed it all year. I was more proud of making the all-conference team. That was really the step for me."
McClaughry, who has handled 10 defensive chances flawlessly in two Pac-12 Tournament games, quickly pivoted away from talking about himself to talking about the team. The Wildcats, seeded eighth, needed to sweep their pool-play games to advance, and they managed to pull it off.
"Just happy that we got the job done," McClaughry said. "Kiko (Romero, who had the winning hit) did a great job. I was just trying to get on base for him."
McClaughry desperately wanted to come home — to the plate, that is. He and his teammates are trying to extend their season as long as they can. Arizona probably has to win the Pac-12 Tournament to make the NCAA Tournament.
"I don't want to go home, and I know everyone else doesn't want to go home," McClaughry said. "So that's a big motivating factor."
Bazzana bests Bingham
Mac Bingham could have scored the winning run, but he got thrown at home to conclude an unusual play that preceded Romero's game-ending at-bat.
Bingham was on third base with one out after McClaughry's sharp single to right.
OSU had its middle infielders at double-play depth. Chase Davis hit a line drive to the left of second baseman Travis Bazzana, who fielded it on one hop.
Unsure if the ball would be caught in the air, Bingham didn't immediately run. Bazzana easily threw him out at the plate.
"He reads that the second baseman was going to catch a ball, which is fine," Hale said. "I've coached third long enough to know that it looks different there than it did my spot (in the first base dugout).
"But once you see that, now you just hold up and go back to third. Bazzana made an unbelievable, big-league play right there. That was phenomenal. Once you see him wheel it, and you're halfway, just go back. Now we got bases loaded."
Arizona instead had runners on first and second. Romero drove in McClaughry with a line single to center.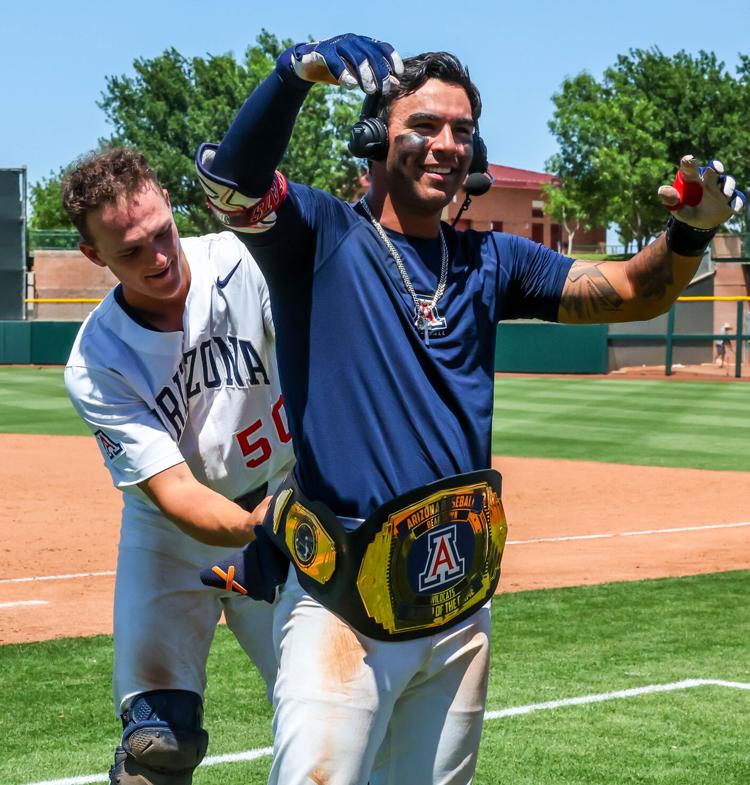 Inside pitch
Romero had four RBIs, including a three-run homer, giving him 84 for the season — tied for second most in UA history. Romero is just two behind Ron Hassey's school record of 86, set in 1974.
Chase Davis hit a two-run homer in the first inning. It was his 20th of the season, tying Davis for third most in UA annals. He trails Shelley Duncan (24) and George Arias (23).
Hale planned to huddle with his staff to discuss starting pitching options for Friday. Possibilities include left-hander Bradon Zastrow, who threw 44 pitches out of the bullpen Tuesday, and right-hander Anthony Susac.
Contact sports reporter Michael Lev at mlev@tucson.com. On Twitter: @michaeljlev