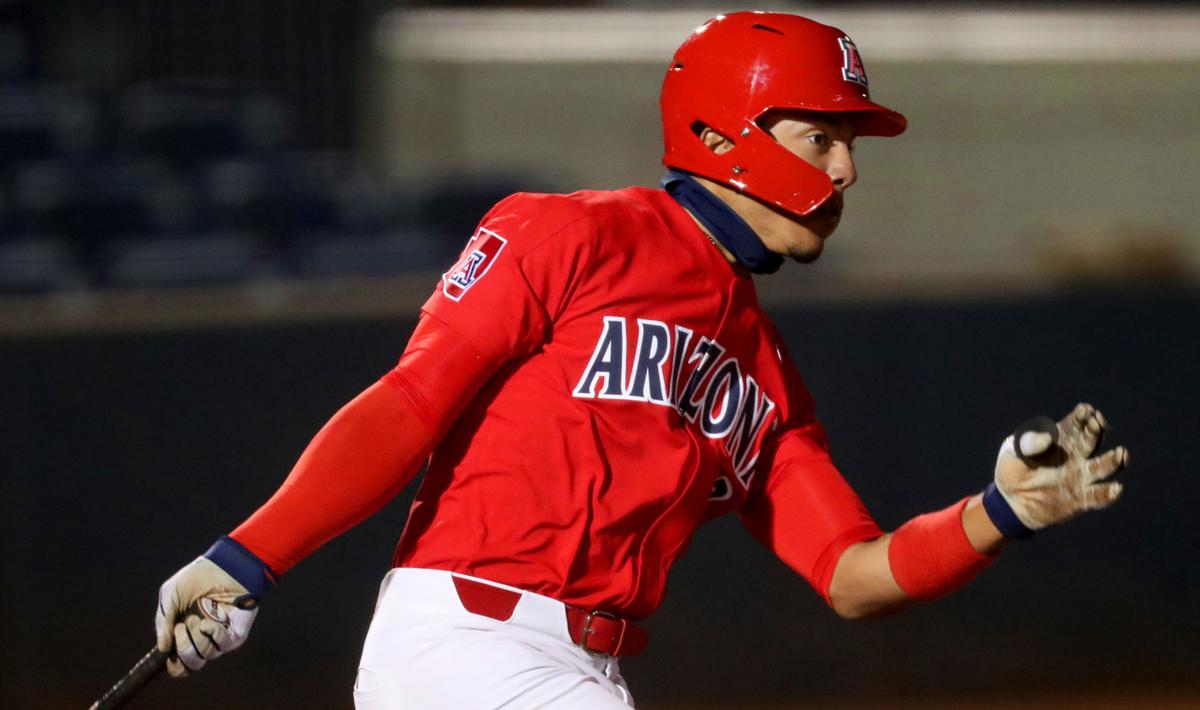 College baseball rosters are super-sized this year because of the NCAA's pandemic-spurred decision to extend eligibility. But there are only so many spots in the lineup. As such, some very good players are spending more time on the bench than they would have otherwise.
No. 16 Arizona, which opens a three-game home series against Cal on Friday, has managed that situation well. Wildcats coach Jay Johnson gives all credit to his players.
"We always want to have an incredibly selfless group of players and an incredibly competitive group of players, and I think these guys mirror that," Johnson said Thursday. "I look at this time of their lives as they're transitioning into manhood. Being a great competitor is part of becoming a man. Being a selfless person is part of becoming a man.
"The other thing is, when you're confident in yourself and your own ability, it makes it really easy to pull for other people. People that don't pull for other people usually have some kind of underlying insecurities about them."
Johnson remarked earlier in the season that the aspect of this team's identity that he admires most is "these guys are really pulling for each other." He added: "We have superstars not in the starting lineup. ... I mean superstars."
Johnson didn't name names, but one such example is freshman outfielder Chase Davis. Davis was the highest-rated recruit who made it to the UA campus — above 2021 lineup fixtures Jacob Berry and Daniel Susac. But Arizona (19-8, 5-4 Pac-12) has a crowded outfield, so Davis has been limited to a reserve role. Davis has appeared in 12 games and has 13 at-bats.
That hasn't stopped him from being perhaps Arizona's most vocal advocate in the dugout.
"That kid has the most energy I've ever seen from an individual," veteran center fielder Donta' Williams said. "No matter what goes on outside the field ... he always comes with a clear mind, ready to get to work.
"He definitely looks up to the older guys. ... Whatever he needs to learn, he takes it in. He's ready to become a real ballplayer."
Several players' roles have shifted during the season for a variety of reasons. Names you typically wouldn't find on the marquee have aided the Wildcats' rise to the top five in RPI.
"We won in Frisco largely because of the contribution that Blake Paugh made," Johnson said. "We won the Oregon series largely because of the way Tanner O'Tremba played. We won three out of four against Arizona State largely because of how Nik McClaughry played."
Paugh, a veteran outfielder, went 6 for 14 with five RBIs and seven runs in the first three games of the Frisco College Baseball Classic in early March. Paugh then suffered a back injury and missed a month.
That created an opportunity for O'Tremba, a transfer from Texas Tech. O'Tremba went 3 for 5 in the series-clinching win against the Ducks on March 27. He's batting .313 and has a .450 on-base percentage. He didn't make his first start until March 22, over a month into the season.
"We all want to play," O'Tremba said. "Everyone wants to see their name called and be on the field. But when you have a great group of guys around you, it's pretty easy to keep a positive mindset. You're cheering the guys on the field because you want to go to war with them one day."
Johnson recruited O'Tremba when he was attending Cherry Creek High School in Colorado, so the two had a prior relationship. But O'Tremba said one of the factors that led him to choose Arizona the second time around was "looking at Instagram posts and just seeing how much of a team it seemed and how close everyone was – which is very accurate."
McClaughry, an infielder, transferred from Sacramento City College. After starting the season as a defensive replacement, McClaughry entered the starting lineup at third base when Tony Bullard got hurt. McClaughry has a five-game hitting streak, is batting .414 and has committed only one error in 22 chances.
"I've been in that situation in junior college," McClaughry said. "So I've had experience with that. (It's) just staying ready and helping the team whenever I can get in."
Evolving roles aren't limited to position players.
Left-hander Randy Abshier didn't pitch in a game for more than three weeks. He then tossed 3 2/3 shutout innings and earned the win in Tuesday's victory over Arizona State.
Right-hander Chandler Murphy began the season as Arizona's No. 2 starter. When the Wildcats entered Pac-12 play and stopped having four-game weekends, Murphy was moved to the bullpen. That had to be disappointing, right?
"Honestly, it wasn't," Murphy said. "If the coaches want me to do one thing, I'll do it. I'll get the ball, and I'll try to the best I (can). I just try to accept my role."
After struggling against Oregon on March 28 (four earned runs in one inning), Murphy shut down ASU last Thursday. He pitched five hitless innings out of the bullpen as the Wildcats rallied to defeat the Sun Devils.
"Who knows what's around the corner?" Johnson said. "We want to make sure we have guys prepared to play. Something that I'm proud of is we haven't had any drop-off, regardless of who's been in those spots. That's a credit to the players working and being ready at a moment's notice."
UA to place bid
Johnson said the UA will bid to host postseason games. To ensure that facilities are capable of handling required COVID-19 protocols, sites are being predetermined this year. On-field performance also will be one of the components under consideration.
"Honestly, the only thing I looked at is 'merit matters,' " Johnson said. "Obviously, we'd love to have postseason baseball in Tucson. There's a lot of baseball to be played for that to happen."
D1Baseball.com, which broke the news of the NCAA's plans, currently projects Arizona as a host and the No. 8 overall seed. Baseball America also has the UA as a host, slotting the Wildcats at No. 10 in its latest bracket projection.
Inside pitch
When he found out women's basketball star Aari McDonald would be throwing the ceremonial first pitch Tuesday, Williams requested to be the catcher. "I was like, 'Look, Aari McDonald, the G.O.A.T. – I gotta be the catcher," Williams said.
Third baseman/DH Jacob Berry ranks third on Baseball America's list of the top 10 freshmen in the nation. Berry is the only true freshman in the top four. He ranks in the top three in the Pac-12 in batting average, on-base percentage, slugging percentage, hits, total bases and RBIs.
Cal (16-11, 4-2) ranks 135th in RPI, but Johnson said the Golden Bears are "arguably the best team that we've played. ... They have very good starting pitching. They have a good lineup. They're very aggressive. They have guys that hit the ball for power, hit the ball for average. They look like they play with a lot of confidence to me. So it's gonna be a good test."
Cal ranks second in the Pac-12 with 29 stolen bases. They have been caught only five times. Darren Baker, the son of Houston Astros manager Dusty Baker, has a team-high 14 swipes in 15 attempts. Arizona has yielded a conference-low eight stolen bases and has thrown out runners at a league-best 46.7% clip.
Arizona is expected to utilize its usual rotation of RHP Chase Silseth (4-0, 5.05 ERA), LHP Garrett Irvin (1-1 3.14) and RHP TJ Nichols (3-2 5.40). Cal's scheduled starters are RHP Grant Holman (0-0, 1.17), RHP Sean Sullivan (2-1, 3.82) and RHP Paulshawn Pasqualotto (3-3, 5.23).