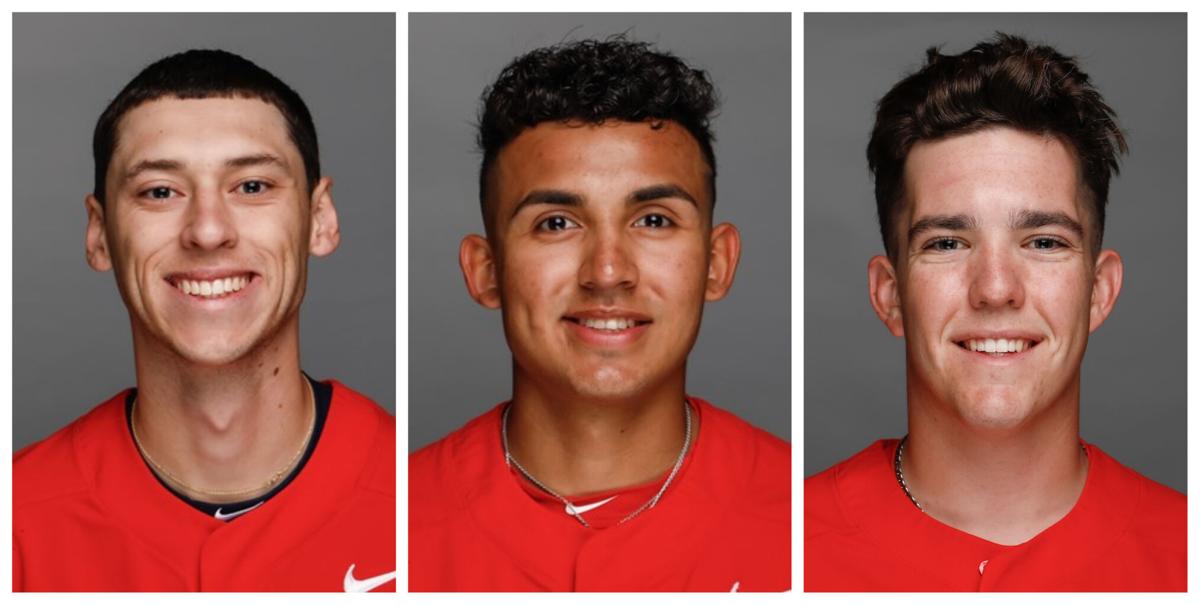 Police have released details of an off-campus fight May 30 that left a 21-year-old student with a concussion and other injuries and led to three Arizona Wildcats pitchers being arrested on suspicion of assault.
It all started about 3 a.m., when officers were called to The Mark Tucson, a large apartment complex on East Broadway near North Park Avenue, by someone seeking medical attention for his friend, according to a police report obtained by the Star through a public records request.
The police report gave the following narrative:
Police arrived at The Mark to find an injured student bleeding from the back of his head, and a large puddle of blood was seen in the front parking lot that officers assumed also came from the student. The injured student would not provide police with any details and said he didn't want to press charges. He eventually went to the hospital with a friend. 
Three days later, the student's father called police to say his son had suffered a concussion in the attack and didn't remember talking to officers. He said his son now wanted to prosecute, giving police the names of two witnesses and several possible attackers.
Police requested security footage from The Mark and talked to the injured student. He told police that he was outside a party at the complex with friends when they asked a student manager who was one of the UA's several bullpen catchers to leave after hitting on a woman who they knew. A few minutes later, the student heard his friend yelling for help from a driveway and saw the friend on the ground being beaten by several men.
The student said he rushed to help his friend, pushing away an oncoming attacker, then stood over his friend to protect him. The student told police he didn't remember much after that; doctors diagnosed him with a concussion and brain bleed, and he needed 8-10 stitches to close a gash on his head. Video from The Mark showed the student being beaten by a group of men.
Police spoke with UA athletic department chief operating officer Derek Van Der Merwe on June 9. He agreed to coordinate interviews with players implicated in the attack.
A player identified as the team's bullpen catcher initially told police that he didn't remember the incident, but then said he was asked to leave the party after a confrontation. He said two men followed him and said they wanted to beat him up. He told police he became "fearful," hid behind a car and called for a ride. The bullpen catcher told police he didn't remember who he called. He also denied asking the woman to leave the party with him. He has not been charged with a crime.
Pitchers Randy Abshier and Gil Luna, who police identified using the surveillance video and witness statements, told police they wouldn't answer any questions without lawyers.
Three weeks later, however, Luna agreed to give a statement to police. He said the bullpen catcher had called the team's group chat "screaming for help," saying he was hiding because someone was trying to beat him up.
Luna said he, Abshier and others in the group chat drove to the The Mark and couldn't find the bullpen catcher, but saw three other people in the area. They stopped their truck by the man closest to them and Abshier jumped out, Luna said. The two started arguing and eventually fighting; Luna said he saw Abshier kick the student's friend in the head before the student arrived and started to fight. Luna did not dispute his alleged involvement after police told him about the surveillance video.
Abshier and Luna were charged last month with one count of aggravated assault and one count of aggravated assault with serious physical injury, respectively, according to court records. Abshier and Luna are both scheduled for case management conference on Sept. 8.
The UA suspended both pitchers June 12 after determining that they violated the student code of conduct. They missed the NCAA Super Regionals, which Arizona won, and did not travel with the Wildcats to the College World Series in Omaha. A third pitcher, Blake Peyton, was booked on a misdemeanor assault charge. The dean of students' office determined a fourth Wildcats player was involved, but he has not been charged by police.
Both Abshier and Peyton are still enrolled at the UA. The White Sox made Luna their ninth-round pick last month; the Casa Grande native signed on July 15.
Abshier's attorney, Janet Altschuler, declined the Star's request for comment. The Pima County Legal Defender's Office, Luna's representation in the case, also declined to comment.
Contact Star reporter Caitlin Schmidt at 573-4191 or cschmidt@tucson.com. On Twitter: @caitlincschmidt