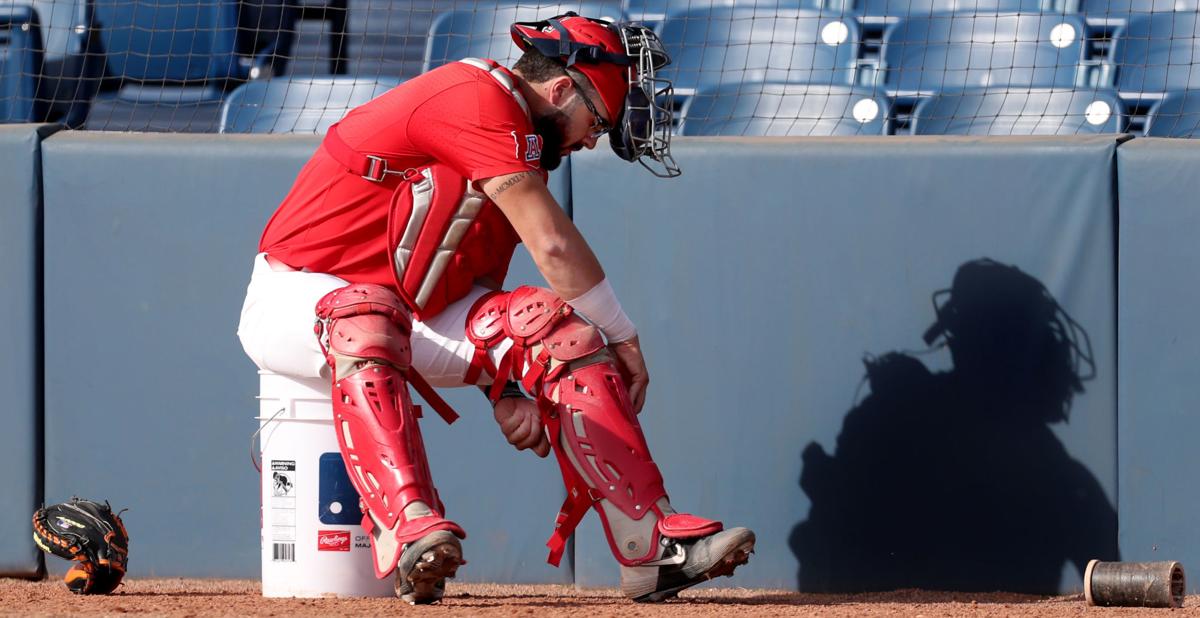 Austin Wells is sitting in the bleachers down the right field line at Hi Corbett Field, chatting with a reporter. It's a cool, slightly overcast afternoon in late January — perfect for practicing baseball.
Arizona's practice has not begun yet — Wells is wearing shorts and flip-flops — but several former Wildcats are working out on the field below. They are all professionals now, toiling in the minor leagues.
In an alternate reality, Wells would be one of them.
Wells emerged as a big-time pro prospect in the summer of 2017. He also hurt his elbow, which prevented him from playing catcher as a senior at Las Vegas' Bishop Gorman High School. Unable to showcase his all-around skills, Wells became something of an enigma for MLB draft evaluators. He and his family decided the best move for his future was to honor his commitment to Arizona and play for the Wildcats.
Wells is asked if he would be here right now if he had not been hurt.
"I'm not really sure," he said. "I think there was a lot better chance that I wouldn't have been. But coming here was the best decision I ever made. So I'm super thankful … not thankful that it happened, but I'm thankful that I was able to go through this process, because I feel so much more prepared to play baseball at the next level."
Wells thrived at Arizona in 2019, becoming the first Wildcat to be named Pac-12 Freshman of the Year, among other accolades. He will be eligible for the '20 draft after his sophomore season, which begins Friday when the UA hosts Albany.
Wells currently is projected to be a first-round pick.
UA assistant Dave Lawn believes Wells is a better prospect than former USC catcher Jeff Clement, whom Lawn coached. Clement was the third overall selection in 2005.
"God has an interesting path sometimes," said Greg Wells, Austin's father and a former UA baseball player. "If you look at where Austin is at today versus where he would have been signing out of high school, he's a better person, a better man, more educated."
Austin Wells also is having fun, which is precisely what Greg and his wife, Michelle, a former UA gymnast, were hoping the eldest of their three sons would get out of his collegiate experience. One could go so far as to say that Austin has a wonderful life.
'An old soul'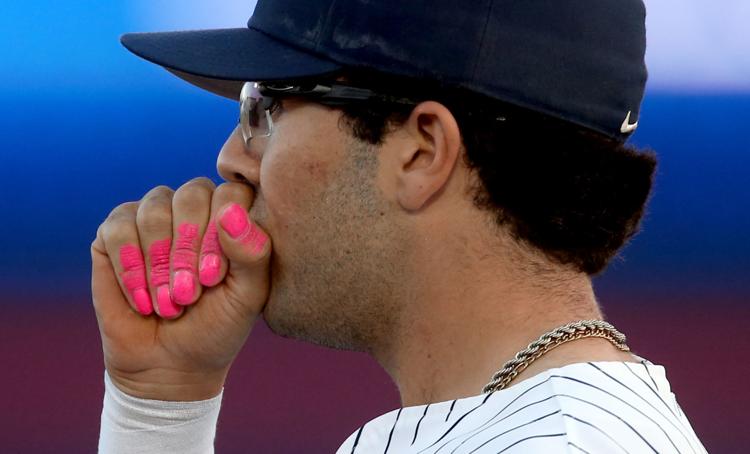 Austin Wells as George Bailey? Give us a moment here. It'll all make sense.
"It's a Wonderful Life," the iconic 1946 Christmas film, presents a parallel universe to its protagonist. When George is down and out, his guardian angel shows him what the world would be like if he never had been born. Alternate reality? Check.
Earlier in the movie, George and his father discuss George's plans for college and the future. It's mentioned that George was young when he began working for his dad at the Bailey Bros. Building & Loan. "You were born older," George's father remarks. It's a simple statement that speaks to the essence of George's character: His sense of duty and responsibility is what keeps him in Bedford Falls but also makes him a cherished friend and respected community leader.
Wells' mother calls Austin an "old soul." His coaches say the 20-year-old's rare maturity might be his best trait. Wells' makeup will enable him to handle the hype that seems to be growing daily — including a spot on the watchlist for the Golden Spikes Award, announced Thursday — and the pressure that accompanies a top prospect's draft year. His parents and coaches have advised him to try not to do too much. He won't.
"He was always just so solid," Michelle Wells said. "I don't want to say reserved, just very even-keeled, even as a child. Very fun-loving at the same time. But then a very serious side. We always called him an old soul, since he was little. We would call him our little man."
No sport requires you to manage your emotions more than baseball. Greg Wells, who knows how difficult that can be, marvels at his son's ability to perform within a certain range every day – regardless of whether he succeeded or failed the previous day.
"He does it way better than I did," said Greg Wells, the president of a real estate firm in Las Vegas. "If you have thin skin or an insecurity component, you're going to get exposed."
Whether the ability to control one's emotions is an innate characteristic or a skill that can be acquired is up for debate. Austin Wells insists his parents helped him develop his demeanor.
"They totally made me believe that I could do whatever I wanted as long as I put my mind to it and worked hard for it," he said. "Having that support system … has given me all the confidence in the world to go out and, if I fail, I fail. Come back stronger and learn from it."
Greg Wells says he can't remember Austin ever losing his cool, "even in Little League."
If you have ever been around Little Leaguers, you know how unusual that is.
Learning experiences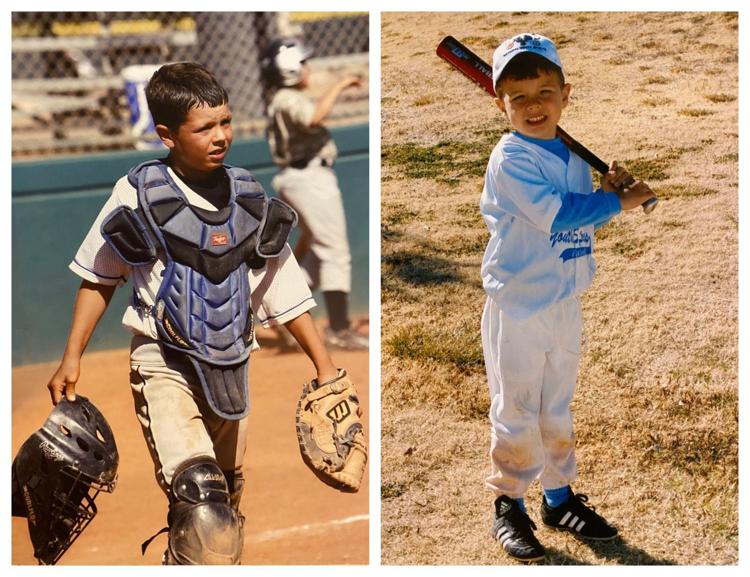 Austin Wells' first baseball memory isn't different than most: Playing Wiffle ball in the yard with his dad. Austin remembers the bat being bigger than he was.
"The thing was basically swinging me," he said.
His mom recalls her son showing advanced hand-eye coordination as early as 2 years old. Greg and Michelle had no idea Austin one day would become a legitimate MLB prospect. They kept all their boys — Austin, Carson and Mason — involved in sports. Carson is committed to play baseball at USC. Mason is a Division I lacrosse recruit.
Austin also played lacrosse, but he always came back to baseball, which offered unique challenges. Wells did derive value from lacrosse, which he believes helped make him a better baserunner.
(Fun fact I: While primarily playing catcher, Wells had a team-high seven triples last year. Fun fact II: Between his freshman season and the Cape Cod League last summer, Wells stole 13 bases without being caught.)
Wells is one of those people who takes something from every situation he encounters. Even though he didn't play football in high school, he imagines it would have helped develop his leadership skills.
Although he enjoyed extraordinary personal success a year ago — he slashed .353/.462/.552; his batting average never dipped below .333; and he was a unanimous Freshman All-American — Wells viewed his freshman campaign as a learning experience. He learned how to deal with increased attention. He learned how to deal with losing. Arizona finished 32-24 but didn't earn a berth in the NCAA Tournament.
"You don't want to lose," Michelle Wells said. "You want to win. But what are we learning when we lose?"
Michelle said she and her husband, based on their own athletic experiences, tried to provide a template for their kids, urging them to "be positive, open your eyes, listen and learn from different moments and opportunities and people who are around you."
Austin Wells probably would have thrived anywhere. He chose to play at Arizona because of the way Jay Johnson and his staff coached. Wells excelled in his first season as a Wildcat … in every way but one.
Defense and the draft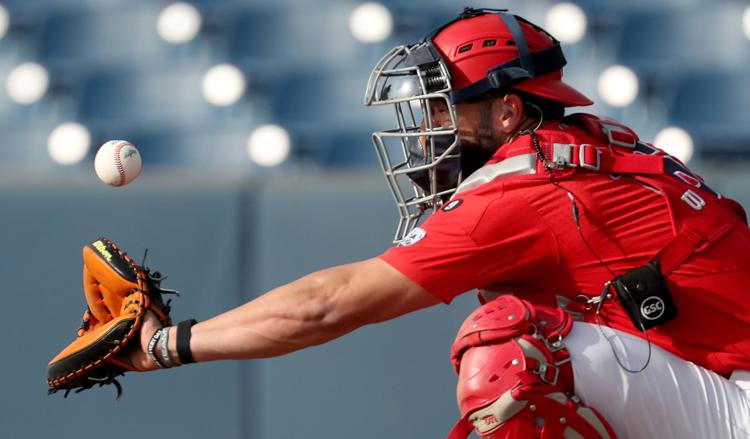 Wells was named the Cape Cod League's top pro prospect after batting .308 and leading Yarmouth-Dennis in doubles (13), home runs (seven) and RBIs (26). He subsequently was named Arizona's Summer Player of the Year.
Wells was not remotely satisfied. Upon returning to campus in August, Wells immediately went to work on his deficiencies. Mainly, he strived to improve as a catcher.
Wells wasn't a bad catcher as a freshman, but he wasn't great. He allowed 10 passed balls and threw out only six of 23 base stealers. He also knew he could have done more to help a pitching staff that struggled to throw strikes.
Working with team trainer Isaac Trujillo, Wells focused on enhancing his flexibility, particularly in his hips. The goal was to get lower in his crouch to (A) be in a better position to receive pitches thrown at or just beneath the bottom of the strike zone; and (B) keep pitches thrown in the dirt from bounding to the backstop.
"Having that awareness of what he needs to do to be the best he can be … he needs to be a better catcher," Johnson said. "He knows, not only is it important for him and where he wants to go, but it's important for our team. He's taken real ownership in that. I've seen a dramatic improvement."
Lawn and Wells' teammates have noticed it as well. Pitching coach Nate Yeskie, who was with Oregon State last season, told Lawn that Wells had made "quantum leaps" as a receiver since last spring.
Wells' defensive ability is the only real question scouts have about him. His scouting report at MLB.com, where he's the 24th-ranked prospect for the 2020 draft, reads as follows: "There is no question that Wells' bat plays. … There are more concerns about where he might play defensively. He's adequate behind the plate."
The report suggested Wells might follow a "Kyle Schwarber-type path to the big leagues." The Chicago Cubs drafted Schwarber as a catcher but eventually moved him to left field.
Although he has more than enough athleticism to handle a corner outfield spot, Wells is determined to prove he can be a viable catcher — the position he gravitated toward at an early age to be in the middle of the action on every pitch.
"It's not like we openly talk about it, but I can only imagine or presume that he doesn't really like the idea that he's a hit-first, catch-second" prospect, said Lawn, who coaches Arizona's catchers.
Lawn believes Wells can play catcher longterm — which greatly would enhance his value to MLB clubs — after seeing how much he has improved over the past year. That development doesn't surprise anyone who has spent any time around him.
"His work ethic, his desire to get better, his competitiveness, his fundamentals, his character — it just says who he is," junior outfielder Donta Williams said. "You'll see the guy, after an intra-squad (scrimmage), go and hit for an hour and a half. He never settles for being just OK. He always wants to push himself to be great."
Where Wells goes in the draft remains to be seen. The physical location of the event this year is Omaha, Nebraska. The draft will lead right into the College World Series.
Wells would like nothing more than to experience that moment with his teammates. Pulling it off, he said, would be "super awesome."
Wonderful, one might say.