After a half-inning that was a complete fiasco, the Arizona Wildcats planted the seeds for another insane comeback.
Austin Wells led off the bottom of the seventh against Michigan State with a walk. Coach Jay Johnson sent him with a 3-2 count. Matthew Dyer ripped a line drive toward second base.
"When I hit it, I was like, wow, I smoked that ball," Dyer said. "Then I saw the second baseman take a step to his right."
MSU's Bailey Peterson, headed toward the bag to cover, snared the line drive. He threw to first to double off Wells. There would be no insane comeback.
That's how things have gone lately for Arizona, which hosts College of Charleston in a three-game series Friday-Sunday. The Wildcats have lost three of their past five, all at home against non-conference foes — unprecedented territory in three-plus seasons under Johnson.
Dyer, an athletic transfer from Oregon, has been a bright spot. Dyer has started games at catcher, first base and left field. He's hit line drives all over Hi Corbett Field, batting .362 with a .475 on-base percentage, tied for the second-best mark on the team among regulars. He's been exactly the player Johnson remembered and envisioned.
"He's been great," Johnson said after practice Thursday afternoon. "He's a really talented player that can do a lot of different things.
"He plays with a lot of competitiveness. He's really been a jolt of energy for our team. It's been a long road to get him here, so it's nice to have him make a positive contribution."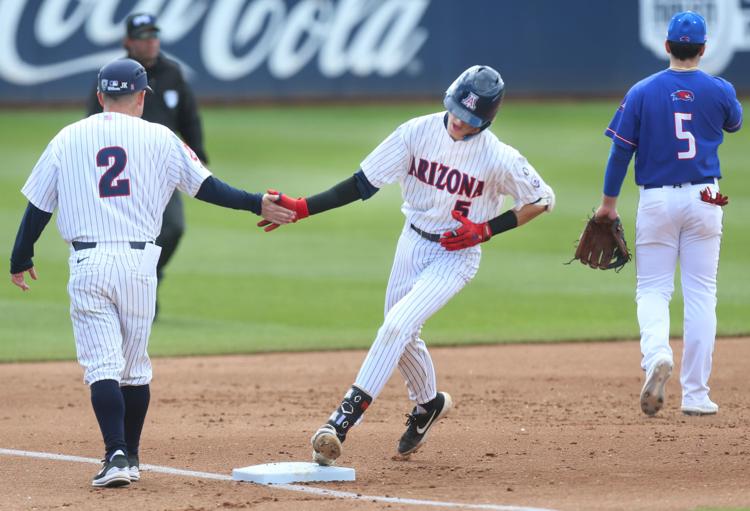 Dyer is from Glendale. He played at Mountain Ridge High School, where his teammates included current UA shortstop Cameron Cannon. Dyer had interest in Arizona — his father is from Tucson and attended Sahuaro High — but chose Oregon, where he hit .268 with eight doubles and 17 RBIs in 2017.
Dyer missed Arizona's baseball-friendly weather, however. He also said the Oregon program "wasn't my fit."
Dyer transferred to Central Arizona College, with an eye on returning to the Pac-12 in his dad's hometown. It isn't uncommon for transfers to spend a season in junior college before making their way back to Division I.
Dyer's path took a detour. He broke a bone in his left hand during fall practice with the Vaqueros, and some of his credits from Oregon didn't transfer properly. So Dyer enrolled at Arizona in January 2018, even though he'd have to sit out the '18 season.
"I don't like to sit out," Dyer said. "At the same time, it helped me tremendously."
Dyer got to work out with the Wildcats, giving him a head-start on learning Johnson's system and culture. Dyer also gained a newfound appreciation for the game.
"If you love it — and you truly do, like I do — you want to be on the field as much as you can," Dyer said.
That hasn't been a problem this year. Before the season, Johnson predicted Dyer would play "every pitch of every inning of every game at catcher or first base." He has started all 13 of Arizona's games, with eight coming at catcher (a position he shares with Wells), three at first and two in left.
Johnson said Dyer is the fastest player on the team. At 6-4, 176 pounds, he looks more like a first baseman or outfielder than a catcher. But when he started playing the position as a junior in high school, Dyer discovered — much as he would years later when he transferred to Arizona — that it was the place he was meant to be.
"(You're) in the action all the time," Dyer said. "You start the play. You make the play happen. You're the loud voice. I feel like I have that voice. I'm able to help be the leader I'm supposed to be on this team."
Cannon working through funk
Cannon leads the Wildcats in all three triple-slash categories with a .423 average, a .531 on-base percentage and a .692 slugging percentage. He also paces the team with nine errors, two more than he made all of last season.
Dyer believes his longtime teammate will work his way out of his defensive funk.
"He's a ballplayer," Dyer said. "He's going to come out every day and give the best he has, whether it goes his way or not."
Johnson said Cannon, a junior and top pro prospect, is "his own hardest critic. That's why he's a good player. He loves baseball. He works extremely hard. He's at the facility all the time. You continue with a guy like that … of going to work on it. We got some good time in this morning with a ton of reps. By doing that, his talent will resurface. I have no doubt about that."
The entire UA defense has struggled the past three games, committing 14 errors that led to 19 unearned runs. The Wildcats' .948 fielding percentage ranked 265th in the country entering Thursday.
Fielding miscues fueled a seven-run inning for Wisconsin-Milwaukee and the aforementioned eight-run frame for MSU. Arizona met before practice Thursday to discuss failure and how to handle it.
"You can make it a moment; let's not make it an outcome," Johnson said. "Learning how to do that is a big challenge, in baseball more than any other sport."
Blas back with team
Defensive help should be on the way soon.
Sophomore Jacob Blas, who had been splitting time with Cannon at second and short, returned to the team Wednesday night after being away for almost two weeks to deal with a personal matter.
Blas will need to practice before being cleared for game action after being gone so long, Johnson said. Assuming no setbacks, Blas should return to the lineup as soon as he's ready.
Blas batted .305 and had a .951 fielding percentage as a freshman. He started the first six games this season.
Inside pitch
Neither Arizona nor Charleston announced starters, but veteran left-hander Randy Labaut (1-1, 5.40) is expected to open the weekend series for the Wildcats.
Charleston is 9-3 and ranked 66th in RPI entering Thursday. Friday will mark the Cougars' first road game of 2019. They hosted the Wildcats in 2017, with Arizona winning two of three.
The UA has scored at least one run in 51 straight games, the second-longest streak in the Pac-12 behind Cal (69).
The Wildcats lead the Pac-12 in on-base percentage (.452). Arizona ranks second in the league in batting average (.323) and slugging percentage (.494) behind Arizona State, which paces the conference with a 12-0 record.