Forgive Arizona pitching coach Nate Yeskie for borrowing a line from Wildcats football coach Jedd Fisch.
It just so happens that one of Fisch's mantras — "Be a pro" — applies perfectly to the situation Yeskie and his pitchers have dealt with for the past 10-plus months.
The coronavirus pandemic shut down the 2020 UA baseball season after only 15 games. Uncertainty and inactivity soon followed, but they couldn't endure. The Wildcats — whether pitchers or hitters — had to find ways to be productive away from the ballpark.
"The message that we tried to convey to our guys was, people are going to use this time wisely," Yeskie said Thursday, one day before Arizona was set to officially begin practice for the '21 season. "Some will, some won't. You have to decide which side of that line you want to fall on.
"So the focus was on really trying to put your energy into the things that you can control, because there was so much that was taken away. I can get into better sleep habits. I can watch what I eat. You saw some guys' bodies change as a result. They were able to really kind of grow and develop. ...
"If you want to be a professional, you can't wait until you sign that contract. Because the guys that get those opportunities are guys that were acting like professionals and going about things in a professional manner long before."
No one can question Yeskie's credentials. He helped Oregon State reach the NCAA Tournament in 10 of 11 seasons, including a College World Series championship in 2018.
UA coach Jay Johnson brought Yeskie to Tucson in July 2019, seeking to upgrade a pitching staff that had held the Wildcats back the previous season.
Although the sample size was small, the results were promising. Arizona's ERA fell from 6.21 to 3.87. The Wildcats' WHIP dropped from 1.75 to 1.30. Their K/9 rate climbed from 7.53 to 10.80.
With most of those pitchers back — and some big-time arms added to the mix — the staff should be even better this year. Yeskie is excited about the possibilities — especially after an unexpectedly long and challenging layoff.
Yeskie discussed that trying time and what lies ahead in an interview with the Star. The conversation has been lightly edited for context and clarity.
Nobody really knew what to do when the pandemic struck. How did you and Jay formulate a plan for your guys?
A: "The draft was still in limbo. We didn't know how many rounds (there) were going to be. (With) the guys that you know are going to be back and be a part of it, it's keeping them focused, keeping them on the straight and narrow, understanding that there's a lot of miles out ahead of them. It was keeping them engaged.
"There's the human element too. As crazy as this time has been for a lot of people, it's been a blessing in disguise for a handful that have been able to spend more time with their family. (Pitcher) Chandler Murphy's got an older brother that's in the Air Force. I think there were a couple opportunities that he had a chance to see him."
You had only 15 games last spring, but it was better than nothing. What were you able to learn about your staff during that period?
A: "It's always the good and the bad. We went down to San Diego and played a three-game set there. I thought all but about three innings of that weekend we pitched extremely well. (But) those could have all cost you the game.
"I saw some good things from some guys. It was a good-sized sample for the younger guys and the new guys to really recognize where there were — maybe some deficiencies and where they needed to work on their game. It gave us perspective and some foundational pieces to stand on and move forward through fall and transitioning into this spring. You've got to be able to do these things, whether it's control the running game, pitch backwards (using breaking balls to set up fastballs), pitch more off your fastball in the top of the strike zone or in to hitters. Guys were able to find out a little bit more about themselves.
"There have been some tremendous coaches and managers in the history of this game, but the game is still the greatest teacher. The ball doesn't lie. If you think you made a good pitch and it's in the gap, it probably wasn't a good pitch.
"The game is also undefeated. It requires that you give it everything that you have in you, because there are no promises. Just because you lifted weights or threw a bullpen or you feel like you really like your stuff doesn't mean you're going to win. There's a competitive element in there that has to really continue to grow and be developed with a passion. You've got to love it, because sometimes it feels like the game doesn't love you back."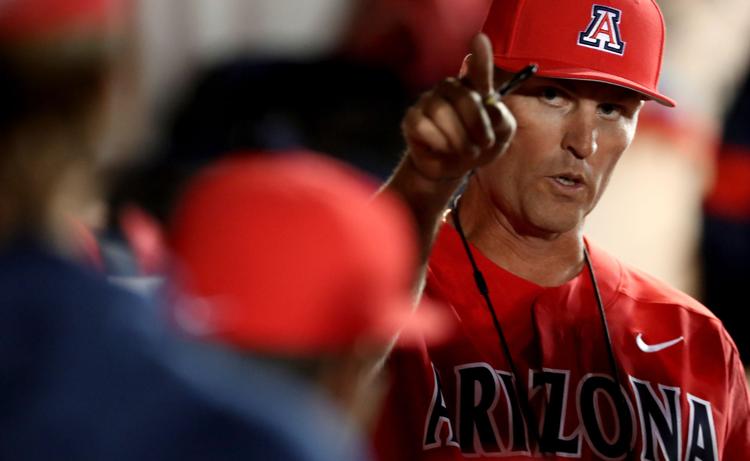 How did those experiences benefit pitchers like Murphy and Dawson Netz, who were freshmen last year?
A: "It's immense. Last fall (2019), being able to play against USD up at Maryvale, the Brewers complex, that was great. But our kids still, somewhere in the back of their mind, knew that it wasn't for keeps. When you start playing and now it matters, now it counts, the scoreboard's on and it's your wins, your losses, your earned run average, your strikeouts, I think those kids were able to absorb some of those things."
Things you can't simulate in practice.
A: "Right. Real competitors want to be challenged. You can simulate that all you want in your scrimmage. It's just not the same."
How big was it for the team and for your staff that senior relievers Vince Vannelle and Preston Price decided to come back?
A: "Real big. Take a guy like Vince. There's a lot of experience there. He pitched in big spots. He was eating a peanut butter and jelly sandwich in the dugout in Austin (Texas) when we had to make a change with Netz (because of injury). I said, 'Hey man, go get your cleats on. You're going in the game.' He's stuffing the rest of it in his mouth and licking his fingers. He really competed that night. For our younger guys to see ... you never know when your name is going to be called, so you better be prepared.
"Price has really made some strides. He's really taken a much more hands-on approach. He (was) much more assertive this fall with the younger guys."
You did lose two veteran catchers to the draft in Austin Wells and Matthew Dyer. The three who are here – Daniel Susac, Kaden Hopson and Cameron LaLiberte – have little experience. What impact could that have?
A: "These guys want to play at a high level. So what's required of them is that they grow up fast and they take ownership. When they take ownership and they're assertive, it'd be like a young quarterback taking control of the huddle. Or a young point guard. Watching (Nico) Mannion run around the court last year, he had to take control of the offense and run it and know what Sean (Miller) wanted him to do with it.
"It's a little bit unique for Daniel and myself, just because I've known him since he was a little kid. I worked with his older brother (Andrew, at Oregon State). I can go at him a little bit different.
"Whether it's Dyer and Wells, or whether it's Susac, Hopson and LaLiberte, their job is to get the most out of the guy out there on the mound. It's almost (like) a quarterback who wasn't a four-star or five-star recruit, but he just wins; he just makes his team better. That's what I want to see out of these catchers."
Freshman TJ Nichols came here as a two-way player, but Jay indicated he'd primarily pitch. What have you seen in TJ?
A: "I've known TJ and seen him play since he was a young kid. (Nichols and Daniel Susac were Little League and travel-ball teammates.) He was always a shortstop. He threw strikes (when he pitched). He competed. He was always very tough mentally. He just started getting better ... and then one day was pretty good. And he's made some jumps since he's gotten in the door here.
"It's not that he can't swing the bat. But the pitching side of it is just ... there's a wow factor to it. Teams were interested in signing him professionally as an arm. He's got a chance to be special. Jay saw it after his first outing out here (in the fall). He looked at me and he goes, 'I don't know that I've seen something like this, at least not in our uniform.'
"You're talking about a kid that's probably 6-3, 6-4. He's probably 175, 180 pounds. When you look at the frame and you look at what's left to add on to that, boy, you can really start dreaming."