Something has been missing all season for the Arizona Wildcats baseball team, beyond the pitching staff's inability to throw strikes or record outs.
After the UA's latest frustrating performance — an 11-9 loss at home to Grand Canyon — junior third baseman Nick Quintana took a long, thoughtful stab at it.
Quintana is one of Arizona's most introspective players. He has experienced just about everything in his three seasons as a Wildcat, making the NCAA Tournament in 2017, falling just short in '18 and enduring the semi-regular implosions of '19.
Quintana knows what it takes to win at this level. He figured it out at some point during his freshman year. About two-thirds of the way through what's likely his final season here, he's still waiting for some of his younger teammates to get on board.
"I don't want to say we've gotten used to losing or anything like that," Quintana said. "But … the willingness to want to overcome certain things or to come out and really put it to a team, I feel like sometimes it's not there."
This offseason marked the biggest transition period since Jay Johnson became coach in June 2015. Arizona turned over more than half its roster. The Wildcats have 14 true freshmen, two redshirt freshmen and only three seniors. Only one player, left-hander Randy Labaut, remains from the 2016 national runners-up — and he redshirted that year.
"When I was a freshman … there were a lot of older guys on the team who went to Omaha," Quintana said. "So there was a different kind of way we went about things and kind of buying into a program.
"I just don't think the younger guys are buying into what he (Johnson) is trying to do in terms of making us the best player we can be. I totally support every decision he makes, because he's done nothing but give me the freedom to develop and get better. I just don't think the younger guys can see what it takes to win a Pac-12 game or a Division I game."
It isn't as if all the freshmen are struggling, or that all the scuffling pitchers lack experience. But because of injuries, graduation and early departures for the draft, Johnson has had to rely on more first-year players than he'd prefer.
Freshmen occupied four of the nine lineup spots against the Antelopes. That's been a regular occurrence with junior center fielder Matt Fraizer (hand) and sophomore shortstop Jacob Blas (knee) out because of injuries. Johnson often talks about baseball being an "experiential" sport, and most of the newest Wildcats just don't have enough of it yet.
"I had to learn how things went from Las Vegas high school baseball to Pac-12, Division I baseball," Quintana said. "I started to get how things are done, how you do need to put in extra time in the cage. A lot of the stuff you do off the field does affect what you do on the field. It's so different from high school."
Quintana conceded that it took some time. Although he hit .293 as a freshman with 17 doubles and 38 RBIs, he wasn't nearly as consistent a hitter or as reliable a fielder as he is now. Quintana used those early failures as learning experiences. He sharpened his mental game.
Quintana and his fellow veterans have tried to pass along those lessons in players-only meetings, but something has gotten lost in translation.
"They were good," Quintana said of the meetings. "Very productive. Honest. No holding back. Just whatever's on your mind, get it out so we can work on that or flip the switch on something.
"But … right now, I can't think of how to get these younger guys going. You've got to work on your mental game, what you're doing off the field, what you're doing in the cages before and after practice, early work on the field. There's so much stuff that goes into being a good baseball player."
Quintana stressed that the younger players "really need to look in the mirror" when it comes to preparation. Johnson struck a similar tone after the GCU game, which dropped the Wildcats to 18-20. He was bitterly disappointed in the team's lack of engagement, energy and enthusiasm in falling behind 9-3 through five innings.
"Baseball's hard," said Johnson, whose team visits No. 2 Stanford for a three-game series starting Friday. "You're not going to play great all the time. Fine. You're really not going to get rewarded for that type of effort.
"If they show up like that this weekend, we'll get beat by 20 every game."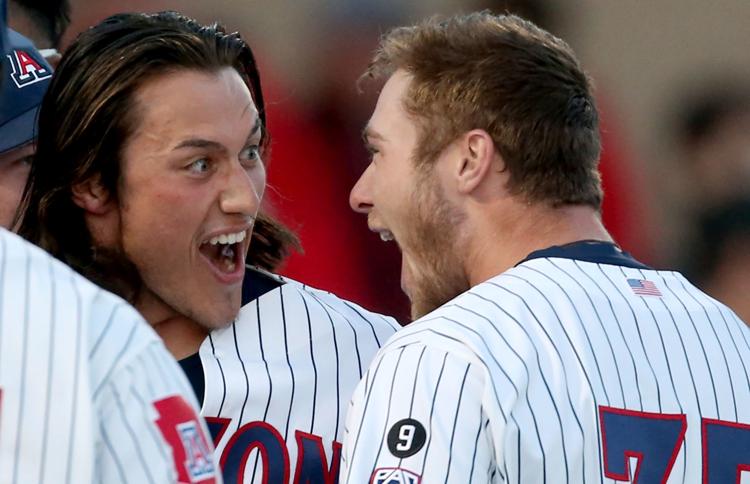 Although Arizona hasn't shown many signs that a turnaround is imminent — after winning four straight, the Wildcats have dropped six of their past seven — Quintana remains hopeful. The UA has 18 games left. Even with a 6-12 record in the Pac-12, the Cats aren't mathematically eliminated from the postseason yet.
"There's so much talent on our team," Quintana said. "It's frustrating to see how good we were in the fall or early spring to where we're at now. In my opinion, it's a total mental thing.
"I do believe, and I will continue to believe, that things will turn around. … At some point it'll flip, whether we've got five games left in the season or this weekend when we go to Palo Alto."
Inside pitch
Quintana ranks in the top 10 in the Pac-12 in walks (33), runs (37), home runs (nine) and RBIs (43). A streaky hitter in the past, Quintana has kept his batting average at .280 or higher for all but one game since the opening weekend of the season. "He's one of only a couple players I would point to and say I hope our young players are looking at him," Johnson said. "If you want to (mimic) somebody on the team, he's the model."
Redshirt sophomore Matthew Dyer ranks second in the Pac-12 with a .396 average. He has hit safely in 15 straight games, the longest streak by a Wildcat since Mitchell Morimoto's 15-gamer in 2017. Dyer has raised his average 80 points over that span.
Asked to describe the biggest difference between his team and Oregon State, which swept Arizona last weekend, Johnson rattled off the names of the Beavers' top six pitchers. The Wildcats are below .500 despite ranking first or second in the Pac-12 in most offensive categories. They rank 10th in ERA (6.37) and last in walks per nine innings (5.85) and WHIP (1.83).
Three Pac-12 teams — UCLA, Stanford and OSU — reside in the top five in Baseball America's latest Top 25. They rank first, third and second, respectively, in ERA in the conference. They also make up three of the league's top four teams in fielding percentage. Arizona ranks last.
Johnson on the UA-Stanford matchup: "We want to be an elite Division I baseball team. They are right now. We're not."
The Wildcats are expected to deploy their usual rotation against the Cardinal (29-6, 13-2): Labaut (3-3, 6.14 ERA) on Friday, right-hander Quinn Flanagan (4-3, 5.82) on Saturday and lefty Andrew Nardi (3-4, 6.91) on Sunday.