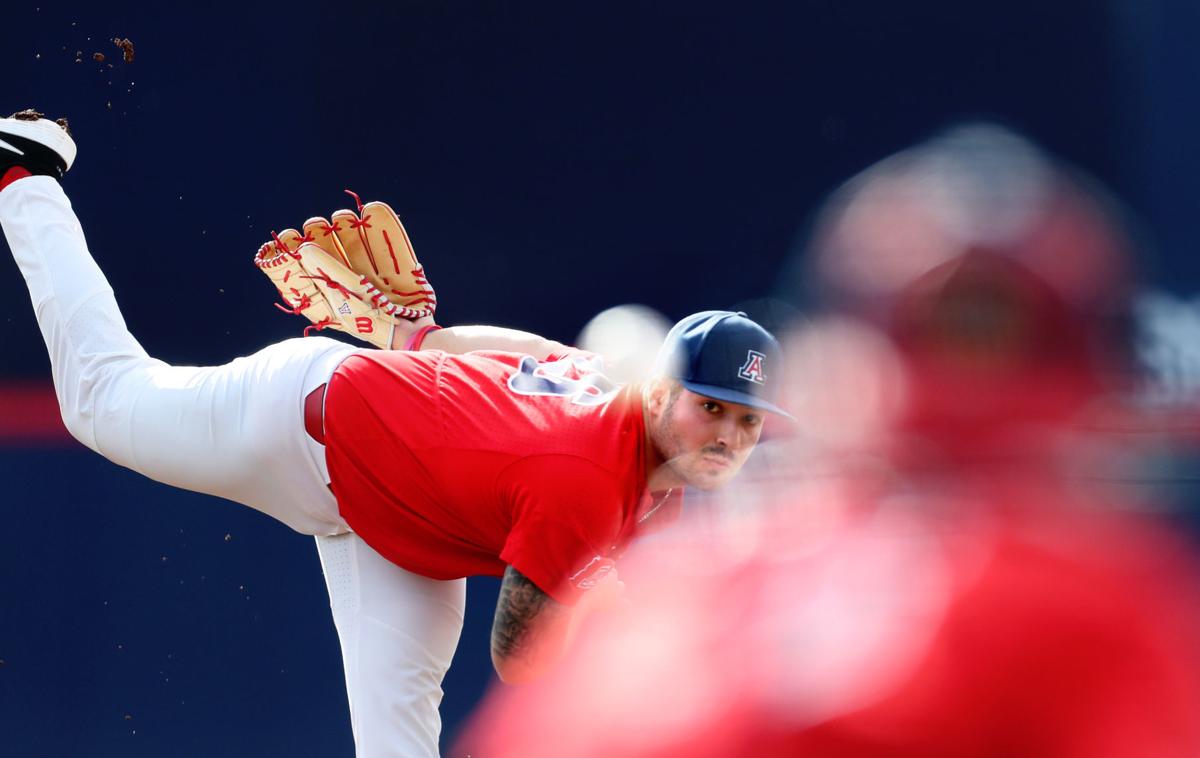 Arizona lists two starting pitchers for its season-opening series against Albany this weekend. Neither is Vince Vannelle.
But no one on the Wildcats' staff is slated to play a more critical role than the veteran right-hander.
UA coach Jay Johnson said simply that Vannelle will "pitch important innings when the game is in the balance." That could mean the fifth inning. It could mean the ninth. It could mean a spot start on a Sunday or in a midweek game.
Regardless of the specific assignment, Vannelle is ready for whatever Johnson and first-year pitching coach Nate Yeskie need.
"I literally told them I don't care as long as we win games," Vannelle said Tuesday. "If we need somebody to start on a Sunday or Monday, put me in there. If we need somebody to close out a game, or if we need somebody in the fourth or fifth inning because something happened, I'm all for it."
Vannelle is one of four seniors on the UA roster, all of whom are pitchers. He was the only pitcher on the team to post an ERA under 4.50 last season.
Vannelle posted a 3.47 ERA over 36⅓ innings. He started once. He tied for the team lead with two saves.
On four occasions, the transfer from Florida Southwestern State College pitched three-plus innings (three innings three times, 3⅓ once). He allowed a total of one earned run in those outings.
"If you peel back the layers of last year's pitching, he was arguably our most successful pitcher," Johnson said. "We expect a lot of the same this year in terms of competitive innings."
Vannelle's competitive makeup is probably his greatest strength. No pitcher on the UA roster is shorter than the 5-10 native of Cincinnati. He doesn't have an overpowering fastball. He disrupts the timing of hitters with a rapid-fire windup.
"It'll definitely kind of get in your mind," UA junior outfielder Donta Williams said. "When he pulls out a couple tricks from his bag, you don't know what he's doing. He's always keeping you off balance."
Vannelle has worked extensively this offseason to improve his change- up, knowing he'll need an expanded repertoire if called upon to pitch multiple innings. It should make him more effective against left-handed batters – although he limited lefties to a lower batting average (.275) than he did righties (.289) last season.
"It was already a good pitch," sophomore catcher Austin Wells said. "But now it's a great pitch."
Vannelle also has prepared his mind and body "to go as many innings as I can," he said. Multipurpose pitchers have thrived under Johnson. During the team's 2016 run to the College World Series, Bobby Dalbec evolved from a closer to a starter. Cameron Ming became the closer. The following season, he moved from the bullpen to the rotation.
"Anything they ask of me," Vannelle said, "I'll gladly do it."
Suffocating the strike zone
Johnson tabbed left-hander Garrett Irvin to start the opener Friday night at Hi Corbett Field. He'll be followed by righty Quinn Flanagan on Saturday. Sunday's starter is TBA.
Irvin transferred to Arizona from Riverside (Calif.) City College, where he posted a 10-2 record with a 2.25 ERA last season. Irvin walked only 18 batters in 96 innings. Flanagan walked 26 in 67⅔ innings for the Wildcats. Johnson and Yeskie have placed a premium on throwing strikes after Arizona ranked last in the Pac-12 with a 5.33 BB/9 rate in 2019. It's also one of the reasons they trust Vannelle.
"The common thread … is that they suffocate the strike zone, which makes it a lot easier to play defense," Johnson said. "I equate baseball and football a lot. Football is a game of turnovers, who wins that battle. Baseball is just about taking as much free stuff as you can and cashing in on it, which, offensively, we've been really good at, and then limiting that on defense.
"Frankly, it just comes down to strikes and strike-zone pressure, and I feel good about them in that regard."
No added fuel needed
Arizona has won 153 games over the past four seasons, third most in the Pac-12. But the Wildcats failed to reach the postseason each of the past two years.
Johnson is well aware of that fact, but it's not something he thinks about regularly or brings up in meetings to motivate the team.
"I don't need any more fuel. Our players don't need any more fuel," Johnson said. "When you talk about establishing an identity or competitive character, that starts with who you are on the inside.
"There's … many things that players and coaches are exposed to that don't matter. What matters is how good are you at the task at hand, how mentally tough you are.
"Those are the things that I want to pass along to the players. If something puts a fire in your belly, that's great. But then you have to go and do the things you need to execute."
Only one player, senior right-hander Preston Price, remains from the last UA squad to make the postseason, in 2017. He pitched one inning that year.
"Obviously, we want to make it to the postseason," said Flanagan, a redshirt sophomore. "It's something that I'm not sure anyone on the team has really experienced yet. But we can't get too far ahead of ourselves. Like (Johnson) said, we can't go to Omaha tomorrow."
Inside pitch
Johnson said Arizona has 11 viable position players for nine spots, so expect to see a lot of different lineup combinations, especially early in the season. "The goal is to win every game that we play while ultimately figuring out what our best team looks like," Johnson said.
Johnson said three freshman right-handers – Chandler Murphy, Dawson Netz and Wesley Scott – could have roles this season. "The biggest jump any player makes in their life is from high school baseball to top-level Division I baseball," Johnson said. "I think those three will help. How quickly they do it will be … about their competitiveness, their ability to slow the game down, and then using the rest of the team to help them be successful."
Baseball America this week listed 10 under-the-radar teams for 2020. Arizona faces half of them: Central Michigan, Houston, Iowa, Sacramento State and San Diego State.
Arizona's top rival, Arizona State, was picked by Pac-12 coaches to win the conference. The Sun Devils also are a consensus top-10 team. "I could care less about that, honestly," Williams said. "I focus on our team and what we have to do to win."