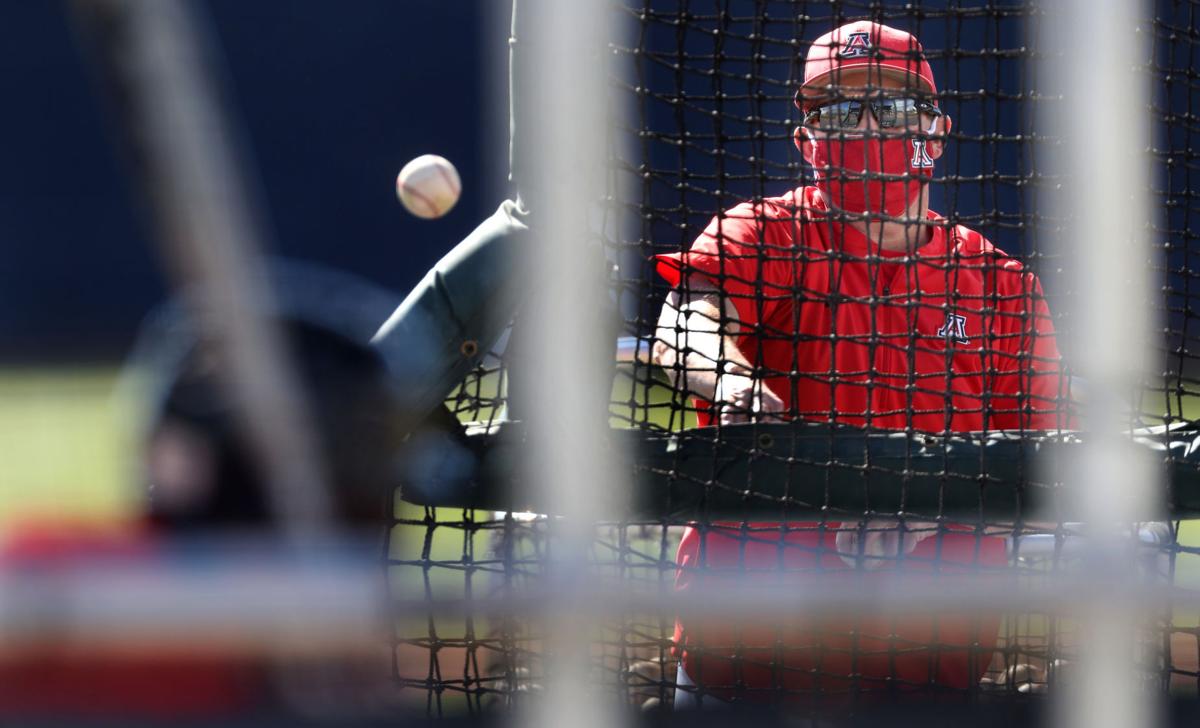 Arizona left-hander Garrett Irvin said it feels as if the Wildcats "haven't played a different team in over a year."
Irvin, three of his teammates and UA coach Jay Johnson spoke to the media Wednesday to preview the 2021 season. At that point, it had been 11 months and two days since Arizona faced an opponent other than itself.
So yeah, it's been a while. But the wait is almost over. The UA is slated to open the season a week from Friday against Ball State.
"I think we can finally see the light at the end of the tunnel," first baseman Branden Boissiere said.
When the lights go on at Hi Corbett Field next Friday — assuming COVID-19 doesn't interfere — the No. 15 Wildcats expect to be a better ballclub. They haven't spent this extended offseason idly, instead seeking to improve and grow despite unprecedented obstacles.
Last March, when the coronavirus halted their season after just 15 games, no one was sure what that could or should do. Eventually, new routines were formed.
"There was definitely a time period at the beginning where it's just very confusing; no one really knew what was going on," right-hander Quinn Flanagan said. "But then after you get past that ... you just have to be flexible and figure out ways to get your work in."
Flanagan and a small group of teammates found a facility in Tucson where they could train. Flanagan worked on ways to increase his velocity. When Irvin returned from California to join the group, he said Flanagan "was like a whole different guy."
"I definitely got stronger," Flanagan said. "I learned to move more efficiently on the mound. I sit anywhere from 90-93 (mph) now, which is definitely a lot higher than I have been in the past."
Most of the pitchers didn't participate in summer ball. Some of the hitters did, including Boissiere and center fielder Donta' Williams. But with the Cape Cod League canceled, they had to find alternatives. Boissiere played with the Santa Barbara Foresters, who pieced together a 30-game season as something of an independent with the California Collegiate League not operating. Williams played in nine games for the Amarillo Sod Dogs of the Texas Collegiate League.
"As the pandemic hit, you just had to control what you can control and get better every day," Williams said, "whether it's the weight room, a lift at your house or even building a relationship with your family.
"It's just a matter of ... how you're going to compete each day."
Johnson conceded that he felt disoriented at first.
"Every day of my life for the past 20-plus years has been as a college baseball coach in the spring," he said. "So those first couple of weeks there was a lot of, 'What's going on right now?'"
While the unexpected break gave Johnson a rare opportunity to step away, he didn't stay away for long. Johnson attacked a series of tasks aimed at bettering his team and program.
He watched every pitch from the 2020 season to figure out ways to help the returning players. He worked on the roster, recruiting not only newcomers but veterans who were on the fence about returning. And he examined how the technology everyone has been forced to adapt during the pandemic — in particular video-conferencing software such as Zoom — could help him in recruiting when it's over.
"That's certainly a lot more personal than a phone call," Johnson said. "Those connections have been good. They're not as good as being in a living room or being at a game, but I think it's something that we'll use going forward."
Johnson did say, however, that he's "very excited to get away from my desk" and return to his familiar haunts — the dugout and the third-base coach's box. His players feel the same way.
"Baseball is the love of our life," Williams said. "It's good to be able to finally see that light coming closer."
Maximum effort
The pandemic remains prevalent in our daily lives, and if other sports are any indication, it will impact that college baseball season. But Johnson reiterated that he's determined to play a full 56-game campaign.
"We're gonna do everything in our power to play as many games as we possibly can," Johnson said. "If a couple guys are out, we're not going to not play. That's not how we're going to do business. I owe it to every player in the program to move forward and get them on the field as much as possible."
The Pac-12 has established roster thresholds for baseball. Every team must have two full-time catchers, eight pitchers and 10 additional position players. Johnson doesn't expect teams to have many issues meeting those requirements given that rosters are uncapped this year.
"As coaches, we tried to set it at a place where we're gonna keep ourselves in position to play, because we all want to play and we all want to compete," Johnson said. "Life was just off not being in a one-run game on a Friday or Saturday night last April. We all want to get back out on the field. ... Hopefully we won't have any left-handers playing shortstop."
Johnson said the Wildcats haven't had any positive COVID-19 test results since they began practicing last month. They had one in fall, and that was a player who wasn't participating because of injury.
"All the positives have come outside of the time that we've been together," Johnson said. "The common thread is keeping us in one, tight-knit group. Knock on wood, we've done a really good job of that to this point."
Johnson said he'd be willing to pivot if an opponent were unable to play and he could find a replacement.
"Let's say Week 3 or 4 that our opponent can't play," Johnson said. "And then somewhere in the ACC, Louisville and Miami get canceled because of some issue with Miami. We're going to try to play Louisville. That's how I'm gonna approach it."
Arizona has four four-game series — including the multi-team Frisco College Baseball Classic in Frisco, Texas — before beginning Pac-12 play March 19 against No. 2 UCLA.